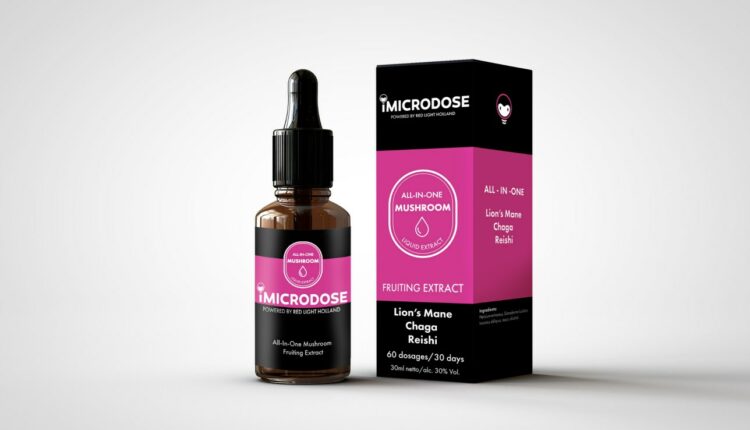 Red Light Holland Expands iMicrodose Line
On Monday, September 13, Red Light Holland (OTC: TRUFF), the Toronto-based company that produces and distributes "magic truffles" to the Dutch psychedelics market, announced the expansion of iMicrodose product line in a Newsfile press release.
iMicrodose All-In-One Fruiting Extracts are now available on a business-to-business basis through the Red Light Holland subsidiary SR Wholesale. According to Red Light Holland CEO Todd Shapiro, SR Wholesale now distributes iMicrodose products to over 300 companies across several European countries, supplying the product to over 1,000 retail outlets in the continent.
Magic Truffles Online for Europe
Red Light Holland also announced its iMicrodose product line will be offered directly to consumers on its expanded eCommerce platform. Capsules and tinctures of iMicrodose All-In-One Fruiting Extracts are expected to be available online to European customers before the end of October.
Red Light Holland's iMicrodose kits, launched in September 2020, are harvested from the company's farm in Horst, a village in the Dutch province of Limburg.
"Expanding our iMicrodose product offerings powered by Red Light Holland has always been a big part of our long term strategy to increase revenues and increase our brand exposure," Shapiro said in a statement on the press release.
"Having these All-In-One Mushroom Fruiting Extracts in our product line up is very exciting as they allow us to reach out to SR Wholesale's entire network, which fits our ultimate growth strategy in both building a responsible use recreational brand while continuing to develop new Red Light Holland products that can one day be sold across the world."
Full Speed Ahead in the Psilocybin Marketplace
Red Light Holland has been highly active on the acquisition and expansion fronts recently. On September 7, the company closed on a majority stake of Acadian Exotic Mushrooms, a "gourmet mushroom facility" based in Canada.
On September 1, Red Light Holland completed the largest legal sale of psilocybe truffles — over 1.5 kilograms — into Canada. All truffles were harvested from the company's farm in Horst.
In its financial statement for the fiscal quarter ending June 30, Red Holland reported revenue growth of 521% over the previous quarter.
Swift Action After a Canceled Merger
The expansion of the iMicrodose line comes in the wake of the high-profile cancellation of Red Light Holland's merger with Creso Pharma announced on August 30. The termination of the merger took many watchers of the psychedelic and cannabis industries by surprise.
In an interview with The Dales Report on September 9, Creso CEO Bruce Linton suggested the revocation of the merger sprung from divergent company philosophies that would have presented challenges going forward.
"In the case of Creso, I think they still have a ton of optionality, as does Red Light," Linton said. "Just different paths. One is 'time for a party,' and the other is how do we bring science results?"