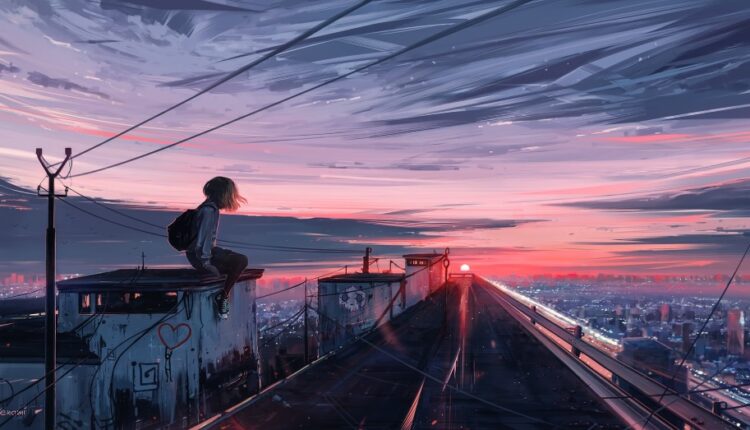 TDR's Top 5 Psychedelic Developments For The Week Of August 2
Welcome to TDR's review of the Top 5 Psychedelic developments for the week of August 2. Aside from presenting a synopsis of events, we provide market commentary to summarize the week that was for publicly-listed companies.
5. PharmaDrug Forms Research Collaboration For Novel Ocular Drug Formulation Program to Deliver DMT and Other Tryptamines to Treat Eye Disease
PharmaDrug Inc. (CNSX: PHRX) (OTCMKTS: LMLLF) has entered into a sponsored research agreement with the Terasaki Institute to develop a novel ocular drug delivery platform that aims to deliver psychedelic and tryptamine-based pharmaceuticals, such as N, N-dimethyltryptamine (DMT) for eye diseases. The therapeutic solutions will include the treatment of significant unmet medical needs of glaucoma patients.
The Terasaki Institute for Biomedical Innovation is a biotechnology institute which develops medical devices and cutting-edge protocols for a variety of diagnostic, monitoring and treatment applications. Their research platforms include work in biomaterials, cellular and tissue engineering, wearable biosensors and organs-on-a-chip, with specific expertise in novel polymer development.
Glaucoma impacts more than 2.7 million people aged 40+ in the United States and current treatments are known to have poor rates of compliance of up to 80% of patients. The global market for glaucoma was estimated by Market Scope at $4.8 billion in 2019 with the U.S. market representing $1.9 billion.
4. Cybin to Commence Trading on the NYSE American on August 5
Cybin Inc. (NEO: CYBN) (OTCMKTS: CLXPF), a biotechnology company focused on progressing psychedelic therapeutics, announced that its common shares will open for trading on the NYSE American Exchange on August 5, 2021, under the symbol "CYBN". The company's quotations on the OTCQB ceased to exist once its new listing went live. Cybin becomes the first psychedelic company to list on a NYSE exchange.
In addition to listing and trading on the NYSE American in U.S. dollars, Cybin's common shares continue to be listed in Canada on the NEO Exchange in Canadian dollars under the symbol "CYBN".
__________
Canadians Overwhelmingly Support Psilocybin-Assisted Therapy In A Regulated Medical Framework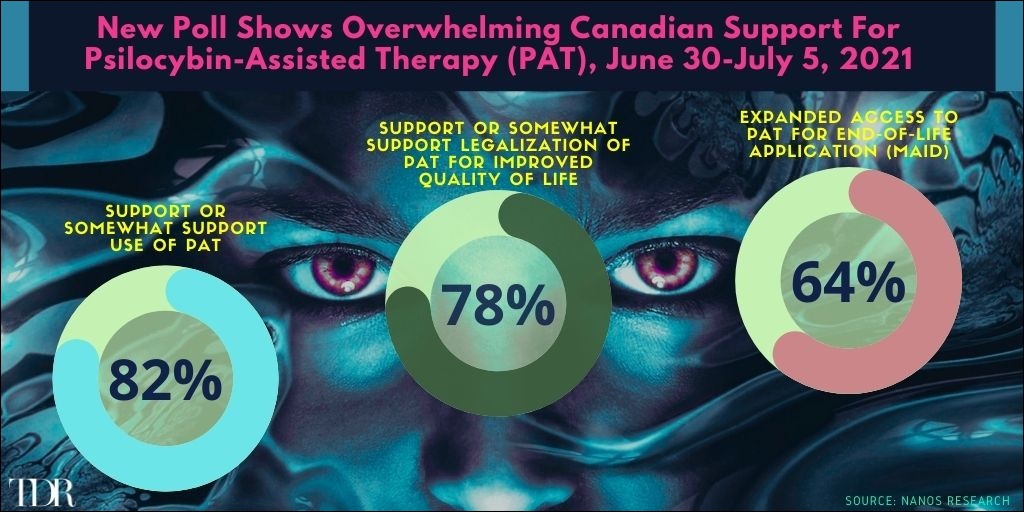 __________
3. Psychedelics Stocks Underperform Biotech Sector At-Large As Catalyzing Volume Remains MIA
The biggest psychedelic stocks were mostly lower on the week as the Horizon Psychedelic Stock Index ETF (PSYK) declined ↓3.60% on predominantly declining volume. That included PSYK ETF, which recording its second lowest volume in its young history, marginally besting the volume recorded on the week of July 19. In contrast, both the Nasdaq Junior Biotechnology Index (↑2.92%) and more senior Nasdaq Biotechnology Ishares ETF (↑3.81%) both had strong weeks, with the latter registering new all-time aggregate and closing highs.
From our vantage point, it appears that the "weak-ish countertrend move off the June lows", that has been running on fumes in recent times, simply gave way. Or as Diamond Hands podcast contributor Anthony Varrell (a psychedelic bull) put it in private correspondence: "Boredom has ensued… I'm grasping at straws to find anything exciting in this space outside of the price action in Cybin which has cooled off this week." That's as good as explanation as any for the moribund sector price action this week.
And this should come as no surprise to investors. As a highly speculative and early stage sector, the market requires catalyzing news flow to move share price upwards. The few companies that have displayed such a news cycle—Cybin Inc. and PharmaTher Holdings in recent times—have displayed strong upside momentum. But with galvanizing industry news generally MIA this summer, the exuberance has not extended sector-wide. Seemingly, investors are taking a wait & see approach until volume comes back into the market—perhaps hoping to catch a broad market correction in order to purchase their favorite securities at discount. Urgency to be "in" the sector is currently lacking at the margin.
That's not to say we aren't bullish on intermediate to longer term timelines. We most certainly are. But we also understand that price action generally precedes sentiment, and the market right now is clearly apathetic. These are the days to step away from the portfolio watcher, enjoy the rest of summer and position for more volatile times are coming in the fall.
| | | | | | |
| --- | --- | --- | --- | --- | --- |
| Company | Ticker | Price ($) | Weekly Change (%) | WoW Volume Trend | Market Cap (s/o) |
| ATAI LIfe Sciences | ATAI | 14.38 | -7.22 | ↓ | US$2.19B |
| Mind Medicine | MNMD | 3.08 | 0.65 | ↔ | US$1.39B |
| COMPASS Pathways | CMPS | 33.69 | -5.04 | ↑ | US$1.38B |
| GH Research | GHRS | 20.50 | 4.06 | ↓ | US$1.03BM |
| Cybin Inc. | CYBN | 2.74 | -10.16 | ↓ | US$436.1M |
| Field Trip Health | FTRP | 5.54 | -14.76 | ↓ | US$319.4M |
| Numinus Wellness | NUMI | 0.94 | -3.09 | ↓ | C$190.8M |
| Revive Therapeutics | RVVTF | 0.42 | 7.06 | ↑ | US$133.1M |
| Small Pharma | DMT | 0.45 | -2.17 | ↑ | C$143.0M |
| Mydecine Innovations | MYCO | 0.485 | 4.30 | ↔ | C$116.4M |
In the news…
Awakn Life Sciences announced the signing of its 10-year lease to open Awakn Clinics London, a psychedelic-focused therapy center to treat Addiction and other mental health conditions. ACL Awakn Clinics London, a 5,000 square-foot, 8 treatment room clinic, will deliver psychedelic-assisted psychotherapy treatments, such as ketamine-assisted therapies.
Core One Labs announced information regarding the status and timing of its breakthrough psilocybin technology. The company is purportedly nearing the production of biosynthesized psilocybin.
HAVN Life Sciences announced the harvest of its first crop of psilocybin-containing mushrooms from their growing and production facility in Jamaica. In conjunction with GMP manufacturer P.A. Benjamin, HAVN will export the harvested psilocybin to Canada where it will be tested for safety and quality control through its lab partner, Delic Labs.
Mind Cure Health announced the addition of Jerry White as Advisor to the company. Mr. White is a Professor of Practice at the University of Virginia and is known for leading high-impact campaigns worldwide. Mr. White is a recognized leader of the International Campaign to Ban Landmines and a co-recipient of the 1997 Nobel Prize for Peace.
MindMed announced that it will participate in and financially support the Digital Medicine Society's Digital Health Measurement Collaborative Community, an effort to develop best practices and streamline the medical field's approaches to measuring health using digital technologies.
Mindset Pharma has filed an international patent application for its novel psilocybin synthesis method. The application claims the priority date of the company's previously filed United States Patent and Trade Office provisional application, filed on July 24, 2020.
NeonMind Biosciences announced today a strategic reorganization to focus on the execution of the Company's integrated drug development plan for its lead drug candidate targeting obesity, NEO-001.
PsyBio Therapeutics has initiated a new program to study N-methyl-D-aspartate (NMDA) receptor antagonists and associated analogs for potential activity against a variety of human health conditions. Anew provisional patent application has been filed with the USPTO entitled NMDA Receptor Antagonist-Containing Compositions and Methods of Treatment
Silo Pharma has been given the green light from the U.S. Patent Office for a potential new treatment for multiple sclerosis and other conditions. The Patent Office sent a notice of allowance for Silo Pharma's proprietary central nervous system (CNS) homing peptide.
The Psychae Institute was announced on July 30, and will focus on advancing psychedelics research in Australia. The Melbourne-based institute is lifting off with initial funding of AU$40 million ($29.3 million) from an undisclosed North American biotechnology company. Research will focus on psilocybin, DMT and MDMA and others.
2. PharmaTher Granted FDA Orphan Drug Designation For Ketamine To Treat Amyotrophic Lateral Sclerosis
PharmaTher Holdings announced that the U.S. Food and Drug Administration (FDA) has granted orphan drug designation (ODD) for ketamine in the treatment of Amyotrophic Lateral Sclerosis (ALS), also known as Lou Gehrig's disease. PharmaTher has an exclusive license agreement with The University of Kansas (KU) for the development and commercialization of the intellectual property of ketamine in the treatment of ALS. The company is also working with clinicians in finalizing a phase 2 study protocol to evaluate ketamine for ALS in the U.S.
Ketamine has the potential to effectively increase the life expectancy of those with ALS at any stage and slow the progressive loss of muscle associated with poor outcomes of the disease. The University of Kansas Medical Center researchers have made the promising discovery that ketamine can be administered as an effective treatment for ALS. In addition, unpublished and patent-pending preclinical research has shown that the administration of ketamine preserves muscle function in advancing ALS and increases life expectancy when given in the early stages of muscle decline.
1. TheraPsil Sends Proposal To Help Expedite Regulatory Action For Canada's Medicinal Psilocybin Industry
A B.C.-based non-profit organization is challenging Health Canada to end a nearly 50-year prohibition against possessing so-called magic mushrooms and the potent psychedelics they produce.
TheraPsil, which advocates for the therapeutic use of the psychedelic compound psilocybin, spent months drafting proposed regulations for so-called magic mushrooms based on the same ones the federal government first created 20 years ago for medicinal cannabis. In the same spirit of progress, TheraPsil CEO Spencer Hawkswell said his organization sent a 165-page proposal to Health Canada's director general Jennifer Saxe.
The document deals with managing every aspect of licensing growers and sellers, from who can be involved, where they can be located, quality control, security and packaging. There are also provisions in the draft for patients to register to grow their own, as well as a formula for calculating how much an individual can grow, based on the amount of mycelium, the branch-like organism that produces the mushroom as fruit.