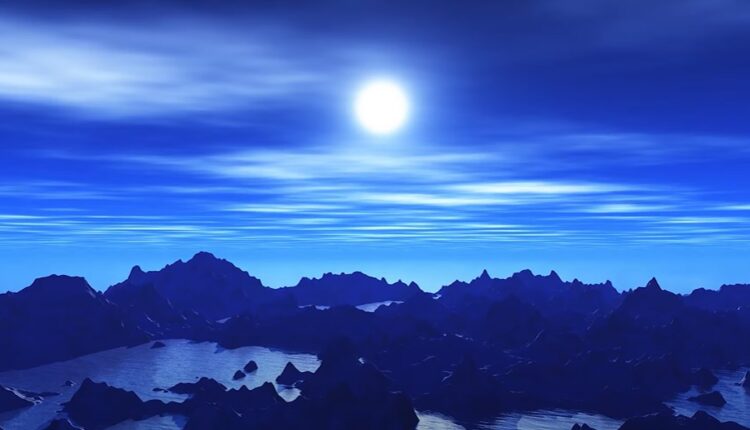 TDR's Top 5 Psychedelic Developments For The Week Of January 17
Welcome to TDR's review of the Top 5 Psychedelic developments for the week of January 17. Aside from presenting a synopsis of events, we provide market commentary to summarize the week that was for publicly-listed companies.
5. Numinus Announces Key Milestones in MAPS-Sponsored MDMA-Assisted Therapy for PTSD Clinical Trial
Numinus Wellness (TSE:NUMI) (OTCMKTS: NUMIF) has completed key steps to prepare to enroll participants at its clinics participating in "A multi-site open-label extension study of MDMA-assisted psychotherapy for PTSD (MAPPUSX)", sponsored by the Multidisciplinary Association for Psychedelic Studies (MAPS).
This is an exciting next step in the MAPPUSX study, happening at our clinics in both British Columbia and Quebec , and we look forward to how this work supports expanded collaboration with MAPS in the future.

Payton Nyquvest , Founder and CEO, Numinus
The Canadian study sites, which will continue to study the safety of MDMA-assisted therapy in treating severe PTSD, under the leadership of MAPS Public Benefit Corporation (MAPS PBC) as study sponsor, have recently received regulatory authorization from Health Canada, ethical approval from an Institutional Review Board (IRB) and a Section 56 exemption from the Controlled Drug and Substance Act, which will allow the use of MDMA throughout the duration of the clinical trial.
4. Awakn Life Sciences Signs Memorandum of Understanding with MAPS
Awakn Life Sciences (NEO: AWKN) (OTCMKTS: AWKNF) has signed a Memorandum of Understanding (MOU) with the Multidisciplinary Association for Psychedelic Studies (MAPS) to explore a partnership to utilize MDMA-assisted therapy to treat Alcohol Use Disorder (AUD) in Europe.
Under the terms of this MOU, Awakn will explore a data licensing agreement with MAPS to support Awakn's Phase IIb and planned Phase III studies for MDMA-assisted therapy for AUD in Europe. Awakn and MAPS will also assess a partnership to secure marketing authorisation/regulatory approval for the ethical commercialization of MDMA-assisted therapy for the treatment of AUD in Europe.
AUD is a chronic disease affecting 40 million people in Europe and 390 million people globally. It is also a pervasive and persistent public health issue, with alcohol use being one of the top five causes of disease and disability in the majority of countries in Europe. And for each person suffering from AUD, there is a friend, a partner, or a family also deeply affected by it.
__________
Mental Health Crisis Among Working Class Driving Labor Shortages and Recruitment Difficulties for Employers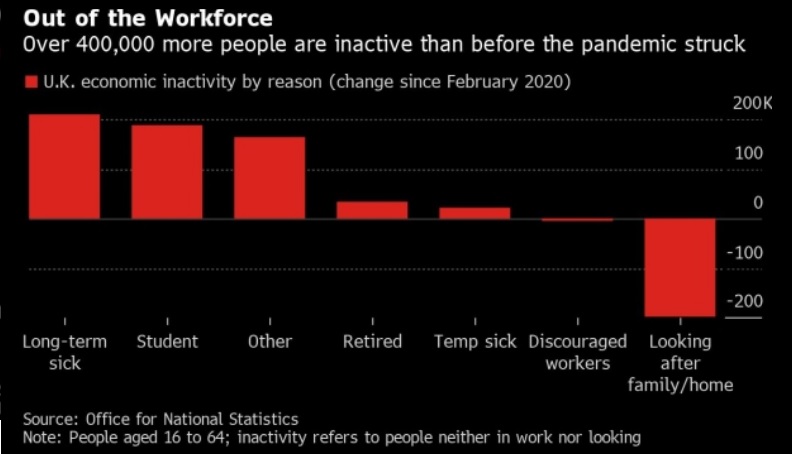 __________
3. Biopharma Stocks Hammered As Market Goes "Risk-Off" Across Multiple Asset Classes
The psychedelic sector plunged this past week, following broad weakness in almost everything listed on the exchanges. The Horizon Psychedelic Stock Index ETF (PSYK) fell ↓9.46%, minting its 8th weekly loss over the past 10. The decline in PSYK was inline with the biotechnology sector in general, with the Nasdaq Junior Biotechnology Index (↓10.48%) and Nasdaq Biotechnology Ishares ETF (↓7.39%) both falling hard on pervasive "risk off" sentiment.
Another dreadful week for psychedelic companies from a capital markets perspective. Unlike much of 2021, the latest weakness appears to be a byproduct of plunging broad markets in general, for which there is little cover. As always, early-stage speculative industries generally bare a disproportional brunt of decline in such environments, and this week was no exception. And it's hardly limited to the juniors in the space.
For example, COMPASS Pathways continued its deep dive lower, falling another 11.89% on the week and right through its IPO final go-public price of $17/share, which offered just a brief period of support. With its $15.77 close, CMPS has fallen ↓63.37% since releasing generally positive Phase 2b endpoints for Treatment Resistant Depression along with assisted-therapy using proprietary psilocybin formulation, COMP360. When a sector leader falls this hard in the absence of bad news, hard times will befall the rest of its peer group.
ATAI Life Sciences is another curiosity to the downside. Despite US$430.3 million in cash and cash equivalents (as of September 30, 2021) and an investment in COMPASS Pathways worth approximately $120 million in current dollars, ATAI's undiluted market cap is only $843 million. Thus, the market is ascribing little value to the company's drug developing pipeline or assets. ATAI has lost ↓47.50% in value since December 15 after announcing a key shareholder post-IPO lockup that could extend up to two years. The selling has been that indiscriminate.
Where the market goes next is anyone's guess. However, when not even one industry bellweather is valued at a billion dollars (undiluted), despite rapidly advancing research and enough cash to fund full-cycle clinical trials, we may be getting overdone.
| | | | | | |
| --- | --- | --- | --- | --- | --- |
| Company | Ticker | Price ($) | Weekly Change (%) | WoW Volume Trend | Market Cap (s/o) |
| GH Research | GHRS | 17.19 | -10.51 | ↑ | US$894.2M |
| ATAI Life Sciences | ATAI | 5.26 | -11.74 | ↑ | US$843.1M |
| COMPASS Pathways | CMPS | 15.77 | -11.89 | ↓ | US$658.1M |
| Mind Medicine | MNMD | 0.93 | -16.96 | ↑ | US$424.3M |
| Cybin Inc. | CYBN | 1.02 | -2.85 | ↓ | US$165.8M |
| Field Trip Health | FTRP | 1.86 | -6.53 | ↓ | US$107.8M |
| Numinus Wellness | NUMI | 0.63 | -11.26 | ↓ | C$128.3M |
| Revive Therapeutics | RVVTF | 0.240 | 5.00 | ↑ | US$80.2M |
| Small Pharma | DMT | 0.24 | 2.12 | ↔ | C$76.2M |
| Awakn Life Sciences | AWKN | 2.31 | -12.83 | ↓ | C$60.9M |
| Mydecine Innovations | MYCOF | 0.185 | -11.90 | ↓ | US$48.3M |
| Mindset Pharma | MSET | 0.62 | -30.33 | ↓ | C$56.3.8M |
In the news…
BetterLife Pharma has obtained positive results from an in vivo oral bioavailability and food-effect pharmacokinetic (PK) study on BETR-001 in beagle dogs. BETR-001 (2-bromo-LSD, formerly TD-0148A) is a non-hallucinogenic derivative of lysergic acid diethylamide (LSD).
Betterlife has also received a written response from the FDA to its pre-investigational new drug application for the treatment of MDD with BETR-001. BETR-001 is currently undergoing IND-enabling non-clinical studies and GMP manufacturing for clinical trials.
Bipartisan members of Congress sent a letter on Tuesday requesting that the Drug Enforcement Administration (DEA) allow terminally ill patients to use psilocybin as an investigational treatment without the fear of federal prosecution.
A new survey conducted by The Harris Poll on behalf of Delic Holdings reports that nearly 2/3 of Americans who suffer from anxiety/depression/PTSD (65%) believe that psychedelic medicine should be made available to patients with treatment-resistant anxiety, depression or PTSD.
Eleusis, a clinical-stage life science company that aims to unlock the therapeutic potential of psychedelics, and Silver Spike Acquisition Corp. II, a publicly traded special purpose acquisition company (SPAC) sponsored by an affiliate of Silver Spike Capital announced a definitive business combination agreement expected to make Eleusis a public company. The implied combined enterprise value is $446 million.
Jupiter Wellness announces that its merger partner, Next Frontier Pharmaceuticals, Inc., through its wholly owned subsidiary, Benuvia Manufacturing, Inc., has entered into the global psychedelic drug development and active pharmaceutical ingredient market.
Levitee Labs announced that it is proposing to complete a non-brokered private placement of up to 15,000,000 units at a price of $0.20 per Unit for aggregate gross proceeds of up to CAD$3,000,000. The Private Placement is subject to approval from the Canadian Securities Exchange.
Mind Medicine has enrolled the first subjects into its Session Monitoring System study evaluating the passive collection of sensory data during a consciousness-altering therapeutic session.
Mindset Pharma insiders are buying stock following its transformative collaboration with The McQuade Center for Strategic Research and Development.
Mydecine Innovations Group has signed a Letter of Intent with The Newly Institute Inc., a Calgary, Alberta based company opening private inter-disciplinary mental health clinics across Canada, to collaborate on expanding psychedelic-assisted psychotherapy to patients.
Novamind has closed its acquisition of Arizona-based Foundations for Change, Inc., a mental health practice specialized in ketamine-assisted psychotherapy.
Numinus Wellness announced its fiscal first quarter results for the three months ended November 30, 2021.
Red Light Holland announced a collaboration with Psychedelic Medicine Alliance Washington to promote a psilocybin legalization bill in Washington State.
Revitalist Lifestye And Wellness Ltd. recapped the milestones is has reached in calendar year 2021. The company has significantly scaled its operations during 2021, ending the year with seven clinics and providing approximately 5,000 patient treatments which represented a 128% increase year over year.
Virginia lawmakers, Del. Dawn Adams (D), and Sen. Ghazala Hashmi (D) along with Sen. Jennifer Boysko (D), introduced new bills to decriminalize the possession of psychedelics.
2. Kansas Lawmaker Files Bill To Legalize Psilocybin Possession And Cultivation
A Kansas lawmaker has filed a bill to legalize the low-level possession and cultivation of psilocybin mushrooms. Rep. Aaron Coleman (D), a 21-year-old legislator who has been embroiled in controversy over a series of encounters with law enforcement, is sponsoring the legislation. It would remove criminal penalties for possessing up to 50 grams of psilocybin or psilocyn or cultivating the psychedelic compounds.
Under the proposal, possession of more than 50 grams but less than 100 grams would be a civil offense punishable by a maximum $250 fine. Possessing more than 100 grams of the psychedelic would be considered a Class C misdemeanor, carrying a fine of up to $500 and a one month in jail.
The legislation, titled the "Legalized Homegrown Psilocybin Mushroom Act of 2022," would amend state statute to make it so it "shall not be a violation" of state law "to cultivate psilocyn or psilocybin."
1. Bill Could Open the Door to Legalize Medical-Use Psychedelics in Utah
Rep. Brammer, R-Pleasant Grove, has filed House Bill 167, which creates a task force to explore whether psychedelics ought to be considered as a viable treatment option for mental health, PTSD and other issues. The bill is already being backed by one of the groups that got medical cannabis legalized in Utah.
"It doesn't legalize anything. It asks our Huntsman Mental Health Institute and other experts in the field to review the science that's out there, the research that's out there, and make any recommendations that they have if they feel psychedelics can be safely administered through a prescription basis and under what circumstances," he said.