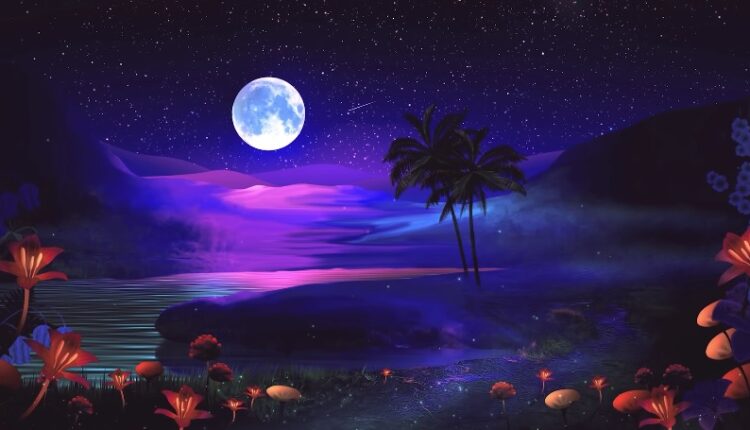 TDR's Top 5 Psychedelic Developments For The Week Of July 12
Welcome to TDR's review of the Top 5 Psychedelic developments for the week of July 12. Aside from presenting a synopsis of events, we provide market commentary to summarize the week that was for publicly-listed companies.
5. Red Light Holland Expected Merger Partner Creso Pharma Completes Acquisition of Halucenex Life Sciences
Red Light Holland (CNSX: TRIP) (OTCMKTS: TRUFF) announced that Creso Pharma has completed its previously announced acquisition of Halucenex Life Sciences. The acquisition followed considerable due diligence and marks Creso Pharma's entry into the psychedelic-assisted psychotherapy sector. Halucenex has submitted an application for a Dealer's License under both the Narcotics Control Regulations and Part J of the Food and Drugs Regulations.
Subject to the receipt of all necessary regulatory approvals, Halucenex is expected to begin Phase 2 clinical trials to demonstrate the efficacy of psilocybin therapy in the treatment of treatment-resistant depression in Canadian veterans and everyday individuals living with debilitating conditions.
4. Revive Therapeutics Provides Update on FDA Phase 3 Clinical Trial for Bucillamine in COVID-19
Revive Therapeutics Ltd. (CNSX: RVV, OTCMKTS: RVVTF) provided an update on the company's U.S. Food & Drug Administration (FDA) Phase 3 clinical trial to evaluate the safety and efficacy of Bucillamine in patients with mild to moderate COVID-19.
The Phase 3 clinical trial is ongoing with the next Data and Safety Monitoring Board (DSMB) meeting at 600 completed patients. To date, the ongoing study has not seen any serious adverse events or safety concerns that required the DSMB to be notified or take action on. The DSMB has the power to halt the trial if efficacy and/or safety data is uncompelling after any milestone analysis meeting.
The next DSMB meetings will take place at 600 and 800 completed patients, which are expected to be held in Q3-2021. The company is continuing the Phase 3 clinical trial with the recent recommended 600 mg high dose as selected by the DSMB. The study is currently at 41 clinical sites and seeks to engage a minimum of 50 clinical sites.
__________
TDR: Although the news is not psychedelic-related, Revive's Phase 3 trial researching Bucillamine for the treatment of mild-moderate COVID-19 will have the most immediate impact on the share price. Should the trial meet endpoints, the data would be used to support multiple intended Emergency Use Authorization filings in jurisdictions throughout the globe, likely causing a major upward re-rate in market capitalization.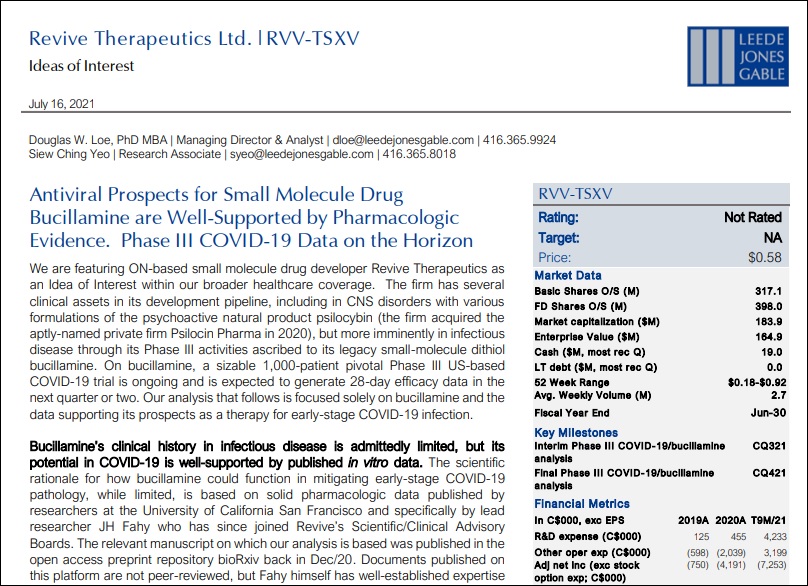 Revive's COVID optionality differentiates them from its psychedelic peers in terms of 2021 upside potential, while its growing pipeline of psychedelic assets remains underrated. Phase 3 Bucillamine results could be available by October or November, with the next DSMB 600-patient milestone meeting expected in September. As per the company's updated investor deck, it expects to begin a Phase 2 psilocybin study on Meth Disorder this calendar quarter.
__________
Cybin Inc. Holds The Highest Allocation In The Horizon Psychedelic Stock Index ETF To Begin July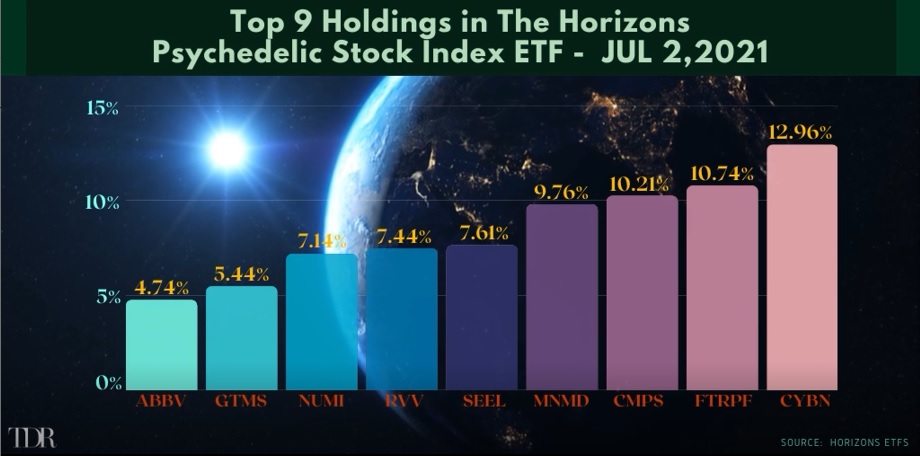 __________
3. Psychedelic Stocks Gain Amid Rout In Junior Biotech
The biggest psychedelic stocks trended higher on-balance this week, with the Horizon Psychedelic Stock Index ETF (PSYK) rising ↑2.95% on an clear uptick in volume. The performance was notable given the weakness in junior biotech stocks, with the Nasdaq Junior Biotechnology Index falling ↓7.61% (5.64% on Friday). The more senior Nasdaq Biotechnology Ishares ETF (↓1.51%) also fell on the week, although to a more modest degree.
Last week, we wrote:
"Despite the choppy trade, we note that this is the fifth consecutive week that PSYK ETF has finished above the 7EMA on the weekly chart. So from a technical perspective, the psychedelic sector is in a rally posture (perhaps 10% on aggregate or so – 9.33 on PSYK) *if* bulls can materially increase the volume next week.
Although we didn't quite make it to 9.33 on PSYK (it touched 9.14 on July 13), it was an exemplary week for the sector. Sector strength was particularly noteworthy on Friday, with PSYK rising ↑1.16% while the Nasdaq Junior Biotechnology Index fell ↓5.64% amidst moderate broad market declines. Generally, these are not the type of conditions where deeply speculative psychedelic stocks would be expected to outperform—yet they did.
Even more amazingly, weekly sector outperformance occurred despite all 3 key leadership stocks (ATAI, CMPS, MNMD) finishing solidly in the red. Clearly, we are seeing rotation into some of the mid-tier names, as evidenced by another Cybin's push into new record territory and recent Mydecine/Field Trip outperformance. Whatever the cause, the psychedelic sector continues to punch above its weight.
Investors should be guarded against the possibility of broad market rollover, as the 6-week bottom rally in psych stocks isn't so robust that it can be considered infallible. But for now, price action remains constructive as Compass Pathway key Phase 2B endpoint results march closer by the week. Happy investing!
| | | | | | |
| --- | --- | --- | --- | --- | --- |
| Company | Ticker | Price ($) | Weekly Change (%) | WoW Volume Trend | Market Cap (s/o) |
| ATAI LIfe Sciences | ATAI | 17.38 | -6.45 | ↑ | US$2.65B |
| Mind Medicine | MNMD | 3.17 | -9.94 | ↓ | US$1.43B |
| Compass Pathways | CMPS | 35.02 | -4.21 | ↔ | US$1.43B |
| Cybin Inc. | CYBN | 3.54 | 8.92 | ↑ | C$525.8M |
| Field Trip Health | FTRP | 7.35 | 11.02 | ↓ | C$421.2M |
| Seelos Therapeutics | SEEL | 2.41 | -9.05 | ↓ | US$246.4M |
| Numinus Wellness | NUMI | 1.05 | 2.94 | ↑ | C$2122M |
| Revive Therapeutics | RVV | 0.58 | 9.43 | ↔ | C$183.8M |
| Small Pharma | DMT | 0.49 | 20.98 | ↓ | C$155.2M |
| Mydecine Innovations | MYCO | 0.50 | 3.09 | ↑ | C119.3M |
In the news…
Atai Life Sciences has received analyst coverage from investment bank Cantor Fitzgerald, which initiates coverage on the most valuable psychedelic company by market cap with an "Overweight" rating and US$45 price target.
Cybin Inc. has filed its 13th new provisional patent application and has advanced the build-out of its digital therapeutics strategy. The digital therapeutics platform, which is proprietary to Cybin and the subject of the company's 13th patent application, adds another dimension to the company's development programs.
Mind Cure Health announces the filing of provisional patent applications with the United States Patent and Trademark Office (USPTO) for innovative processes for synthesizing ibogaine. CEO Kelsey Ramsden of the significance on one aspect of the company's synthetic processes.
Mycotopia Therapies announced that on July 13, 2021 Wesana Health Holdings announced the execution of a definitive agreement to acquire PsyTech Inc., for a price of approximately $21 million CAD in Wesana Health stock. Mycotopia Therapies is a minority shareholder owning less than 10% of PsyTech Inc.
Mydecine Innovations announces that its subsidiary Mindleap Health is launching the 2.0 version of its virtual health platform on July 30, 2021, which provides the infrastructure to support the conscious and trustworthy adoption of psychedelics into the broader categories of mental health and inner wellness.
Palo Santo, the leading U.S.-based psychedelic investment fund, announced its launch with an initial $35 million in capital raised and an active portfolio of 20 companies. The diversified venture fund is focused on tackling the growing global mental health crisis by investing in innovative psychedelic-based and adjacent therapies.
PsyBio Therapeutics has filed a new provisional patent application with the United States Patent and Trademark Office entitled Psilocybin and Norbaeocystin Compositions and Methods of Treatment. The Patent Application contains 67 new inventive claims and further demonstrates the company's vision to build a strong intellectual property portfolio.
2. Numinus Announces Health Canada Approval of MAPS-Sponsored Open Label Study for MDMA-Assisted Therapy for PTSD
Numinus Wellness Inc. (CVE:NUMI) announces that Health Canada has cleared the MAPS-sponsored single-arm, open-label safety and feasibility study evaluating MDMA-assisted therapy for post-traumatic stress disorder (PTSD). This study is being pursued in collaboration with MAPS Public Benefit Corporation (MAPS PBC)—a wholly-owned subsidiary of the Multidisciplinary Association for Psychedelic Studies (MAPS)—the leading developer of MDMA-assisted therapy training programs, treatment protocols and research.
This collaborative demonstration study with Numinus will build upon MAPS-sponsored multi-site studies which enrolled some Canadian participants and will provide new and comprehensive information about the effectiveness of MDMA-assisted therapy for populations with PTSD and concurrent disorders.

Amy Emerson, CEO of MAPS PBC
This study has advanced through the pre-implementation stage at Numinus' Vancouver clinic and has now received the required federal regulatory approval. Study preparations are now transitioning into the final stages of training staff, importing medication and obtaining ethical approval to allow the recruitment of participants according to COVID-19 public health protocols.
1. California Bill To Legalize Psychedelics Possession Advances Again
A second California Assembly committee on Tuesday approved a Senate-passed bill to legalize possession of psychedelics like psilocybin and and LSD. But new amendments that add limits on allowable amounts of the substances is creating controversy among advocates.
The Assembly Public Health Committee advanced the legislation, sponsored by Sen. Scott Wiener (D), in a 8-4 vote. This comes weeks after the Public Safety Committee approved the measure. Wiener has spent significant energy building support for the reform proposal as it has moved through the full Senate and now two Assembly committees, including by holding a recent rally with military veterans, law enforcement and health officials.
SB 519 would remove criminal penalties for possessing numerous psychedelics—including psilocybin mushrooms, DMT, ibogaine, LSD and MDMA—for adults 21 and older.