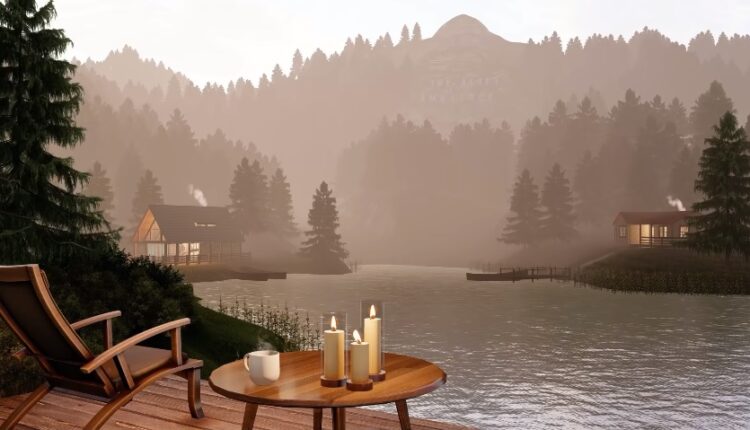 TDR's Top 5 Psychedelic Developments For The Week Of July 19
Welcome to TDR's review of the Top 5 Psychedelic developments for the week of July 19. Aside from presenting a synopsis of events, we provide market commentary to summarize the week that was for publicly-listed companies.
5. Mydecine Expands Portfolio of Novel Molecules Filing New Patent for MDMA-like Compounds
Mydecine Innovations Group (NEO: MYCO)(OTCMKTS: MYCOF) announced that it has filed a new patent for MDMA-like compounds further expanding its portfolio of novel compounds. This expansive patent would allow Mydecine to scale its coverage in drug development research in lieu of promising discoveries and FDA-approval progress for novel therapeutics, including granting Breakthrough Therapy Designation to MDMA for the treatment of PTSD in recent years.
With full Health Canada approval for exclusive access to a full cGMP-certified pharmaceutical manufacturing facility, Mydecine continues to advance the clinical progress in its 4 leading novel compounds, MYCO-001 through 004 with the ability to import or export, cultivate, extract or isolate, and analyze active mushroom compounds. The new patent filings are anticipated to populate the pipeline beyond MYCO-004.
4. Field Trip Health Ltd. Obtains Conditional Approval to List on Nasdaq Under the Symbol "FTRP"
Field Trip Health Ltd. (CNSX: FTRP; OTCMKTS: FTRPF) has received conditional approval from NASDAQ Stock Market LLC to list its issued and outstanding common shares on the NASDAQ Global Select Market. Final approval of the listing is subject to fulfilling any remaining conditions. Field Trip expects to satisfy all of the requirements and will issue a statement once a trading date has been confirmed by the exchange.
Filed Trip's listing on NASDAQ remains subject to satisfaction of all applicable listing and regulatory requirements, including, but not limited to, the declaration of effectiveness of the Company's Form 40-F Registration Statement registering the Common Shares with the United States Securities and Exchange Commission (SEC). The company has already completed the process to ensure its shares are eligible for electronic clearing and settlement.
__________
Global Psychedelic Rx Market 2021-2025—Excluding The Introduction Of NextGen Psychedelic Drugs Expected To Gain Approval ~2026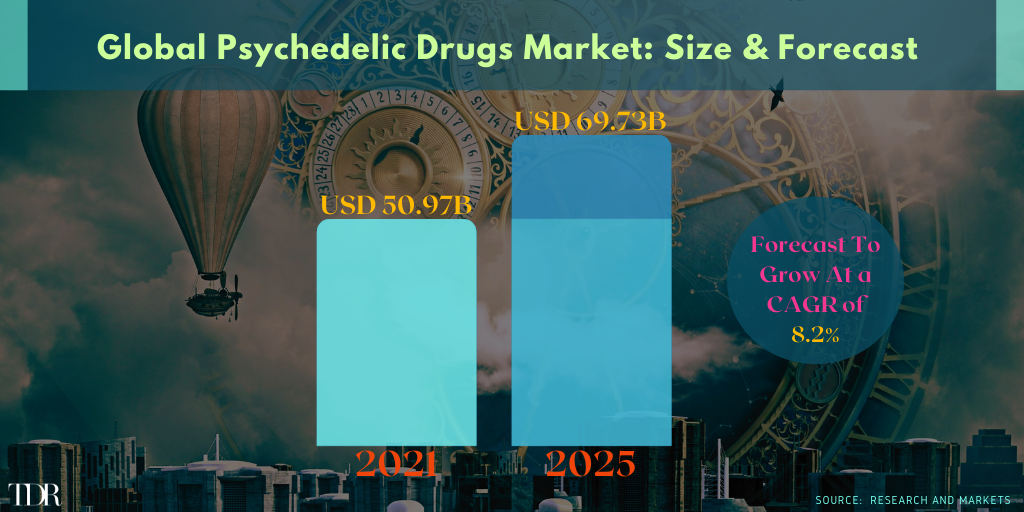 Tryp Therapeutics CEO Greg McKee Says His Company May Have Four Phased Trials Up-And-Running Before The End of 2021 (⏩)
__________
3. Psychedelic Stocks Flat As Volume Declines Across The Board
The biggest psychedelic stocks were mixed as the Horizon Psychedelic Stock Index ETF (PSYK) eked out a ↑0.23% gain on as volume descended to a new weekly all-time low. This, despite Cybin and Field Trip announcing uplist intensions to 2 major U.S. stocks exchanges. The performance trailed its junior biotech peers, with the Nasdaq Junior Biotechnology Index rising ↑0.98%. The more senior Nasdaq Biotechnology Ishares ETF rose ↑3.75%, running the table with five straight winning sessions and finishing at 5-month highs.
Not much has changed in terms of outlook from the previous week. The psychedelic sector was devoid of volume making any sort of concrete predictions invalid. Technically speaking, things remain positive as the benchmark PSYK ETF has finished above the 7EMA for the seventh straight week. Weak volume or not, investors are generally "buying the dip" and have been demonstrably so since mid-June following the oversold rally off of the late May/early June lows. And of course, we're another week closer to the key COMPASS Pathways Phase 2B endpoint results, expected to be published in Q4 2021.
So in lieu of heavier volume entering the market, we're neutral to mildly positive in the short term. We're not chasing short term price action, but rather strategically positioning for the heightened volatility we anticipate coming this fall. Happy investing.
| | | | | | |
| --- | --- | --- | --- | --- | --- |
| Company | Ticker | Price ($) | Weekly Change (%) | WoW Volume Trend | Market Cap (s/o) |
| ATAI LIfe Sciences | ATAI | 17.38 | ↔ | ↓ | US$2.65B |
| COMPASS Pathways | CMPS | 36.83 | 5.16 | ↓ | US$1.51B |
| Mind Medicine | MNMD | 3.07 | -3.15 | ↓ | US$1.39B |
| Cybin Inc. | CYBN | 3.77 | 6.49 | ↓ | C$559.9M |
| Field Trip Health | FTRP | 7.40 | 0.68 | ↑ | C$424.1M |
| Seelos Therapeutics | SEEL | 2.33 | -3.31 | ↓ | US$238.2M |
| Numinus Wellness | NUMI | 0.95 | -9.52 | ↓ | C$192.1M |
| Revive Therapeutics | RVV | 0.55 | -5.17 | ↓ | C$174.3M |
| Small Pharma | DMT | 0.50 | 2.04 | ↓ | C$158.4M |
| Mydecine Innovations | MYCO | 0.47 | -6.00 | ↓ | C$112.7M |
In the news…
Braxia Scientific has established direct billing practices with health insurance provider Medavie Blue Cross for qualifying Canadian military veterans. The will allow for 100% coverage of oral, nasal spray and intravenous ketamine treatments, plus travel costs, delivered at the Canadian Rapid Treatment Centre of Excellence (CRTCE), a wholly owned subsidiary of Braxia.
Levitee Labs announces an asset purchase agreement to acquire all material operating assets of 5 addiction clinics, a share purchase agreement to acquire 3 specialized pharmacies, and a separate share purchase agreement to acquire a leading telehealth provider in addiction services.
NeonMind Biosciences announced that its R&D Working Group has completed an integrated drug development plan for its lead drug candidate targeting obesity, NEO-001, a high-dose psilocybin treatment coupled with behavior therapy and lifestyle intervention, which aims to improve the efficacy of chronic weight management in adults.
PharmaTher Holdings filed a provisional patent application with the U.S. Patent and Trademark Office outlining a novel formulation of ketamine for intradermal administration as potential treatments for mental health, neurological and pain disorders. The Company's intellectual property portfolio includes 19 granted patent and patent applications filed in over 150 countries.
Psyched Wellness announced that it has completed its largest extraction of AME-1 to date, and has successfully shipped it to the company's contract research organization partner labs in Asia, in order to complete the pre-clinical studies and other scientific work of the company in its product development process.
Red Light Holland with a trifecta of news releases this week:
July 19: Psychedelics and cannabis veteran Bruce Linton confirms that he will join The HighBrid Lab, subject to the closing of the Red Light Holland / Creso Pharma merger.
July 21: RLH announced that it has filed a new patent for technologies for monitoring and displaying information involving carbon dioxide emissions.
July 23: RLH announces that it's cash, cash equivalents and investments in private companies total approximately $30 million.
Rep. Alexandria Ocasio-Cortez (D-NY) is again fighting to remove a federal research roadblock in the hopes of promoting studies into the therapeutic potential of psychedelics like MDMA, psilocybin and ibogaine. The congresswoman introduced an amendment seeking to attach the policy change to large-scale spending legislation covering funding for multiple agencies.
Small Pharma has launched a training program to educate psychologists on the process required for the support and completion of Small Pharma's DMT-assisted therapy clinical trials. The training program will ensure psychologists participating are fully trained and understand the requirements stipulated by the regulatory authorities.
2. Cybin Inc. Receives Conditional Listing On NYSE American Exchange
Cybin Inc, the Toronto-based biotech company helping to drive the advancements of psychedelic therapeutics, has been approved for a conditional listing on the New York Stock Exchange. Pending approval, it is expected that Cybin would continue to trade with the CYBN ticker it used on the NEO Aequitas Exchange.
This news sees Cybin become the latest firm in the psychedelics space to request admittance onto a major global exchange. Psychadelic drug developing firms COMPASS Pathways, Field Trip Health, and MindMed have all peviously made similar moves.
Cybin made its financial market debut on the NEO Aequitas Exchange in November of 2020, and admittance onto one of the larger exchanges would be seen as a significant advancement for the psychedelics sector as a whole. "Welcome to the dance boys" lauded one poster in Reddit's ShroomStocks forum.
1. Tryp Therapeutics Announces Plans for Phase 2a Clinical Trial for Fibromyalgia with the University of Michigan
Tryp Therapeutics (CNSX: TRYP) (OTCMKTS: TRYPF) announced plans to conduct a Phase 2a clinical trial with the Chronic Pain & Fatigue Research Center in the Department of Anesthesiology at the University of Michigan Medical School. The study will mark this first of its kind in Phase 2 researching psilocybin for a pain condition.
Existing treatment options for fibromyalgia are often ineffective and show significant side effects. Kevin Boehnke and I are excited to be working with the team at Tryp Therapeutics, who have shown exceptional scientific rigor in their approach to evaluate a new treatment paradigm for the millions of patients suffering from fibromyalgia and other pain-related indications.

Daniel Clauw, M.D., Director of the Chronic Pain & Fatigue Research Center
The open-label Phase 2a clinical trial will evaluate the efficacy of TRYP-8802, an oral formulation of synthetic psilocybin, in tandem with psychotherapy for treating fibromyalgia. The treatment is designed to target nociplastic pain originating in the central nervous system through the neuroplasticity benefits of psilocybin. The Principal Investigator for the trial will be Kevin Boehnke, Ph.D., Research Investigator, University of Michigan Department of Anesthesiology. 
Tryp will seek to identify a response in patients to the treatment to inform the design of a Phase 2b clinical trial for fibromyalgia that will use the company's proprietary, psilocybin-based drug product, TRP-8803, that includes a novel formulation and unique method of delivery.