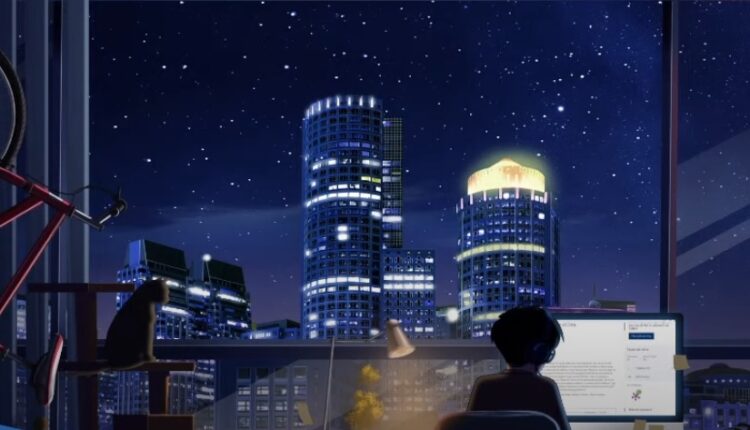 TDR's Top 5 Psychedelic Developments For The Week Of June 21
Welcome to TDR's review of the Top 5 Psychedelic developments for the week of June 21. Aside from presenting a synopsis of events, we provide market commentary to summarize the week that was for publicly-listed companies.
5. Cybin Inc. Gains 27.10% On The Week, Finishes In Blue Sky Breakout Territory
It was a strong performance for Cybin Inc., which ran the table (5-straight positive closing sessions) to gain 27.10% on the week. This was in contrast to the Horizon Psychedelic Stock Index ETF (PSYK), which finished flat (0.00%). Although the company did disseminate news, a general extension of bullish momentum was likely the driving force behind this week's price action.
Overall, Cybin has a few catalysts that could be underpinning Cybin's the current move. There has been a sustained and material news cycle in which no less than nine press releases have been disseminated in June. There have also been a flurry of investment bank coverage activity—the latter of which occurred on Monday as Stifel Nicolaus increased its price target from C$11.00 to C$15.00 in a research note to investors. There's also speculation that Cybin could be nearing an uplist to the Nasdaq Exchange, which Canaccord previously expressed could occur in Q2 2020.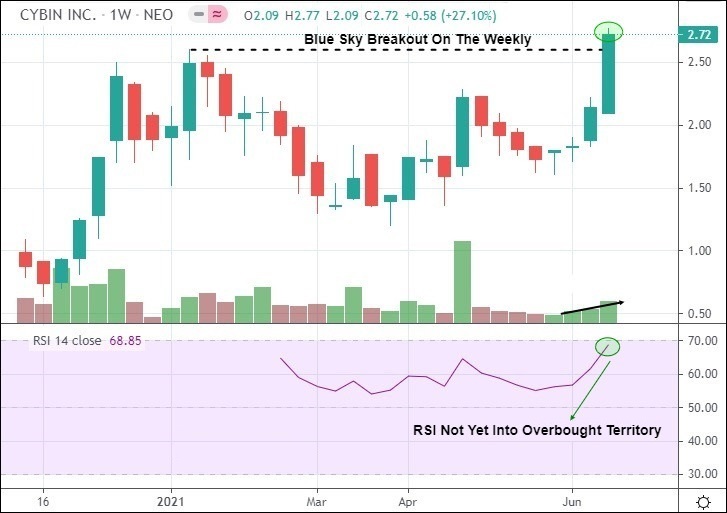 Whatever the reason, the push into blue sky breakout territory—defined as a weekly close above the previous all-time trading high in which no defined overhead resistance exists—is a significant show of strength for the company. The only thing missing here is a conclusive print on volume. Otherwise, being the strongest psychedelic stock among its peers is certainly nothing to complain about.
4. Mydecine Selects Substance Use Disorder and Smoking Cessation for Novel Psychedelic Molecule MYCO-004
Mydecine Innovations Group (NEO: MYCO)(OTCMKTS: MYCOF) has selected substance use disorder and smoking cessation as the initial target indications for its proprietary psychedelic molecule MYCO-004. The compound is a patch-delivered tryptamine compound. Its properties include short duration (~2hours), transdermal, precision dosing and long-term compound stability.
Mydecine selected MYCO-004 for substance use disorder and smoking cessation to address the underserved and drastic need for treatment. There are approximately 19.7 million adults in America suffering from substance abuse disorder and approximately 31.4 million Americans who smoke cigarettes that have untreated addictions to nicotine. Specific to nicotine addiction, there is a noted lack of efficiency and safety in current treatments.
__________
Mydecine Joins The List Of Investment Bank Covered Companies, As Roth Initiates With A Buy/C$3.00 Price Target On June 22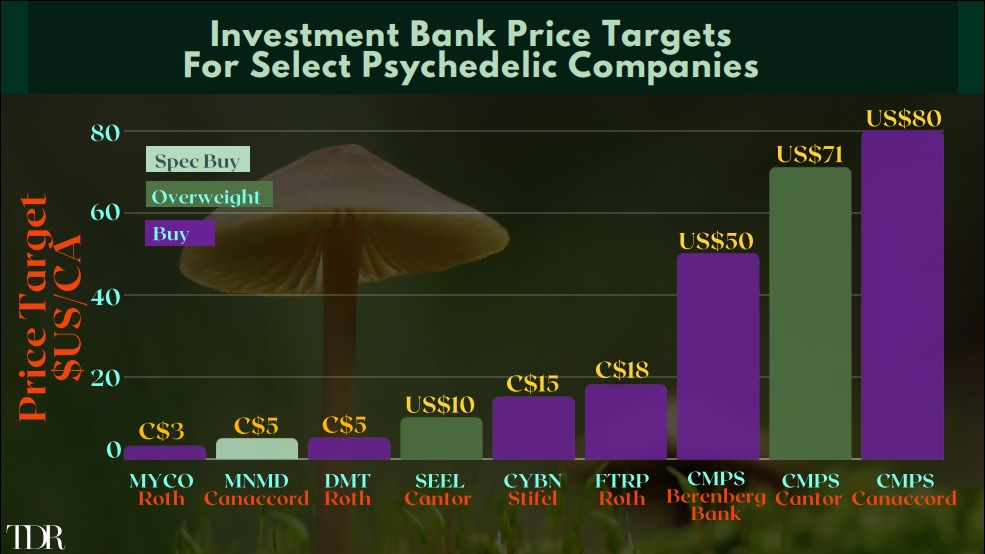 __________
3. Numinus Files U.S. Provisional Patent Application for a Proprietary Rapid Production Process for Psilocybe and Other Psychoactive Fungi Species
Numinus Wellness Inc. (CVE:NUMI) announced that its subsidiary Numinus Bioscience Inc. has filed a provisional patent application with the United States Patent and Trademark Office (USPTO) for a process that dramatically increases the production of therapeutics for use in psychedelic-assisted psychotherapy.
We believe that the rapid production process has the potential to transform the sector and ensure that as many people as possible have the opportunity to benefit from mental health treatments and support their wellbeing.

Payton Nyquvest, CEO, Numinus
The sustainable, reproducible and easily scalable process will be used to rapidly generate therapeutic products from psychoactive fungi species that contain psilocybin, other psychoactive compounds and a range of additional beneficial compounds, some of which Numinus researchers characterized for the first time in psychedelic fungi. The resulting psychedelic products are intended to be delivered in micro or macro dosages to help treat mental health disorders that affect millions of people around the world.
2. Mixed Week Among The Biggest Psychedelics Stocks In Subdued Summer Trade
The biggest psychedelic stocks were mixed this week, as the summer doldrums have seemingly arrived. The Horizon Psychedelic Stock Index ETF (PSYK) oscillated between uninspiring +/- performance, before settling flat when the final bell rang (↔0.00%). Moribund volume ruled the day, with PSYK printing its lowest weekly volume bar in its short history. In contrast, both the Nasdaq Junior Biotechnology Index (↑3.65%) and Nasdaq Biotechnology Ishares ETF (↑2.74%) gained notably as broad indexes kept minting new highs.
| | | | | | |
| --- | --- | --- | --- | --- | --- |
| Company | Ticker | Price ($) | Weekly Change (%) | WoW Volume Trend | Market Cap (s/o) |
| ATAI LIfe Sciences | ATAI | 16.94 | -12.90 | ↓ | US$2.58B |
| Mind Medicine | MNMD | 3.72 | -0.53 | ↑ | US$1.67B |
| Compass Pathways | CMPS | 33.49 | -7.84 | ↑ | US$1.37B |
| Field Trip Health | FTRP | 7.23 | -3.21 | ↓ | C$414.3M |
| Cybin Inc. | CYBN | 2.72 | 27.10 | ↑ | C$403.6M |
| Seelos Therapeutics | SEEL | 2.90 | -3.97 | ↑ | US$296.4M |
| Numinus Wellness | NUMI | 0.95 | -7.76 | ↓ | C$191.9M |
| Revive Therapeutics | RVV | 0.49 | 2.08 | ↔ | C$155.3M |
| Small Pharma | DMT | 0.45 | -25.00 | ↔ | C$142.5M |
| Mydecine Innovations | MYCO | 0.415 | 45.61 | ↑ | C98.7M |
In the news…
COMPASS Pathways has become a founding supporter of the British Neuroscience Association's (BNA) inaugural Scholars programme, which aims to support students from under-represented ethnic groups to thrive in neuroscience, and build a supportive community through networking opportunities, bursaries and mentorship.
Cybin Inc. announced the completion of its 51st pre-clinical study as it continues to progress its proprietary psychedelic molecules into Investigational New Drug-enabling studies. To date, 1 clinical candidate and 3 development candidates have been nominated and are advancing towards clinical evaluations in Major Depressive Disorder.
The company also announced the addition of Dr. Thomas Laughren, to its Clinical Advisory Board.
MindMed has announced the addition of Dr. Maurizio Fava, a world-leading expert in psychiatry and psychiatric clinical trials from Massachusetts General Hospital and the Harvard Medical School to the company's Scientific Advisory Board.
MYND Life Sciences has expanded its intellectual property portfolio for diseases of the central nervous system, including methods for treating or delaying Alzheimer's disease and related forms of dementia. Its research team has shown significant progress in advancing proprietary technologies, which in some instances, can potentially reverse the progress of Alzheimer's and associated forms of the disease. We also learned this week that its research team is about to be published in world Top 3 medical journal.
Novamind Inc. announced the appointment of Dr. Paul Thielking as Chief Scientific Officer and Principal Investigator of Novamind. In his new role, Dr. Thielking will oversee all aspects of the company's investigator-led studies.
PsyBio Therapeutics has initiated its first, European pilot scale batch manufacturing of its psychedelic portfolio of compounds with the proprietary biosynthetic formulation of psilocybin in collaboration with Biose Industries to prepare products and substances for ongoing regulatory evaluation.
Red Light Holland has entered into a non-binding letter of intent to acquire a 51% stake in Acadian Exotic Mushrooms Ltd. AEM is a dormant gourmet mushroom production facility co-owned by leading Canadian mushroom farming groups/individuals Holburne Mushroom Farm and Mike and Fernando Medeiros.
Earlier in the week, TDR's Founder and President Shadd Dales interviewed Bruce Linton for his thoughts on the Creso Pharma – RLH merger announcement (June 16).
Small Pharma received a favorable write-up from the UK's Daily Mail highlighting the companies ongoing Phase 1/2A trials on on the compound DMT (N-Dimethyltryptamine), which will examine the impact the substance has on the brain in first time drug users. DMT can be administered within an hour long therapy session and the trial will determine what dosage level and duration is required.
Wesana Health Holdings announced a partnership with the University of South Carolina to develop and build a bespoke facility for advanced research and product development related to treating traumatic brain injury (TBI) and improving neurological performance.
1. Texas Will Study Benefits Of Psychedelics For Military Veterans Under Bill Enacted Without Governor's Signature
Texas Governor Greg Abbott allowed a bill that will require the state to study the therapeutic potential of psychedelics to become law without his signature on June 18.
Under the psychedelics measure, the state will be required to study the medical risks and benefits of psilocybin, MDMA and ketamine for military veterans in partnership with Baylor College of Medicine and a military-focused medical center. It also mandates a clinical trial into psilocybin for veterans with PTSD, in addition to a broader review of the scientific literature on all three substances.