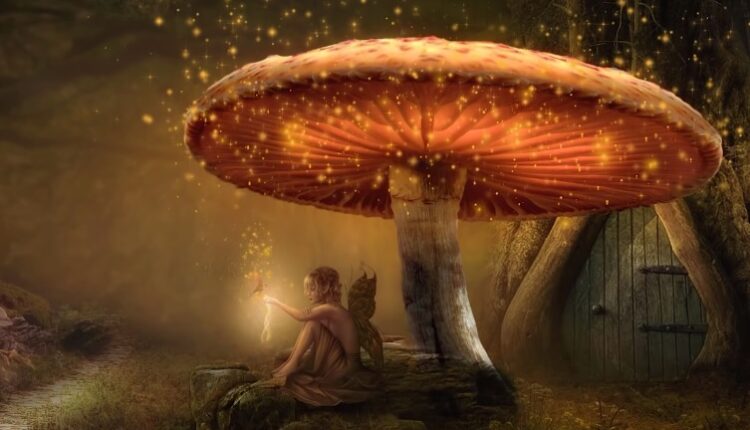 TDR's Top 5 Psychedelic Developments For The Week Of June 7
Welcome to TDR's review of the Top 5 Psychedelic developments for the week of June 7. Aside from presenting a synopsis of events, we provide market commentary to summarize the week that was for publicly-listed companies.
5. Field Trip Health Applies to List Its Common Shares on the NASDAQ Stock Market
Field Trip Health (CNSX: FTRP) (OTCMKTS: FTRPF) announce that it has applied to list its common shares on the NASDAQ Stock Market.
In advance of an anticipated listing on NASDAQ, Field Trip will file a Registration Statement with the United States Securities and Exchange Commission. The listing of common shares on NASDAQ remains subject to the review and approval of the listing application and the satisfaction of all applicable listing and regulatory requirements, as well as effectiveness of the registration statement. Field Trip will continue to maintain the listing of its Shares on the Toronto Stock Exchange under the symbol "FTRP".
4. Connecticut Governor Signs Psychedelics Study Measure
The governor of Connecticut signed legislation that includes language requiring the state to carry out a study into the therapeutic potential of psilocybin mushrooms.
Gov. Ned Lamont (D), who may also see a marijuana legalization bill delivered to his desk if the legislature succeeds in approving it this week, signed off on the psychedelics policy proposal as part of a broader package of health reform initiatives.
The provision stipulates that the Department of Mental Health and Addiction Services must convene a working group, which needs to include legislators familiar with public health issues, to "study the health benefits of psilocybin.
__________
Anxiety Disorder Steadily Rising During The Opening Months Of The COVID-19 Pandemic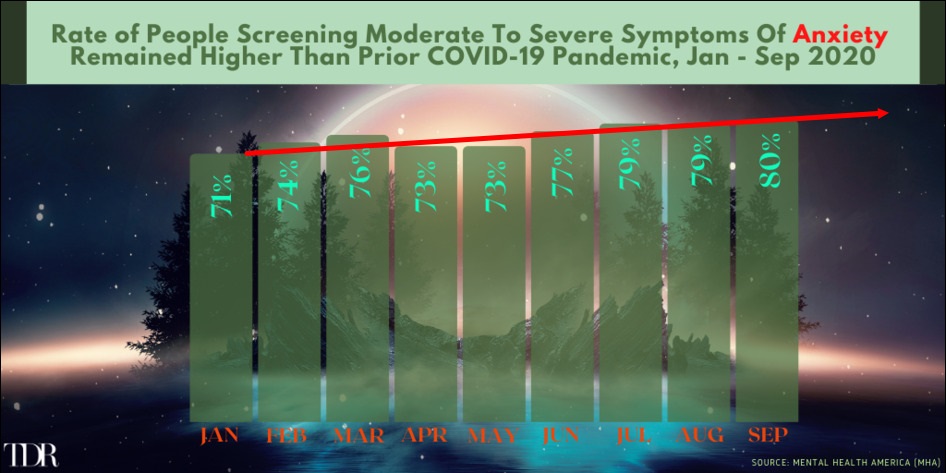 __________
3. Big Gains In The Psychedelic Sector As Biotech Stocks Have Their Best Week Since September 2020
The biggest psychedelic stocks were higher this week, with the Horizon Psychedelic Stock Index ETF (PSYK) soared ↑9.01% as biotech stocks had their best week since last September. Still, PSYK did manage to outperform both the Nasdaq Junior Biotechnology Index (↑7.03%) and Nasdaq Biotechnology Ishares ETF (↑5.94%), as key leadership stocks such as CMPS broke out of recent ranges. The week's rally should also come as no surprise to regular readers, as we commented in last week's Top 5: "We also note the potential for an Atai Life Sciences IPO—which may occur soon—to light a fire under the market for a few sessions, providing short term trading opportunities." That's exactly what took place.
While it was a great week for the sector, our technical indicators and volume overlays are not signaling a breakout… yet. From a trading perspective, we are treating this as an oversold bounce off of compressed price action from an oversold condition. Biotech stocks, which started the week on fire after the FDA approved Biogen's Alzheimer's disease drug aducanumab, lifted all boats.
Still, it was nice to see bellweathers such as MindMed shake off news of the departure of its CEO (and associated insider selling the week prior) to advance 22.88%. Certainly, a confidence-building week for a sector which had been mostly licking its wounds since MindMed uplisted to NASDAQ in late April. Strong participation in smaller market cap issues such as PharmaTher Holdings was encouraging, as the ketamine drug development and delivery specialist soared ↑60.52% to a new weekly closing high. TDR penned an article on June 9 on how PharmaTher was (justifiably) strongest stock in the whole psychedelic space this past quarter, and they showed it once again this week.
Congratulations to long term focused investors who have remained patients and strategically added on dips over the past several weeks. We suspect this will remain the best way to navigate the market through the balance of the summer months.
| | | | | | |
| --- | --- | --- | --- | --- | --- |
| Company | Ticker | Price ($) | Weekly Change (%) | WoW Volume Trend | Market Cap (s/o) |
| Compass Pathways | CMPS | 39.68 | 19.48 | ↑ | US$1.63B |
| Mind Medicine | MNMD | 3.92 | 22.88 | ↑ | US$1.34B |
| Seelos Therapeutics | SEEL | 3.36 | -0.59 | ↓ | US$342.1M |
| Field Trip Health | FTRP | 6.35 | 14.41 | ↑ | C$363.9M |
| Cybin Inc. | CYBN | 1.83 | 1.66 | ↑ | C$234.0M |
| Numinus Wellness | NUMI | 1.03 | 14.44 | ↑ | C$208.1M |
| Small Pharma | DMT | 0.50 | 19.04 | ↔ | C$158.4M |
| Revive Therapeutics | RVV | 0.47 | 6.81 | ↑ | C$149.0M |
| Mydecine Innovations | MYCO | 0.305 | 1.66 | ↑ | C$72.5M |
In the news…
Braxia Scientific announces that the American Journal of Psychiatry, the most widely read psychiatric journal in the world, has published the International Expert Opinion and Implementation Guidance for the clinical use of rapid-acting Ketamine and Esketamine for treatment-resistant depression (TRD). The Guidelines were developed and led by Braxia's CEO Dr. Roger S. McIntyre, M.D., and Braxia Health Medical Director, Joshua Rosenblat, M.D.
Cybin Inc. announced that it will co-sponsor a randomized, placebo-controlled trial of psychedelic-assisted psychotherapy with psilocybin for frontline clinicians experiencing COVID-related distress. The study will aim to treat symptoms of depression, anxiety, burnout and post-traumatic stress among frontline doctors, nurses and healthcare professionals.
GH Research Plc has filed a Form F-1 filing with the SEC to register securities issued by foreign issuers for the purpose of bringing an Initial Public Offering to market. The 5-MeO-DMT drug developer announced the closing of a $125 million Series B financing round in April. Along with Small Pharma, is a leader in the research and development of DMT (+analogs) for depressive mental health disorders.
Mydecine Innovations Group has made significant advances in psilocybin research with the discovery of over 40 compounds with pharmacological potential in mushrooms. Of these compounds, a large majority appear to have never been reported before and could be vital to the critical effects of naturally-sourced mushrooms on human health and wellbeing.
MYND Life Sciences has filed additional provisional patents that utilize various psilocybin analogs to target clinical depression. MYND has two flagship drugs in the development pipeline; MYND-604 and MYND-778. MYND-604 is the lead candidate being developed as a novel oral dosage to treat MDD and brings much needed innovation to the Selective Serotonin Reuptake Inhibitor market.
PharmaDrug Inc. announced that its Super Smart division has launched a Slim Winkel branded online retail platform in The Netherlands and Europe. Management believes launching the online smart shop will enable the company to establish and build its brand while the brick-and-mortar strategy was put on hold until the end of the pandemic.
PharmaTher Holdings provided an update on the research and development initiatives of its psychedelic product programs and upcoming milestones for 2021. Some of the anticipated highlights include completing a Phase 2 study with ketamine to treat Parkinson's disease, a Phase 2 study with KETABET for treatment-resistant depression.
Psyence Group announces the incorporation, and operational commencement, of its wholly owned Jamaican subsidiary. Psyence Jamaica will initially focus on naturally derived psilocybin for the treatment of patients in a palliative care setting.
Tryp Therapeutics CEO Greg McKee explains to TDR that his company stands to benefit should California implement a bill to legalize psychedelics possession. The legislation sponsored by Sen. Scott Wiener (D) passed 21-16 on the Senate floor and could extend well beyond the consumer market and into structured state and federal regulatory frameworks.
2. MindMed Announces Chief Executive Officer Transition
Mind Medicine (MindMed) Inc. (NASDAQ: MNMD) (NEO: MMED) announced that J.R. Rahn, the company's co-founder and chief executive officer, is stepping down as chief executive officer and a director. MindMed's Chief Development Officer, Robert Barrow, will assume the position of CEO immediately on an interim basis.
MindMed intends to initiate a comprehensive search for a chief executive officer, in which Mr. Barrow will be a candidate, and Mr. Rahn will advise the company during its leadership transition. The transition of the Company's leadership team will enable the Company to pursue aggressively its clinical development programs and development of its companion innovative digital technologies.
During Mr. Rahn's tenure as CEO, he helped to assemble a diverse clinical pipeline, establish world class research partnerships and was an instrumental part of the leadership team as MindMed went public on the NEO Exchange and recent uplist on the Nasdaq Stock Market. Under Mr. Rahn's leadership, MindMed has raised over US$204 million, making it one of the most well-capitalized companies in the psychedelic medicine industry. Mr. Rahn led the hiring of the Company's world-class drug development and technology team capable of bringing psychedelic inspired medicines to market through a regulatory pathway worldwide.German psychedelic startup Atai targets valuation of $2.3 bln in U.S. IPO.
1. Atai Life Sciences Announces Launch of Initial Public Offering
Atai Life Sciences B.V. a clinical-stage biopharmaceutical company aiming to transform the treatment of mental health disorders, announced the commencement of a proposed underwritten initial public offering of 14,286,000 of its common shares. All common shares to be sold in the proposed offering will be sold by Atai.
The underwriters of the offering will have a 30-day option to purchase up to an additional 2,142,900 common shares at the initial public offering price, less the underwriting discounts and commissions. The initial public offering price is expected to be between $13.00 and $15.00 per common share. Atai has applied to list its common shares on the Nasdaq Global Market under the ticker symbol "ATAI."
Credit Suisse, Citigroup, Cowen, and Berenberg are acting as book-running managers for the proposed offering. Cantor, RBC Capital Markets and Canaccord Genuity are also acting as book-running managers for the proposed offering.