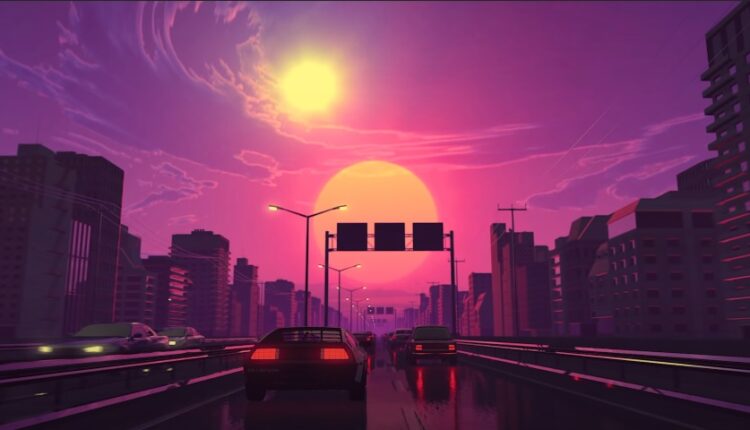 TDR's Top 5 Psychedelic Developments For The Week Of September 13
Welcome to TDR's review of the Top 5 Psychedelic developments for the week of September 13. Aside from presenting a synopsis of events, we provide market commentary to summarize the week that was for publicly-listed companies.
5. Perception Neuroscience initiates Phase 2a study of PCN-101 (R-ketamine) for treatment resistant depression
Perception Neuroscience, an atai Life Sciences biopharmaceutical majority-held subsidiary focused on developing innovative therapies in neuropsychiatric diseases, announced the initiation of a Phase 2a clinical study to evaluate the safety and efficacy of PCN-101 (R-ketamine). R-ketamine is a stereoisomer of ketamine being developed for therapeutic treatment of psychiatric disorders such as Treatment Resistant Depression (TRD). The Phase 2a clinical trial has received the necessary regulatory and ethics approvals to initiate the study.
The Phase 2a trial is a double blind, placebo-controlled study in patients with TRD. Each of the 3 parallel arms will enroll 31 patients at multiple locations. Patients will receive either placebo, a 30 mg dose, or a 60 mg dose of R-ketamine intravenously. Patients will be assessed for depressive symptomology over the subsequent 14 days using the Montgomery-Asberg Depression Rate Scale. Topline data from the study is expected to be reported at the end of 2022.
4. House Could Vote On Psychedelics Research For Military And Marijuana Banking As Part Of Defense Bill
House lawmakers have introduced a series of drug policy-related amendments to defense legislation, including proposals to facilitate research on the benefits of psychedelics for active duty military personnel and to protect banks that service state-legal marijuana businesses.
Rep. Dan Crenshaw (R-TX) filed a measure that would allow the secretary of defense to approve grants for research into the therapeutic potential of certain psychedelics such as MDMA, psilocybin, ibogaine and 5–MeO–DMT for active duty military members with post-traumatic stress disorder,
Other proposed amendments would require that the U.S. Department of Veterans Affairs (VA) conduct a clinical trial into the therapeutic benefits of marijuana for veterans with chronic pain and post-traumatic stress disorder (PTSD)
__________
Regional Allocation And Market Capitalization Of Holdings In AdvisorShares New Psychedelic-Focused ETF, PSIL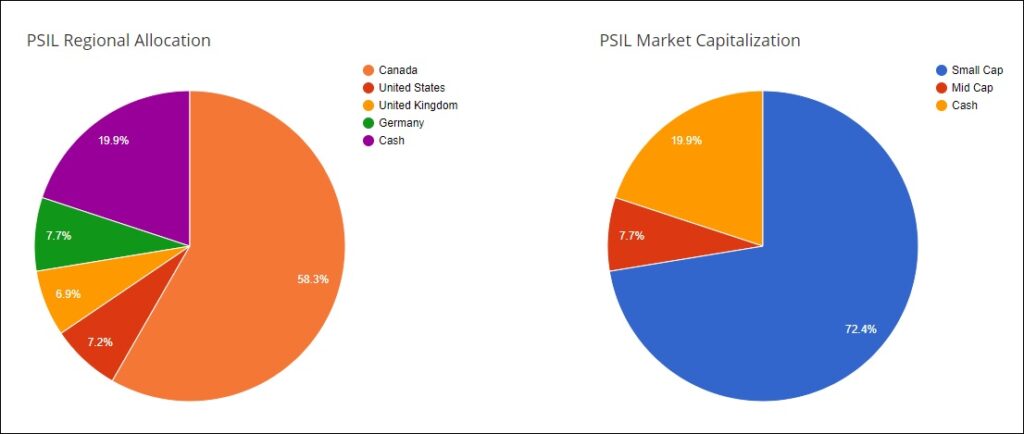 ___________
3. Psychedelic Sector Underperforms As Investors Await A Catalyst
The biggest psychedelic stocks declined across the board, with Horizon Psychedelic Stock Index ETF (PSYK) plunging ↓6.77% to new all-time weekly lows. Volume picked up moderately, although it remains low by historical standards. The performance in PSYK deeply underperformed both the Nasdaq Junior Biotechnology Index (↑1.11%) and Nasdaq Biotechnology Ishares ETF (↑0.21%), amid broad indexes that finished mildly lower.
We sound like a broken record, but price action remained stuck in Groundhog Day scenario frequently seen during the summertime morass: volume remained light, catalyzing individual and sector news remained grounded, and psych stocks underperformed peer biotech ETF/indexes. Price declined in all five sessions, which was a first. Relative Strength Index (14) on the daily entered oversold territory (<30) for the second time, resting at 26.24. Quite simply, buyers have failed to show up for the second consecutive week post-Labor Day.
We will be monitoring signs of stabilization in the weeks ahead leading into the COMPASS Phase 2b endpoint results.
| | | | | | |
| --- | --- | --- | --- | --- | --- |
| Company | Ticker | Price ($) | Weekly Change (%) | WoW Volume Trend | Market Cap (s/o) |
| ATAI LIfe Sciences | ATAI | 16.42 | -0.24 | ↔ | US$2.53B |
| COMPASS Pathways | CMPS | 33.14 | -3.69 | ↑ | US$1.38B |
| Mind Medicine | MNMD | 2.45 | -2.77 | ↑ | US$1.11B |
| GH Research | GHRS | 21.20 | -8.87 | ↓ | US$1.06B |
| Cybin Inc. | CYBN | 2.16 | -10.74 | ↑ | US$342.5M |
| Field Trip Health | FTRP | 4.37 | -13.80 | ↓ | US$292.5M |
| Numinus Wellness | NUMI | 0.77 | -6.09 | ↓ | C$154.8M |
| Revive Therapeutics | RVVTF | 0.36 | -10.66 | ↑ | US$114.1M |
| Small Pharma | DMT | 0.38 | -5.00 | ↑ | C$120.3M |
| Mydecine Innovations | MYCOF | 0.303 | -4.71 | ↓ | US$72.3M |
In the news…
atai Life Sciences has entered into an amended and restated loan agreement with strategic partner IntelGenx Technologies Corp. to support IntelGenx's conditionally approved graduation from the TSX Venture Exchange to the Toronto Stock Exchange.
Awakn Life Sciences reported its financial results and business highlights for the three and six months ended July 31, 2021. Several important operational and key corporate highlights have transpired over the stated time period.
Bright Minds Biosciences receives investment bank coverage from Eight Capital, which initiates coverage with a "Buy" rating and $11.50 price target.
COMPASS Pathways has acquired an intellectual property portfolio including patent applications covering a variety of psychedelic and empathogenic substances. The IP was developed together with inventor Matthias Grill PhD, founder and CEO of MiHKAL GmbH in Basel, Switzerland, who will be working with COMPASS on an exclusive research project to develop new product candidates.
KetamineOne Capital Limited has entered into an agreement with Psychology & Counselling Services Group to provide psychology, therapy, dietary and other mental health services for Ketamine One's subsidiary, IRP Health Ltd., as early as October of 2021.
Mind Cure Health is joining the Digital Therapeutics Alliance, a non-profit association of industry leaders with a mission to drive awareness and adoption of digital therapies.
Mindset Pharma announced that its lead candidate, MSP-1014, was comparable to psilocybin assessed using a drug discrimination assay. The results suggest that MSP-1014 induces a similar perceptual state to psilocybin, further confirming the viability of MSP-1014 as a therapeutic analog of first-generation psilocybin as the company advances MSP-1014 into the clinic.
NeonMind Biosciences has completed the sale of assets related to its consumer division, including e-commerce operations and underlying functional food assets, as well as shares owned in Translational Life Sciences Inc., for a combined consideration of approximately C$1.1 million plus a royalty.
Nova Mentis Life Science has filed an application with the U.S. Food and Drug Administration to receive orphan drug designation for its proprietary psilocybin drug to treat patients with fragile X syndrome (FXS), the most common inherited cause of autism spectrum disorder (ASD).
Novamind announced that its wholly owned subsidiary, Cedar Clinical Research ("CCR") has been selected as a research site for a clinical trial sponsored by Karuna Therapeutics, Inc., a clinical-stage neuroscience biopharmaceutical company.
Perception Neuroscience, an atai Life Sciences biopharmaceutical subsidiary focused on developing therapies in neuropsychiatric diseases, announced the initiation of a Phase 2a clinical study to evaluate the safety and efficacy of PCN-101 (R-ketamine).
PsyBio Therapeutics has been included in AdvisorShares Psychedelics Exchange Traded Fund (PSIL). The ETF offers exposure to those biotechnology, pharmaceutical and life sciences companies that the ETF sees as leading the industry, and initially includes 16 psychedelics companies and is listed on the NYSE Arca.
Red Light Holland have expanded their iMicrodose product offerings as their iMicrodose All-In-One Mushroom Fruiting Extracts powered by Red Light Holland are now available for sale (Business to Business) through Red Light Holland's wholly owned subsidiary SR Wholesale across Europe.
Wesana Health Holdings announced a commitment to fund an initial US $1.5 million to assess the viability of Multidisciplinary Association for Psychedelic Studies (MAPS) MDMA-assisted therapy to treat traumatic brain injury (TBI).
2. Michigan State Senators Introduce Bill To Decriminalize Psychedelics, Call For More Research
Michigan Senators Jeff Irwin (D-Ann Arbor) and Adam Hollier (D-Detroit) co-sponsored and introduced legislation last week that would decriminalize the use of psilocybin and mescaline and allow the possession, cultivation and delivery of these two types of psychedelics.
These substances have medicinal value, they have religious significance and they have a very low propensity for abuse. And so that's why I'm proposing to decriminalize the substance because it really makes no sense to spend any time or money arresting people and turning their lives upside down.

Michigan Senator, Jeff Irwin (D-Ann Arbor)
This Bill follows previous advances by the Ann Arbor City Council, which passed a resolution in September 2020 decriminalizing the use of psychedelics. In Grand Rapids, a vote is coming up this year to decriminalize the use, possession, growing or gifting of psychoactive plants and fungi.
As well, a grassroots movement in Detroit, Michigan is leading a ballot initiative to make entheogenic plants and fungi the lowest law enforcement priority in the city.
1. AdvisorShares Launches PSIL, An NYSE-Listed Actively Managed Psychedelic ETF
AdvisorShares launched the AdvisorShares Psychedelic ETF (NYSEARCA:PSIL) on September 16, aiming to take advantage of the emerging psychedelic drug development industry. The thematic fund will expose investors to unique biotechnology, pharmaceutical, and life sciences businesses that look to capture a piece of the pharmaceutical development of psychedelic compounds.
We believe that by investing in select companies in the psychedelics space can provide a compelling long-term investment opportunity, however, this is also an area of the marketplace in its early innings… (PSIL) can potentially help investors capture the early growth potential of psychedelics and its prominent promise on therapeutics and medical fields.

AdvisorShares Launches Psychedelics ETF, September 16
In dissecting PSIL, investors will note that the fund is constructed of small-cap exposure representing 72.4% of the ETF and over 58% allocated towards Canadian firms. U.S. exposure represents 7.2% of the ETF. PSIL will compete for market share against the Horizons Psychedelic Stock Index ETF (PSYK), which is down nearly 25% since its inception on January 26th. Its other main competition is the Defiance Next Gen Altered Experience ETF, which has suffered equally underwhelming performance in recent times.