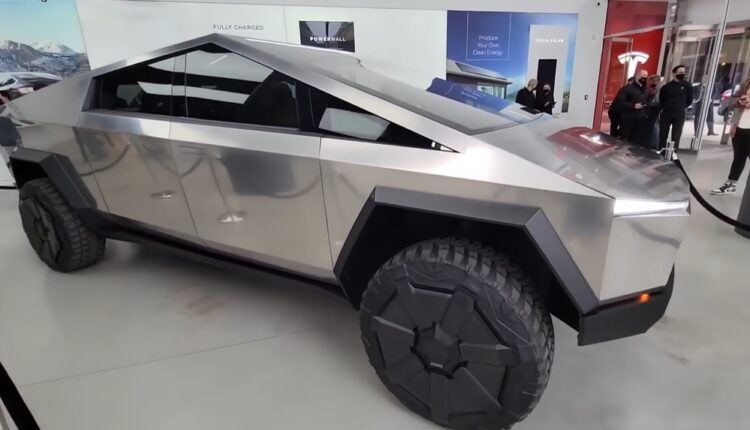 TDR's U.S. Stock Market Preview For The Week Of October 17, 2022
A weekly stock market preview and the data that will impact the tape.
Sunday Evening Futures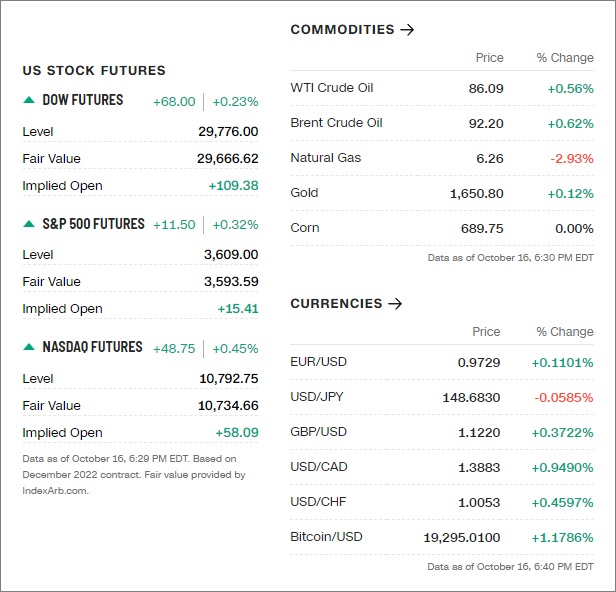 Weekend News And Developments
Abbott is voluntarily recalling several of its Similac ready-to-feed liquid baby formula products because of a bottle defect.
Apple store workers vote to unionize in Oklahoma City. The 56-to-32 vote comes amid a surge in union activity among industries such as retail that have traditionally not been covered by organized labor groups.
Average American family has experienced a loss of roughly $6,000 in annual wages, thanks to inflation during President Biden's tenure, according to an analysis shared with FOX Business.
Cevian Capital has slashed its stake in UK-based Vodafone as scepticism grows that the telecoms company will be able to reverse its sluggish performance, the Financial Times reported.
China's Foreign Affairs agency called on citizens to leave Ukraine immediately due to a "serious security situation"
China's securities regulator is studying policies that would give overseas mutual funds national treatment when determining short-term trading in China-listed A-shares, in a bid to attract foreign investment, the Shanghai Securities News reported on Sunday.
Coinbase payment service, Coinbase Commerce, will facilitate crypto payments for customers purchasing Google's cloud services thanks to a deal between the two companies, starting in early 2023.
Currency traders braced for possible intervention to support the yen Monday after it touched a 32-year low and neared the key psychological 150 per dollar level.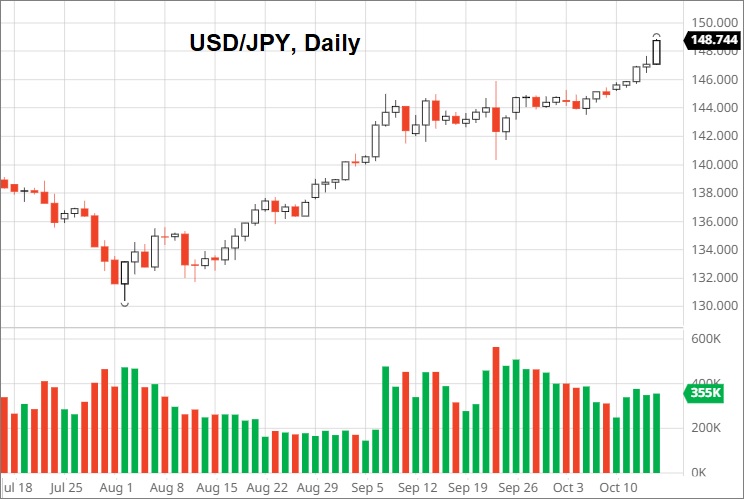 Donald Trump's media company fired an executive after he shared internal documents from an SEC whistleblower complaint with The Washington Post.
Elon Musk said on Saturday his rocket company SpaceX would continue to fund its Starlink internet service in Ukraine, citing the need for "good deeds," a day after he said it could no longer afford to do so.
Europe's energy subsidies may reduce the current rate of inflation but only at the expense of future higher readings, potentially complicating the task of monetary policy, European Central Bank (ECB) policymaker Francois Villeroy de Galhau said on Saturday.
European Central Bank should consider starting to shrink its oversized stock of assets once interest rates rise to a level that neither stimulates nor slows economic growth, Dutch Central Bank chief Klaas Knot said on Saturday.
Facebook owner Meta's Horizon Worlds is failing to meet internal performance expectations, a report says.
Federal Reserve's rapid interest rate increases have contributed to the strength of the dollar against other currencies, but that may ease once the U.S. central bank reaches the point of pausing the hikes, St. Louis Fed President James Bullard said on Saturday.
Former Treasury Secretary Larry Summers is worried about a global economic crisis that could result from central banks' efforts to fight rising prices.
Gazprom CEO says gas price cap would lead to supply halt.
Global Infrastructure Partners is in exploratory talks with the owners of Italian shipping group MSC for a possible investment in GIP's railway operator Italo, Il Sole 24 Ore reported on Saturday.
Institutional put buying is at a record high in terms of dollar spent as investors pay for protection.
Kiev: airstrikes left parts of Kyiv without power, stirring fresh concerns about Ukraine's electricity supply as winter approaches.
Kintor Pharmaceutical announced that the company has completed the enrollment of 160 patients for its phase II clinical trial of KX-826 (pyrilutamide) in China for the treatment of acne vulgaris on 14 October 2022.
Lufthansa's budget division Eurowings said on Sunday that more than half of its passengers will reach their planned destinations despite a pilots strike planned for this week.
Lyft is backing Prop 30 in California, which would tax the rich to fund EV charging and incentives. Campaigning against the measure in ads is Gov. Gavin Newsom, who says it is a corporate giveaway.15 min read
Midterm elections in the U.S. are less than four weeks away. A primer of where the chambers are leaning.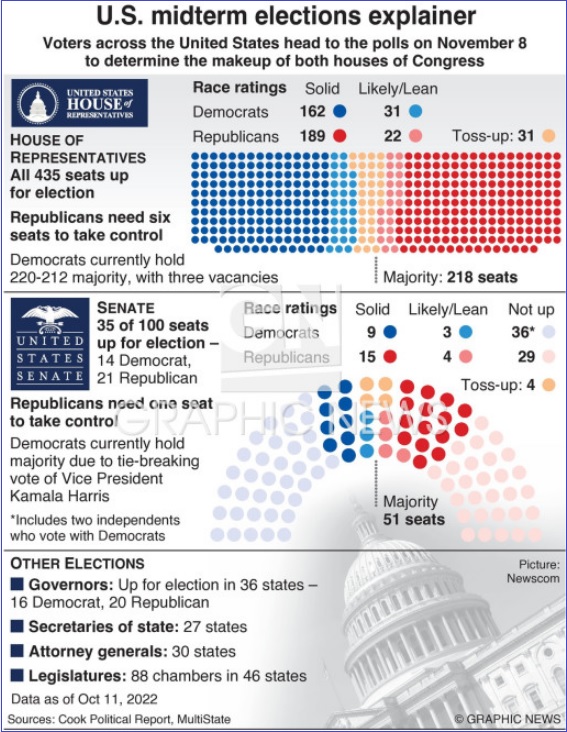 Paris: Tens of thousands of protesters marched in Paris on Sunday to demonstrate against rising inflation, organized by a coalition of left-wing parties seeking to put pressure on the government of French President Emmanuel Macron.
Rupert Murdoch started a process that could reunite his media empire, News Corp and Fox Corp disclosed on Friday, saying they would consider combining at his behest, nearly a decade after the companies split.
South Korea's finance minister said the government will scrap taxes on foreigners' income from investments in treasury bonds and monetary stabilization bonds from Monday.
SpaceX has sent a letter to the Pentagon asking them to pick up the tab for funding the aerospace giant's Starlink satellite internet service in Ukraine.
Treasury yields: The gap between 2-year and 10-year Treasury yields has reached the most inverted since the early 1980s.
VinFast said on Saturday it would recall 730 of its model VF e34 electric cars (EVs), which are available only on the domestic market, to make checks and replace their side crash sensors.
White House economic adviser Cecilia Rouse said on Sunday that Federal Reserve interest rate hikes were starting to cool the "red-hot" U.S. economy, especially labor and housing markets, but inflation was still too high.
🏛️What The Analysts Are Saying…🏛️
Folding in weaker growth momentum, significantly tighter financial conditions, and the higher corporation tax from next April, we downgrade our UK growth outlook further and now expect a more significant recession." — Goldman Sachs downgrades outlook on U.K. growth prospects
"The composition of the inflation reading is perhaps even more worrisome than the overall number. Increases in shelter and medical care indices, the stickiest segments of the CPI basket, confirm that price pressures are extremely stubborn and will not go down without a Fed fight." — Seema Shah, the chief global strategist at Principal Asset Management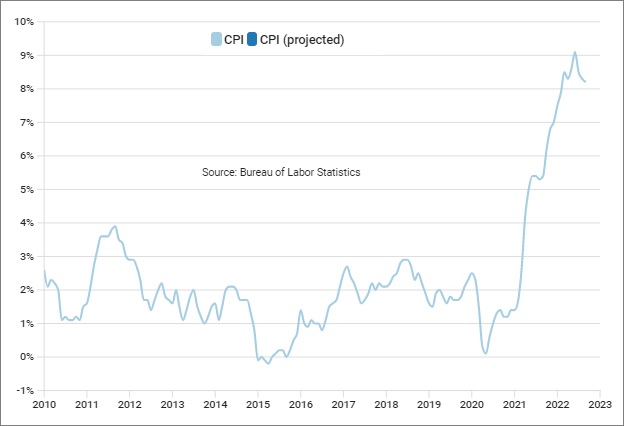 "The historical pattern of crypto with the data we have – 12 years of a journey – is that we get four-year cycles. We get three years of bull markets with growing momentum and then we get a bear market year. So in 2014, the market down almost 60%. 2018 – market down north of 70%. And this year, obviously, 2022, the market down around 60%. The expectation, if the market continues its historical trend, would be that we begin a new cycle next year." — Co-Founder and CEO of Bitwise Asset Management, Hunter Horsley
👀What We're Watching👀
• Can AdvisorShares Pure US Cannabis ETF (NYSE: MSOS) hold the Joe Biden 'October Surprise" lows?
On October 6, the Biden administration announced a pardon all prior federal offenses of simple cannabis possession and ask the attorney general and the Department of Health and Human Services to review marijuana's classification under federal law as a schedule one drug. The market went bananas, with MSOS ETF gaining close to 38% in an hour. Granted, this happened from deeply oversold levels, but there was genuine optimism that regulatory reform could be on the horizon. Unfortunately, things weren't that simple.
Subsequent foresight and analyst opinions in the days that followed concluded that real regulatory reform could still be many months from materializing. Cannabis investors, jilted by years of non-action and government jawboning, even wondered whether the announcement was a Democrat political tactic to attract votes in the upcoming midterms of November 8th. Regardless, as fast as investor euphoria arrived, it melted away in subsequent days as broad market weakness in risk assets did U.S. cannabis no favors.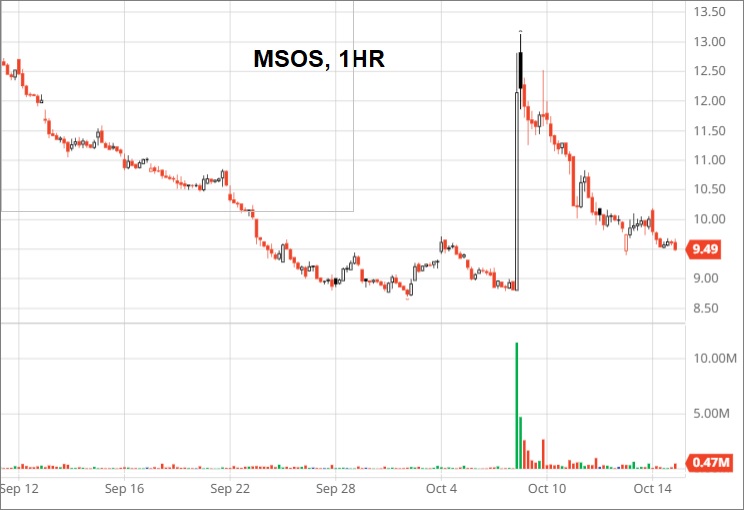 So with MSOS ETF only a stone's throw away from the 'October Surprise' gains, U.S. cannabis is reaching an inflection point: Do bulls make a stand and buy the weakness, with regulatory policy seemingly heading in the right direction? Or will investors ignore the boy who cried wolf yet again, leaving equities to languish.
We do not have the answer. But if you were fortunate enough to forgo buying U.S. cannabis during the past 7 quarters, and are bullish on the long term prospects of the sector, a conservative dollar cost averaging strategy may not be the worst idea around.
• Earnings season picks up steam
After the intra-quarter lull, earnings season picks back up in U.S. markets. Several Fortune 500 companies report next week, including Alcoa, American Express, Baker Hughes, Phillip Morris, Proctor & Gamble, Tesla, Union Pacific and more. We shall get a good sense how much the real economy has slowed by the guidance these companies provide.
Highlight earnings in the EV space will be Tesla. The company already reported lower-than-expected Q3 deliveries earlier this month, which sent shares tumbling nearly 9%. Recently, Wells Fargo analyst Colin Langan (equal weight, the equivalent of Hold) forecast "a slight Q3 beat as the benefit of pricing will likely be offset by forex headwinds." The analyst adds that the third-quarter likely focuses on the Inflation Reduction Act, with Tesla being "the biggest beneficiary" of the legislation thanks to its expansion of tax credits for electric vehicles.
Analysts, on average, forecast earnings of $1.00 per share for Tesla's third quarter, down 46.2% from Q3 2021. Revenue is projected to arrive at $22.1 billion (+61.3% YoY). — Kiplinger
U.S. Economic Calendar
| | | | | |
| --- | --- | --- | --- | --- |
| TIME (ET) | REPORT | PERIOD | MEDIAN FORECAST | PREVIOUS |
| Monday, October 17 | | | | |
| 8:30 AM | Empire State manufacturing index | Oct. | -5 | -1.5 |
| Tuesday, Oct. 18 | | | | |
| 9:15 AM | Industrial production index | Sept. | 0.10% | -0.20% |
| 9:15 AM | Capacity utilization rate | Sept. | 80.00% | 80.00% |
| 10:00 AM | NAHB home builders' index | Oct. | 44 | 46 |
| Wednesday, Oct. 19 | | | | |
| 8:30 AM | Building permits (SAAR) | Sept. | 1.54 million | 1.54 million |
| 8:30 AM | Housing starts (SAAR) | Sept. | 1.48 million | 1.58 million |
| 2:00 PM | Beige Book | | | |
| Thursday, Oct. 20 | | | | |
| 8:30 AM | Initial jobless claims | Oct. 15 | 235,000 | 228,000 |
| 8:30 AM | Continuing jobless claims | Oct. 8 | — | 1.37 million |
| 8:30 AM | Philadelphia Fed manufacturing index | Oct. | -5.8 | -9.9 |
| 10:00 AM | Existing home sales (SAAR) | Sept. | 4.70 million | 4.80 million |
| 10:00 AM | Leading economic indicators | Sept. | -0.30% | -0.30% |
| Friday, Oct. 7 | | | | |
| 12 noon | Index of common inflation expectations, 5-10 years | Q3 | — | 3.10% |
| 12 noon | Index of common inflation expectations, 10 year | Q3 | — | 2.20% |
😎Meme Of The Week😎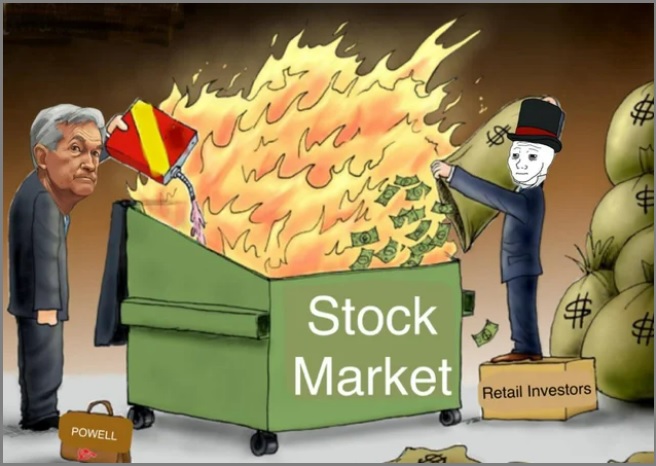 Key Earnings (US Markets)
| | | | |
| --- | --- | --- | --- |
| | Company | Symbol | Earnings estimate |
| Monday, Oct. 17 | Bank Of America | BAC | $0.78 per share |
| | BNY Mellon | BK | $1.08 |
| | Charles Schwab | SCHW | $1.05 |
| | Equity Lifestyle Properties | ELS | $0.69 |
| Tuesday, October 18 | Albertsons | ACI | $0.63 |
| | Commerce Bancshares | CBSH | $1.05 |
| | First Horizon | FHN | $0.43 |
| | Goldman Sachs | GS | $7.57 |
| | Hasbro | HAS | $1.69 |
| | Interactive Brokers | IBKR | $0.95 |
| | Intuitive Surgical | ISRG | $1.12 |
| | J.B. Hunt Transport | JBHT | $2.46 |
| | Johnson & Johnson | JNJ | $2.52 |
| | Lockheed Martin | LMT | $6.73 |
| | Signature Bank | SBNY | $5.49 |
| | State Street | STT | $1.78 |
| | United Airlines | UAL | $2.28 |
| | Truist Financial | TFC | $1.23 |
| Wednesday, October 19 | Abbott Labs | ABT | $0.94 |
| | Alcoa | AA | $0.30 |
| | ASML | ASML | $3.41 |
| | Baker Hughes | BKR | $0.25 |
| | Comerica | CMA | $2.56 |
| | Crown Castle | CCI | $1.91 |
| | Equifax | EFX | $1.63 |
| | IBM | IBM | $1.80 |
| | Kinder Morgan | KMI | $0.29 |
| | Las Vegas Sands | LVS | -$0.25 |
| | Procter & Gamble | PG | $1.56 |
| | PPG Industries | PPG | $1.66 |
| | Steel Dynamics | STLD | $5.16 |
| | Tesla | TSLA | $1.00 |
| | Travelers | TRV | $1.86 |
| | Winnebago | WGO | $2.71 |
| Thursday, Oct. 20 | ABB | ABB | $0.36 |
| | Alaska Air | ALK | $2.39 |
| | American Airlines | AAL | $0.48 |
| | AT&T | T | $0.62 |
| | Blackstone | BX | $1.01 |
| | Boston Beer | SAM | $3.48 |
| | CSX | CSX | $0.50 |
| | Danaher | DHR | $2.25 |
| | Dow | DOW | $1.19 |
| | Fifth Third | FITB | $0.98 |
| | Freeport-McMoRan | FCX | $0.31 |
| | Marsh & McLennan Companies | MMC | $1.14 |
| | Nokia | NOK | $0.09 |
| | Nucor | NUE | $6.41 |
| | NVR | NVR | $122.38 |
| | Philip Morris International | PM | $1.37 |
| | Pool | POOL | $4.65 |
| | Quest Diagnostics | DGX | $2.18 |
| | Snap | SNAP | -$0.02 |
| | Tractor Supply | TSCO | $2.07 |
| | Union Pacific | UNP | $3.07 |
| | Tenet Healthcare | THC | $1.99 |
| | Whirlpool | WHR | $5.49 |
| Friday, Oct. 21 | American Express | AXP | $2.43 |
| | HCA | HCA | $3.86 |
| | Huntington Bancshares | HBAN | $0.38 |
| | Schlumberger | SLB | $0.55 |
| | Simply Good Foods | SMPL | $0.29 |
| | Verizon | VZ | $1.29 |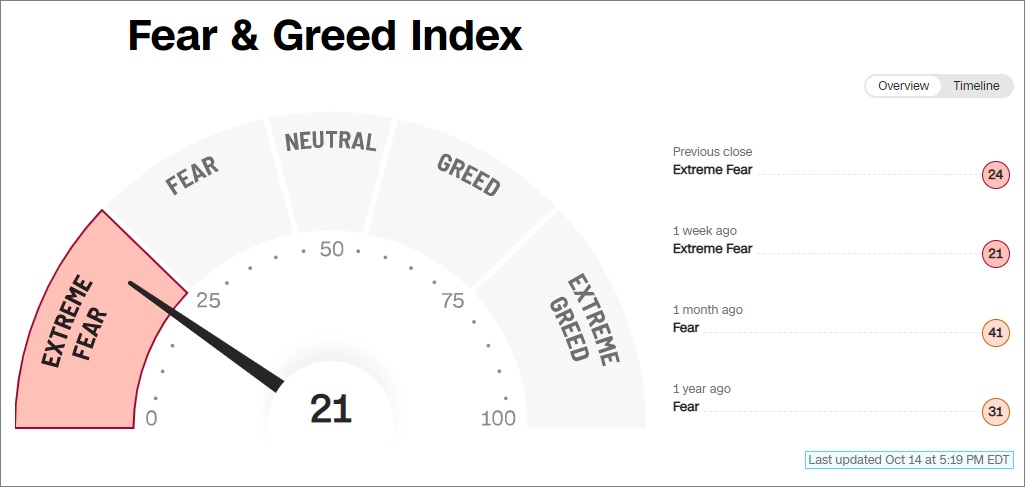 Past Week What's Hot… and What's Not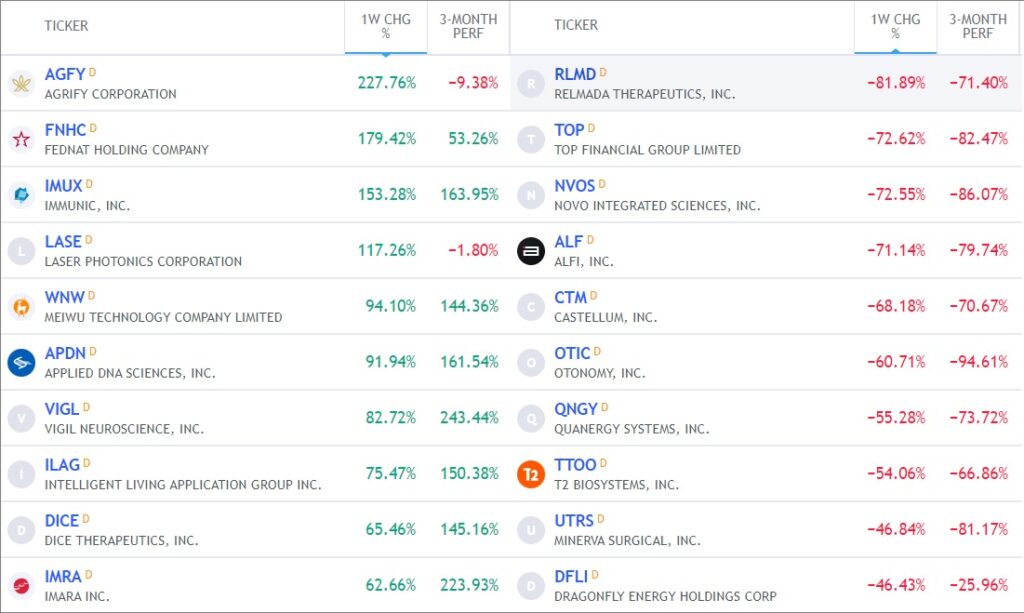 Top 12 High Short Interest Stocks
| | | | | | | |
| --- | --- | --- | --- | --- | --- | --- |
| Ticker | Company | Exchange | ShortInt | Float | S/O | Industry |
| BBBY | Bed Bath & Beyond Inc. | Nasdaq | 39.26% | 76.04M | 79.96M | Retail (Specialty Non-Apparel) |
| BYND | Beyond Meat Inc | Nasdaq | 37.38% | 56.90M | 63.67M | Food Processing |
| BIG | Big Lots, Inc. | NYSE | 36.69% | 26.52M | 28.94M | Retailers – Discount Stores |
| UPST | Upstart Holdings Inc | Nasdaq | 35.34% | 68.88M | 81.35M | Consumer Lending |
| MSTR | MicroStrategy Inc | Nasdaq | 34.57% | 9.33M | 9.34M | Software & Programming |
| HRTX | Heron Therapeutics Inc | Nasdaq | 31.94% | 102.42M | 102.14M | Biotechnology & Medical Research |
| EVGO | Evgo Inc | Nasdaq | 31.53% | 67.70M | 69.08M | Utilities – Electric |
| BGFV | Big 5 Sporting Goods Corp | Nasdaq | 31.00% | 20.70M | 22.18M | Retailers – Miscellaneous Specialty |
| CVNA | Carvana Co | NYSE | 30.40% | 95.19M | 105.80M | Retail (Specialty Non-Apparel) |
| NKLA | Nikola Corporation | Nasdaq | 28.80% | 274.44M | 433.48M | Auto & Truck Manufacturers |
| REV | Revlon Inc | NYSE | 28.63% | 7.50M | 54.28M | Personal Products |
| W | Wayfair Inc | NYSE | 28.48% | 70.91M | 80.51M | Retailers – Department Stores |
Source:
highshortinterest.com
(data as of September 12) – TDR' stock market preview, Top 12 High Short Interest Stocks
Tags: stock market preview, stock market preview October 3, 2022