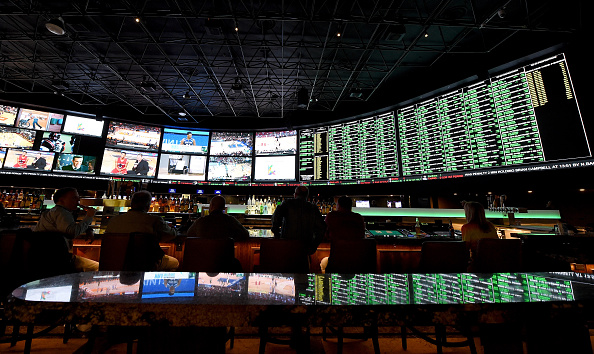 Sports Betting During a Pandemic – Where Is the Industry Heading?
There's probably no such thing as a good time for a global pandemic to hit, but COVID-19's arrival in North America couldn't have come at a worse time for the rapidly growing, increasingly legal sports-betting industry in the United States.
College basketball's March Madness tournament is annually the most wagered on sports event in the world. That tournament, as you can probably guess, takes place every March. This year, it was canceled. Meanwhile, the National Basketball Association, National Hockey League and Major League Baseball are all on hiatus, along with practically every other professional sport on the planet. 
Practically, but not literally. 
Even with brick-and-mortar casinos temporarily shuttered nationwide (all but two of America's 989 physical casinos were closed by early April, according to the New York Times), online-focused sportsbooks like BetOnline, Bovada and 5Dimes are adapting by taking bets on, well, pretty much everything. 
"People are betting the heck out of table tennis," BetOnline's Dave Mason told The Dales Report. Other sports-related offerings there and elsewhere online include Belarussian soccer, Nicaraguan baseball, Russian volleyball, and — under a looser definition of "sports" — marble races (seriously), sports video-game simulations, and pandemic traffic at PornHub. 
One can also place a wager on virtually anything related to the 2020 presidential election and the world of entertainment. Sites were recently taking bets on which actors would be cast in a seemingly inevitable Hollywood film based on the popular Netflix documentary, Tiger King. And earlier this month, bettors put down over $1 million on whether a sportswriter could do 2,400 push in a 12-hour span (the over hit). 
"It's not taking the place of March Madness but it's helping," Mason said, emphasizing that the key is to keep bettors engaged during this lull. "If we break even on some of that stuff, that's a win as far as I'm concerned."
Mason's operation is strictly online and headquartered in Panama, making it easier to stay afloat. He says he's "busier than ever," partly because many of those who usually bet on sports have simply shifted their business to any of the above as well as the online casinos and/or poker rooms at sites like BetOnline. 
"A lot of people are just bored at home and looking for something to do," he added.
But that explains why so many over-the-counter operations are in peril, with stock prices for gaming companies plummeting as a result of the fact they're entirely offline right now, while everybody is stuck at home.
"There's just nothing to do," said Robert Walker, who oversees three New Mexico-based Casino sportsbooks as the sportsbook director at US Bookmaking. "It's very frustrating. We don't have a mobile app, so there's just not a whole lot you can do right now. You just gotta wait this out."
Walker says fellow staffers are working on getting properties opened up in jurisdictions that could permit live traffic, but there's no timetable for that and we're all in the dark on how long current social-distancing guidelines and recommendations will remain in place.
Eventually, it could become too much for operations to overcome. 
"Going online for these companies always made sense, even before the virus," Mason said. "Who knows if this helps push it through for some jurisdictions; once you get politicians and legislation involved it makes it harder to predict and make sense out of."
But that also doesn't guarantee success for online outlets. Walker, who ran the sportsbook at the MGM Grand Mirage for 12 years, notes that bet volume is almost always proportionate to viewership. The WNBA, for example, is extremely bettable, but doesn't get much attention from John Q. Public gamblers because they don't care to watch the games. 
With table tennis and marble races unlikely to take off in North America, there's a chance we're looking at a fad. And there's also a chance we're looking at the enabling of dysfunctional or addictive behavior. 
"I'm worried about problem gambling," said Walker, speaking of bettors who "have to make a wager on something" and could now become lost in less familiar realms of betting culture. 
With so much in flux, it's impossible to identify any specific emerging players in the sports-betting biz. But there is a good chance several online organizations take advantage of current dynamics. 
Then again, if the National Football League season is interrupted dramatically come September, all bets are off. 
"The NFL is our biggest sport," Mason said, "so any type of delay or — God forbid — cancelation would definitely hurt."