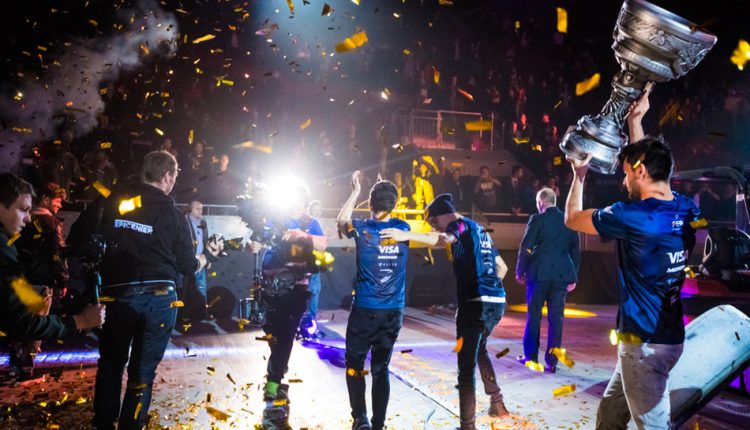 The Event That Changed Esports Globally
As a former venture capitalist, Adam Adamou likes to stay ahead of the curve, with eyes on the next big investment opportunity before it becomes an obvious one. It is not surprising then that he chose professional competitive gaming, or esports, for his next move. 
Adamou, co-founder and head of strategy for esports and gaming company, OverActive Media Group Inc, says he had been tracking esports since the mid-1990s.  But he did not see any substantial opportunities in the field for anyone other than gamers and developers. This changed in 2018 with the Overwatch World Cup.
"I was watching the Overwatch league with my kid and I thought this is going to work," he says. "I thought they've got the team, the owners, the financing, the broadcast and the celebrities, in terms of the players—all in one group—and that is the moment I said this is a model that finally makes sense for esports organizations," he adds.
What followed was a cold call to Activision Blizzard Inc, the developer of Overwatch and the organizer of the tournament, on a Monday morning in 2018, to bring the league to Canada, and the founding of OverActive Media. 
The company was the first professional esports company in Canada and today owns about a dozen esports teams in seven countries including Mexico and Spain. It was also the first organization in the world to own franchises in the top three esports leagues—Overwatch, the League of Legends and Call of Duty—according to Chris Overholt, a professional sports veteran who now heads OverActive Media. 
Adamou certainly discovered the potential of esports in North America early on. However, he is not the only one. Owners of traditional sports teams such as Robert Kraft of New England Patriots and Jeff Wilpon of the New York Mets; private investors and family offices; wealthy musicians such as Drake and The Weeknd; superstar athletes such as Michael Jordan and Stephen Curry —all are looking to get a piece of esports, touted as the next high-growth industry after cannabis. 
"There's a number of people that either made a lot of money on the marijuana trade or they missed the marijuana trade entirely. Now they're starting to see this sector heat up, and the money is being rolled from that sector a little bit into this, or if they missed that trade entirely, they don't want to miss two hot cycles in a row," says Trumbull Fisher, president at New Wave Holdings Corp, an esports-focused investment company. 
The investors' vote of confidence in esports is not misplaced. The global esports market is expected to generate US$1.1 billion in revenue in 2019, with nearly 40% of that coming from North America, according to Newzoo. This will increase by an estimated 22% to US$1.8 billion over the next three years.
Esports is not a new market, per se. People have been playing video games since the 1950s, starting with games at arcades to Sony's PlayStations and Nintendo's GameBoys to games on smartphones now. But technological advancements in recent times have brought individual gamers across the world out from their basements, onto the connected world of the internet to play at the same time. Add to that the advent of smartphones, which did away with the need to own a console to play games. 
"If you ever take the train to work, you look to your left and to your right, people are playing games on their phones because its easily accessible. Because of the improved tech of our smartphones, it's led to more gaming taking place,' says Raj Lala, whose company, Evolve ETFs, launched Canada's first esports-themed ETF earlier this year.
What is fuelling this investor interest in esports is the viewership numbers. The global esports audience is expected to be 454 million in 2019, with this number set to increase to 645 million by 2022, according to Newzoo. This, at a time when viewership for the SuperBowl declined for the fourth year in a row. 
Twitch, the YouTube of online gaming that was bought by Amazon.com Inc for nearly US$1 billion in 2014, comes second only to Netflix in minutes watched per user, according to Purpose Investments, a Canadian investment company. One of the top subscribed channels on YouTube belongs to a Swedish video gamer Felix Kjellberg, who goes by the name PewDiePie and posts videos of himself playing video games.
As viewership shifts from traditional sports to esports, so will advertising dollars. The gap between sponsorship per viewer for traditional sports and esports is quite substantial, according to Douglas Ibbitson, associate analyst at Haywood Securities. This gives companies that are not directly involved in the esports industry a large portion of the advertising market to capture.

The effervescent growth in esports over the past couple of years has also brought to light the disproportionate amount of power that publishers have over revenue. 

According to Nicholas Mersch, associate portfolio manager at Purpose Investments.
"The publishers are controlling everything, from branding to image to scheduling," he says. "We're just not seeing too much in terms of the publishers giving back to the league and the individual teams themselves."
In addition, valuations of some esports companies may be getting ahead of themselves as not all of them have sustainable business models that can generate recurrent revenue, paving the way for some future corrections that may hurt investors.
Can these factors dampen investor enthusiasm for esports? Daniel Mitre, chief executive of New Wave, goes to back to the 1970s and 1980s for an answer, when people would gather around others playing a video game in arcades. 
"There has always been an entertainment factor of people wanting to watch someone who is much better skilled and high-caliber in a game that they love to play. If the mainstay is that people want high-caliber games being played, there will always be an audience to market to, an audience to monetize off of," he says, signaling that the esports craze is just getting started.