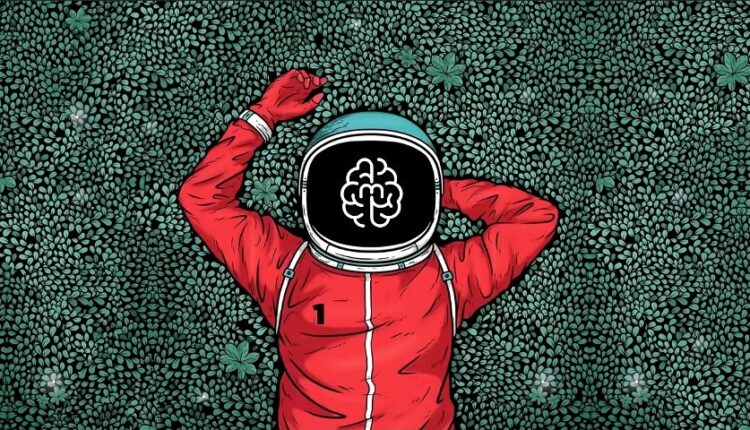 TDR's Top 5 Psychedelic Developments For The Week Of April 26
Welcome to TDR's review of the Top 5 Psychedelic developments of the past week. Aside from presenting a synopsis of events, we provide market commentary to summarize the week that was for publicly-listed companies.
5. PharmaDrug Announces First FDA Orphan Drug Designation of DMT for the Prevention of IRI
PharmaDrug Inc. (CSNX: BUZZ) (OTCMKTS: LMLLF) announced that the U.S. Food and Drug Administration (FDA) has granted Orphan Drug Designation (ODD) to dimethyltryptamine (DMT) for prevention of ischemia-reperfusion injury (IRI) in patients undergoing solid organ transplantation, which includes the liver, kidney, heart and lung, to the Company's wholly-owned subsidiary Sairiyo Therapeutics Inc. The FDA ODD granted is broader than PharmaDrug's original application for kidney transplantation, recognizing the pernicious consequences of IRI in all solid organ transplantation.
According to CEO Daniel Cohen, PharmaDrug is the "First and only company in the world to receive FDA orphan drug designation for DMT."
4. Numinus Announces Phase 1 Clinical Trial of Natural Psilocybin Mushroom Extraction Prepared at Company Lab
Numinus Wellness Inc. (TSXV:NUMI) has formed a partnership with KGK Science, a leading contract research organization with expertise in natural products, to undertake a new Psilocybin extraction clinical trial.
Through this trial, we expect to demonstrate that Numinus is well ahead in the development of natural Psilocybin therapeutics that are safe for humans and can be used to support our sector's growth through sales to other research organizations, the creation of new intellectual property, and the ability to conduct our own Phase 2 and Phase 3 clinical trials, if we choose to do so.

Payton Nyquvest, CEO of Numinus Wellness
The Phase 1 trial will enroll 14 human volunteers and assess the safety and psychoactive properties of a Psilocybe mushroom product extracted and formulated at the Numinus Bioscience lab in British Columbia, Canada. Successful completion of the landmark trial would result in safety and efficacy data for a natural Psilocybin product which could subsequently be used for further research and government-approved special access or compassionate access programs
__________
Share Of Adults Reporting Anxiety Or Depressive Disorders Remains Worryingly High During The Pandemic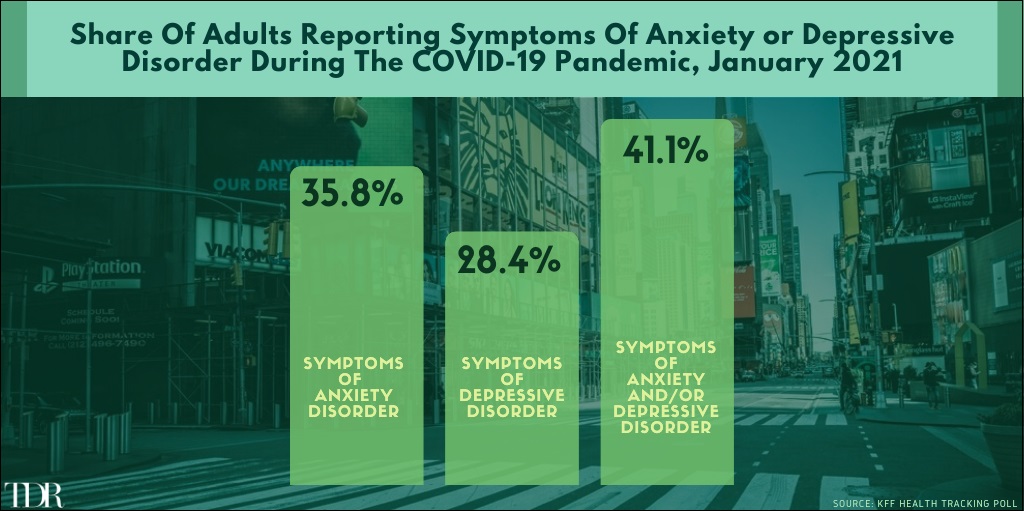 __________
3. Maine Psilocybin Bill Would Legalize Mushroom Therapy Without A Medical Diagnosis
A new Maine psilocybin bill will allow the medicinal use of psilocybin—the key psychoactive ingredient in psychedelic mushrooms—as well as create a licensed industry around the drug. If passed, it would be one of the most progressive state-sanctioned medicinal psilocybin bills to date.
The Maine Psilocybin Services Act, proposed by state Sen. Donna Bailey (D), will enable adults 21 and older to legally buy psilocybin drugs from stores and use them under the supervision of a certified psilocybin service practitioner. In its current form, the bill is similar to Oregon Measure 109, the initiative authorizing the Oregon Health Authority to create a program to permit licensed service providers to administer psilocybin-producing to individuals 21 years of age or older.
In fact, a provision in the new Maine bill specifically directs state agencies to develop recommendations "to otherwise make this Act as consistent as possible in substance to the laws governing psilocybin in Oregon."
2. Psychedelic Stocks Mostly Higher As MindMed's Nasdaq Listing Boosts Sector
The biggest psychedelic stocks were mostly higher this week, with volume tracking higher for most. The benchmark Horizon Life Sciences Stock Index ETF (PSYK) rose (↑2.41%) despite a heavy dose of inevitable profit taking in MindMed (↓32.58% peak-to-trough close, +11.07% overall) and weakness in COMPASS Pathways to close off. The percentage increase in PSYK was still plenty good enough to outpace its peers in the junior/senior biotech space, with the Nasdaq Junior Biotechnology Index (↑0.21%) and Nasdaq Biotechnology Ishares ETF (↓0.43%) both finishing flat.
All-in-all, it was a good showing for the sector. We would classify this week as a typical bear market rally extension with profit taking on the backside of a catalyst-fueled run. While this wasn't a breakout week—at least according to the technicals we follow—we believe that a higher-low dynamic has set up on the daily (confirmed by WASI and volume) and weekly (close above the 7-period EMA) charts, so we're buyers into pullbacks. We remain believers that patience is key, and while the MindMed news was important and material, it's not the type of catalyst that can sustain a prolonged sector run by itself. So take advantage of periods of weakness and remain vigilant for that research-based catalyst that will eventually galvanize investor sentiment. Exciting times are ahead!
| | | | | | |
| --- | --- | --- | --- | --- | --- |
| Company | Ticker | Price ($) | Weekly Change (%) | WoW Volume Trend | Market Cap (s/o) |
| Mind Medicine | MMED | 3.91 | 11.07 | ↑ | US$1.69B |
| Compass Pathways | CMPS | 36.39 | 5.64 | ↑ | US$1.33B |
| Seelos Therapeutics | SEEL | 6.09 | -2.56 | ↓ | US$476.7M |
| Cybin Inc. | CYBN | 2.22 | 39.62 | ↑ | C$328.6M |
| Field Trip Health | FTRP | 5.79 | 4.32 | ↑ | C$244.1M |
| Numinus Wellness | NUMI | 1.05 | -2.77 | ↑ | C$211.0M |
| Revive Therapeutics | RVV | 0.48 | 6.66 | ↑ | C$148.0M |
| Mydecine Innovations | MYCO | 0.405 | -1.21 | ↑ | C$100.6M |
In the news…
COMPASS Pathways announced a proposed public offering of 4,000,000 American Depositary Shares—which excludes a 600,000 ADS underwriter over-allotment option—on April 27. The pricing of the offering was announced two days later at $36.00 per ADS, for total gross proceeds of $144.0 million. The offering is expected to close on or about 4 May 2021.
Roth Capital initiated coverage on Cybin Inc. with a Buy rating and $10/share price target. The investment bank cited, among other things, the recent study by Imperial College London which showed that psilocybin may actually be superior to an SSRI, escitalopram, in patients suffering from major depressive disorder. Roth also cited "listing on Nasdaq Q221as an "Expected Newsworthy Events/Value Drivers for the Next 12-18 Months".
As well, Stifel GMP analyst Andrew Partheniou raised his price target to C$11.00 from US$6.00 on the addition of molecule CYB003 to their valuation model. On April 26, Cybin announced that it has selected Alcohol Use Disorder as the initial target indication for its proprietary deuterated psychedelic tryptamine, CYB003.
MindCure Health updated investors on its financial position, near-term revenue strategy and timeline for iSTRYM's market launch. With its most recent equity raise of $23 million in February, MindCure believes it is well-positioned financially with a clear path to near-term revenues through its technology platform and nootropics product line. The company also put out guidance as to the commercial rollout of its digital therapeutics platform, iSTRYM, which it expects to mainstream by Q1 2022.
Revive Therapeutics announced it has filed an application with the U.S. Food and Drug Administration to receive Orphan Drug Designation for psilocybin to treat moderate to severe traumatic brain injury. As there are no FDA approved treatments for cognitive impairments due to TBI, Revive will have first-mover advantage in attempting to prove-out its psilocybin formulations for this indication.
And finally, wrangling in the Senate over who will co-chair a special joint committee is holding up the start of a long-awaited, legally required, parliamentary review of Canada's assisted dying regime. A bipartisan committee of 10 MPs is set to examine whether medical assistance in dying should be expanded to include mature minors and advance requests. It is to report back with any recommended changes to the assisted dying regime within one year.
1. MindMed Commences Trading On The Nasdaq Exchange, Finishing the Week +11.07% Despite Heavy Profit Taking
Mind Medicine Inc. (NASDAQ: MNMD) announce the start of trading on the Nasdaq Capital Market. Trading commenced on Tuesday, April 27, 2021, under the symbol "MNMD", replacing its previous OTCQB listing of "MMEDF" which registered a final closing price of $4.69 at 4:00pm EST on April 26. MindMed retains its listing on the Neo Exchange under the symbol "MMED".
This was the scene outside of Nasdaq's Manhattan studio in Times Square, as MindMed "virtually" rang the opening bell on the morning of April 29.
Reported institutional ownership was very modest going into the listing. The jump to the Nasdaq will greatly foster increased family office and fund participation going forward.
Mind Medicine CEO JR Rahn and Shark Tank investor Kevin O'Leary joined the show to fill investors in on the company's first day trading on the Nasdaq.