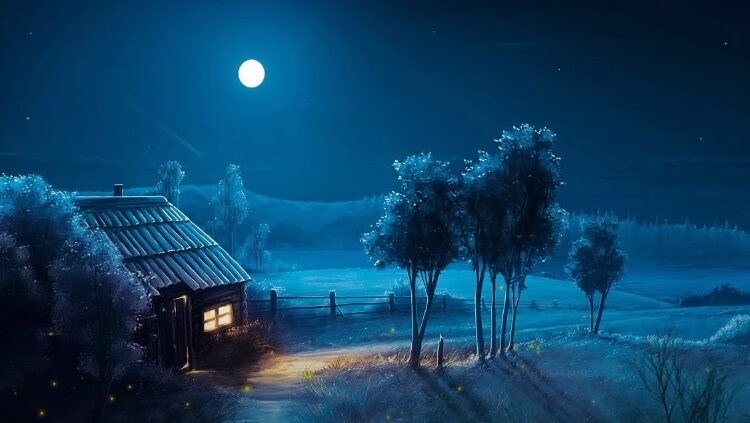 TDR's Top 5 Psychedelic Developments For The Week Of May 17
5. 83% of Canadians Report One Or More Symptoms of Depression, Many Turning To Substances To Cope
Field Trip Health (CNSX: FTRP; OTCMKTS: FTRPF) released the findings of a survey that revealed how Canadians are feeling, how they are coping, and what they are doing to feel better amidst the COVID-19 pandemic. After nearly 15 months of rolling global lock-downs due to the COVID-19 pandemic, the survey results show a nation in the depths of a mental health crisis.
So depressing in fact, in the last two weeks (prior to the survey), more than half of Canadians felt down, depressed, or hopeless (56%) and felt little interest or pleasure in doing things (59%), while nearly three-quarters felt tired or had little energy (72%). Furthermore, the survey also found that the lockdown is disproportionately affecting women and younger people.
4. New Study Suggests That Inflammation Is A Core Feature Of Depression
Clinical researchers have long since postulated what role, if any, inflammation may have in the development of depressive disorders in humans. According to an extensive new study, researchers have demonstrated that inflammation is a core feature of depression, rather than simply an ancillary side effect.
In the largest study of its kind, an review of 85,895 people in the United Kingdom reveals that a higher degree of inflammation in the body is linked with a higher risk of depression—possibly opening up alternative means of treating the condition. C-reactive protein (CRP)—a benchmark biomarker for inflammation in the body—was found in higher levels in depressed people compared to non-depressed people. CRP is a protein made by the liver and levels in the blood increase when there is a condition causing inflammation somewhere in the body.
While this study does not prove causation, it confirms the inextricable links between inflammation and depression which researchers have observed for a long time. This could result in researchers re-imagining the primary causes for depression and looking more closely into attenuating inflammatory responses as first-line treatments. MYND Life Sciences—which aims to go public next week—is focusing its primary psilocybin research on the inflammation-depression connection.. 
__________
Washington D.C. Has The Highest Incidence Of Substance Use Disorder Among The Adult Population In The United States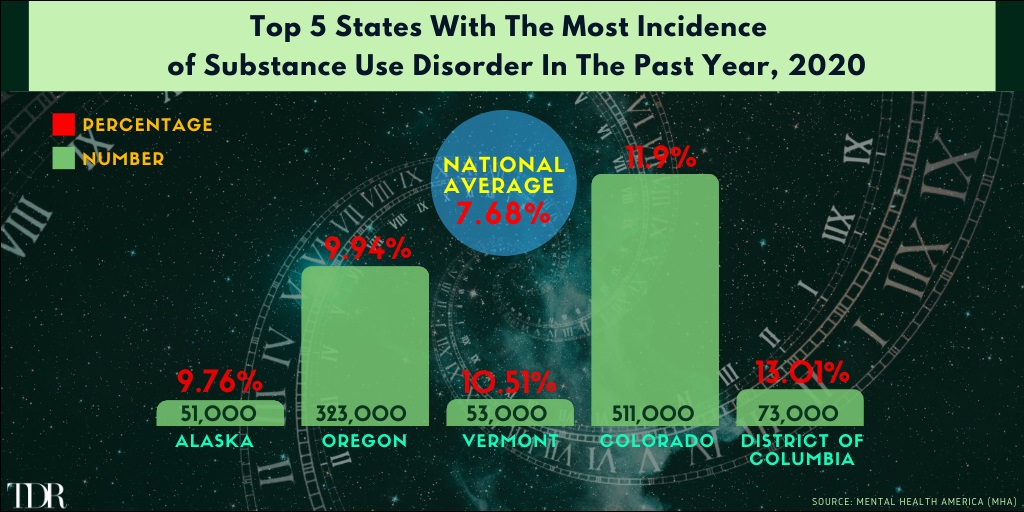 ___________
3. Psychedelic Stocks Mostly Mixed As Sector Holding Pattern Continues
The biggest psychedelic stocks were mixed this week, with the performance of Horizon Psychedelic Stock Index ETF (↓5.98%) skewed by the negative market reaction to Seelos Therapeutics "positive" Proof-of-Concept study of SLS-002 (intranasal racemic ketamine). As of May 14, "PSYK" ETF held a 19.33% stake in the company, according to the most recent update on its holdings. The performance in PSYK belied positive weeks in the Nasdaq Junior Biotechnology Index (↑1.57%) and Nasdaq Biotechnology Ishares ETF (↑1.13%).
Collectively, the sector remains in what some may call a "holding pattern". Many companies remain mired in lower-high, grinding type downtrends and/or consolidatory action as the summer dog days approach. The market is rewarding fits of individual and sector news, as we've seen recently with MindMed's Nasdaq uplisting news and California's bill to legalize psychedelic possession gain traction. However, every broad-based rally attempt since March has been thwarted, so our outlook remains defensive on new positions for the time being.
| | | | | | |
| --- | --- | --- | --- | --- | --- |
| Company | Ticker | Price ($) | Weekly Change (%) | WoW Volume Trend | Market Cap (s/o) |
| Compass Pathways | CMPS | 35.92 | 4.44 | ↓ | US$1.47B |
| Mind Medicine | MNMD | 3.43 | 6.19 | ↑ | US$1.17B |
| Seelos Therapeutics | SEEL | 3.26 | -37.18 | ↑ | US$256.2M |
| Cybin Inc. | CYBN | 1.81 | -5.72 | ↔ | C$268.0M |
| Field Trip Health | FTRP | 5.78 | -3.18 | ↓ | C$243.7M |
| Numinus Wellness | NUMI | 0.93 | 3.33 | ↑ | C$186.8M |
| Revive Therapeutics | RVV | 0.51 | 24.39 | ↑ | C$152.3M |
| Mydecine Innovations | MYCO | 0.335 | flat | ↓ | C$79.5M |
In the news…
Cybin Inc. announced that the Institutional Review Board at the University of the West Indies Hospital, in Jamaica has granted approval to commence the study of its sublingual psilocybin formulation (CYB001) in a Phase II clinical trial for patients suffering with Major Depressive Disorder. Commencement of the clinical trial is subject to final confirmation of study material specifications by Jamaica's Ministry of Health.
Field Trip Health announced the appointment of former US Senate Majority Leader Tom Daschle as a Special Adviser to the company. Daschle is one of the most senior political figures—past or present—to align with the psychedelics industry, having been a major Democratic party power broker in the Clinton-Bush years.
Havn Life Sciences has entered into a definitive agreement to acquire clinical stage intellectual property from Bolt Therapeutics. The IP consists of a combination of BOL-148, which has demonstrated potential for treating cluster headaches in a human study, and a neuroprotectant believed to act in unison with BOL-148. Upon completion of the acquisition, Havn Life will seek Orphan Drug Designation, Fast Track, Breakthrough Therapy, and Accelerated Approval for the development of the new therapy.
MindMed announced he approval by the local Swiss ethics committee of the first clinical trial evaluating the acute effects of different doses of mescaline and the role of the serotonin 5-HT2A receptor in mescaline-induced altered states of consciousness. The study will be conducted at the University Hospital Basel Liechti Lab, in Basel, Switzerland, and is planned to start this month.
PharmaTher Holdings announced that the FDA has approved its Investigational New Drug application to proceed with a Phase 2 clinical trial to evaluate the safety, efficacy and pharmacokinetics of ketamine in the treatment of levodopa-induced dyskinesia in patients with Parkinson's disease.   PharmaTher expects to begin enrolling patients in the Phase 2 clinical trial in Q3-2021.
Revive Therapeutics entered into a feasibility agreement with LTS Lohmann Therapie-Systeme AG, a leader in pharmaceutical oral thin films, to develop and manufacture a proprietary oral psilocybin thin film strip for itss clinical and commercial initiatives to evaluate in mental illness, neurological and substance abuse disorders. The partnership will allow Revive to expedite its clinical and commercial ambitions with psilocybin as a pharmaceutical, globally.
Wake Network has completed the first fully-legal importation of psilocybin mushrooms into the United States, having secured all required permits from the U.S. Drug Enforcement Administration. The company recently received approval from the Ministry of Health and Wellness in Jamaica to conduct the world's first Phase 2b psilocybin microdosing clinical trial for depression and anxiety.
2. MindMed Receives FDA Type C Meeting Response for Project Lucy Phase 2b Clinical Trial
MindMed (NASDAQ: MNMD) announces receipt of Type C Meeting Responses from FDA leading to the finalization of its clinical development approach for Project Lucy by selecting Generalized Anxiety Disorder as an initial indication. MindMed is on target to submit its Investigational New Drug (IND) application for Project Lucy in Q3 2021 and expects to launch its Phase 2b clinical trial shortly thereafter in Q4 2021.
As an extension of the positive pre-IND meeting held with the FDA in December 2020, MindMed sought further agreement from the FDA on the Company's clinical approach for the development of LSD in the treatment of anxiety disorders. In line with positive FDA feedback, MindMed will pursue the treatment of Generalized Anxiety Disorder as its first indication.
The clinical development program is scheduled to advance in late 2021 with the launch of Study MMED008, which is a Phase 2b dose-optimization study of LSD in approximately 200 patients diagnosed with Generalized Anxiety Disorder. This study, with clinical sites mainly in the United States, will assess improvements in anxiety symptoms following a single administration of LSD and will be the catalyst to select a final dose to be taken forward into Phase 3 pivotal clinical trials.
1. California Bill To Legalize Possession Of Psychedelics Heads To Senate Floor After Committee Action
After passing a big procedural barrier on Thursday, a bill to allow the possession of psychedelics in California will move to the Senate floor. This gave a noticeable boost to psychedelic stocks on the public markets.
The bill, introduced by Senator Scott Wiener (D), had already passed two legislative committees. However, in order to be included on the Senate floor schedule, it had to be approved by the Senate Appropriations Committee before a critical filing deadline. Fortunately, that's exactly what happened, with the panel approved it in a 5-2 vote.
If passed, the bill would remove penalties for people 21 and older who possess or share a variety of psychedelics, including psilocybin mushrooms, DMT, ibogaine, LSD, and MDMA.
Psychedelic stocks across the spectrum spiked on the news, with Pharmather, Mind Medicine, Numinus Wellness and Revive Therapeutics recording double-digit percentage gains while most others experiencing high single-digit gains. Although price did not follow through to close the week—which makes sense given the pharmaceutical/psychotherapy focus of the sector—nonetheless bill passage would further normalize acceptance of psychedelic possession in society.