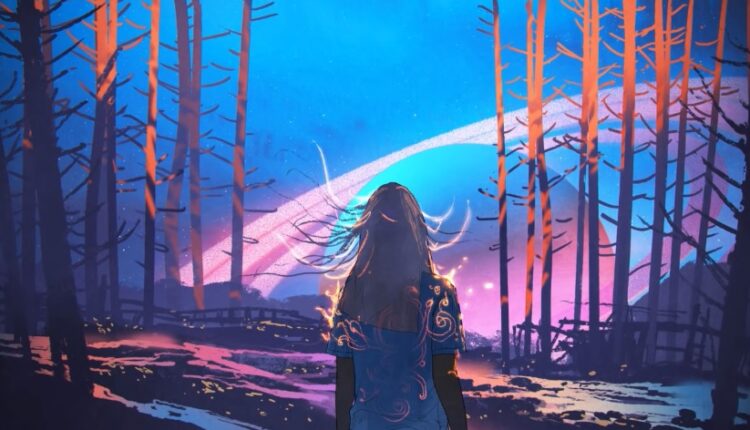 TDR's Top 5 Psychedelic Developments For The Week Of August 23
Welcome to TDR's review of the Top 5 Psychedelic developments for the week of August 23. Aside from presenting a synopsis of events, we provide market commentary to summarize the week that was for publicly-listed companies.
5. Ladenburg Thalmann Initiates First Investment Bank Coverage On Tryp Therapeutics
Tryp Therapeutics (CNSX: TRYP) (OTCMKTS: TRYPF) achieved a significant milestone, having received investment bank coverage for the first time. The initiator was Ladenburg Thalmann, a New-York based investment bank with more than 4,000 financial advisors and approximately US$125 billion in assets under management.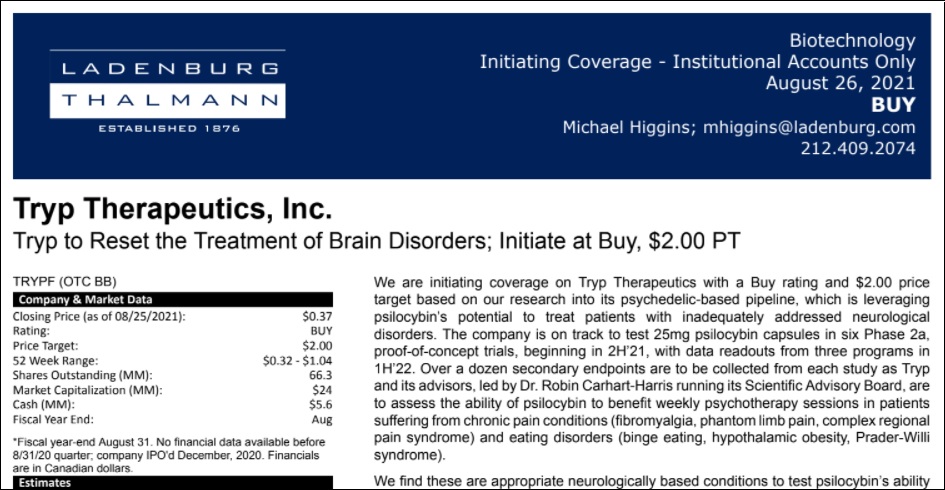 The firm bestowed a "Buy" rating and US$2.00 price target. Landenburg reaches their price target via its risk-adjusted net present value estimates for Tryp's operating expenses per share ($0.70), and TRP-8803 in chronic pain disorders, $1.75 and eating disorders, $0.90 and cash/share of $0.08.
4. PharmaDrug Announces Clinical Research Collaboration with The Johns Hopkins University to Evaluate DMT in a Comparative Clinical Study
PharmaDrug Inc. (CNSX: DRUG) (OTCMKTS: LMLLF) has entered into a Clinical Trial Agreement with The Johns Hopkins University to conduct a clinical study comparing acute and enduring psychological and neural effects of N,N-Dimethyltryptamine (DMT) and an undisclosed, potently active comparator molecule.
The first part of the planned study will examine dose effects of DMT and the other test article. During the second part of the study, healthy subjects will be exposed to a maximum tolerated dose of each drug (as defined in part 1 of the study). During both parts of the study, investigators will carefully characterize any acute and persisting subjective, affective, cognitive, and neural dose-dependent effects for both drugs being evaluated.
__________
Competitive Landscape In The Psychedelics Sector Among Public Companies, With Many More On The Way…
__________
3. Awakn Life Sciences Initiates the First Ketamine Treatment Study for Gambling Addiction Led by Professor Celia Morgan
Awakn Life Sciences (NEO: AWKN) (OTCQB: AWKNF) (FSE: 954) (Awakn) has received ethical committee approval and has initiated recruitment for the first-ever study investigating ketamine in gambling addiction. The study will be led by Celia Morgan, Ph.D., Professor of Psychopharmacology at the University of Exeter, U.K., Awakn's Head of Ketamine-Assisted Psychotherapy for Addiction and an internationally respected expert in the therapeutic use of ketamine.
The study will investigate a new treatment approach for gambling addiction, tackling both the urge to gamble and the "superstitious thinking" that accompanies gambling. The study will explore whether ketamine administration can modify the reward memories associated with gambling. There are no licensed pharmacological treatments of gambling disorder available to the public.
2. Psychedelic Stocks Edge Higher Amid Strong Week For Biotech Stocks
The biggest psychedelic stocks were mixed, with the Horizon Psychedelic Stock Index ETF (PSYK) rising ↑0.52% on moribund summertime volume. This price action displayed stark underperformance versus both the Nasdaq Junior Biotechnology Index (↑7.22%) and more senior Nasdaq Biotechnology Ishares ETF (↑2.78%), which closed near its all-time highs.
TDR provides limited commentary this week, as price action did little of note on the ETF side. PSYK traded in an extremely tight range and lacked conviction to move in either direction. We did see relatively strong price action in atai Life Sciences and Cybin, which rebounded convincingly after profit-taking following its NASDAQ uplist and analyst upgrade inspired run-up. COMPASS Pathways also showed signs of bottoming action, piercing $32-32.50 area support-turned-resistance midweek before settling the week below. But volume remain unconvincing and PSYK ETF lagged Junior Biotech by a wide margin, so we remain uninspired heading into next week.
But we're another week closer to key COMPASS Pathways Phase 2b results, and could be within the 3-month window of dissemination. We expect volumes to start picking up after Labor Day and as September rolls along, so stay tuned.
| | | | | | |
| --- | --- | --- | --- | --- | --- |
| Company | Ticker | Price ($) | Weekly Change (%) | WoW Volume Trend | Market Cap (s/o) |
| ATAI LIfe Sciences | ATAI | 16.60 | 11.85 | ↓ | US$2.57B |
| COMPASS Pathways | CMPS | 31.83 | 3.81 | ↔ | US$1.32B |
| Mind Medicine | MNMD | 2.75 | 6.17 | ↓ | US$1.24B |
| GH Research | GHRS | 21.30 | 2.89 | ↑ | US$1.07B |
| Cybin Inc. | CYBN | 2.34 | 23.15 | ↓ | US$373.6M |
| Field Trip Health | FTRP | 4.53 | -5.43 | ↓ | US$260.6M |
| Numinus Wellness | NUMI | 0.86 | -2.27 | ↓ | C$174.5M |
| Small Pharma | DMT | 0.42 | 5.00 | ↑ | C$133.4M |
| Revive Therapeutics | RVVTF | 0.341 | 7.38 | ↓ | C$108.2M |
| Mydecine Innovations | MYCOF | 0.377 | -0.29 | ↑ | US$90.4M |
In the news…
Braxia Scientific announces Braxia Scientific's clinical research and development team will commence a randomized clinical trial (RCT) using psilocybin. The study will demonstrate that the Company can effectively conduct a randomized controlled trial using psychedelic-assisted therapy.
Cantor Fitzgerald initiated coverage of Cybin with an Overweight rating and a 12-month PT of $9. Lead candidate, CYB001 ('001), consists of the psychedelic psilocybin as a sublingual formulaon and is being developed for major depressive disorder.
Entheon Biomedical announced that its common shares are now eligible for electronic clearing and settlement through the Depository Trust Company in the United States.
Filament Health has completed a shipment of Good Manufacturing Practices (GMP) compliant natural psilocybin into the United States. This export is believed to be the first of its kind, and was shipped from Filament's Vancouver facility to the University of California San Francisco's (UCSF) Translational Psychedelic Research Program (TrPR), in connection with an anticipated phase 1 FDA trial and ongoing clinical trial partnership.
Havn Life Sciences recently signed an agreement to supply naturally-derived psilocybin to Mycotopia Therapies (OTC: TPIA) for their psychedelic therapies.
Mind Cure Health announced the release of the minimum viable product version of iSTRYM, its digital therapeutics platform (DTx) for psychedelics, into partner clinics across North America. The company will begin full commercial deployment to all clinics in Q1 of 2022.
MindMed has agreed to work with Forian Inc. (NASDAQ: FORA), a leading provider of evidence-based support for more comprehensive clinical and commercial decision-making. MindMed and Forian will collaborate to develop best practices for using real-world evidence information to help improve the health and lives of psychiatric patients.
Mindset Pharma has filed its new provisional patent application with the United States Patent and Trademark Office extending its Family 4 compounds, a set of novel DMT/5-MeO-DMT analogs.
They also announced that candidates from its Family 3 compounds, comprised of long-acting psilocybin side-chain restricted analogs, have demonstrated extended duration of action and decreased effect size at the 5-HT2A receptor.
MYND Life Sciences has entered into a binding term sheet in respect of a non-brokered private placement offering of debenture units with a strategic institutional investor. The principal sum of the Debentures Units to be issued is up to $3,000,000. Proceeds of the Offering to advance its novel drug discovery platform, commercialize its diagnostic business unit and for general working capital.
NeonMind Biosciences announced that its common shares listed on the OTCQB under the symbol "NMDBF" are now eligible for electronic clearing and settlement through the Depository Trust Company in the United States.
Tryp Therapeutics has completed the training of psychotherapists for its upcoming Phase 2a clinical trial using synthetic psilocybin in combination with psychotherapy for overeating disorders. The training was conducted by Fluence, which is led by researchers and psychotherapists with direct experience in psychedelic clinical trials.
1. California Bill To Legalize Psychedelics Possession Put On Pause Until 2022
A California bill to legalize possession of a wide range of psychedelics such as psilocybin and ayahuasca will not advance further this year following a decision by the sponsor that more time is needed to build the case for the reform and solidify its chances of being enacted.
Given that this idea had never before been introduced in the legislature, our progress is a testament to the power of the issue and the urgency of the need to act. I'm so grateful to my colleagues for working with us and advancing the bill so significantly. Now that we have more time, I'm optimistic through education and member engagement we can pass this critical legislation next year.

Sen. Scott Wiener (D)
The Senate-passed legislation advanced through a second reading on the Assembly floor last week before being re-referred to the Assembly Appropriations Committee, which was set to determine on Thursday whether it could be cleared for final passage. But it was ultimately decided that the proposal would be made into a two-year bill, meaning it won't advance to the floor this year but is still technically alive and could be taken up in 2022