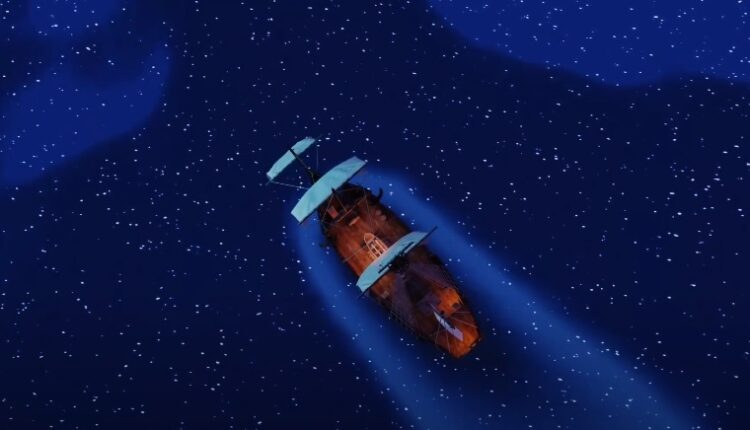 TDR's Top 5 Psychedelic Developments For The Week Of May 24
Welcome to TDR's review of the Top 5 Psychedelic developments for the week of May 10. Aside from presenting a synopsis of events, we provide market commentary to summarize the week that was for publicly-listed companies.
5. Health Canada Approves Expansion of Mydecine's Cultivation Capabilities for Psilocybin Producing Mushrooms
Mydecine Innovations Group (NEO: MYCO)(OTCMKTS: MYCOF) has received approval from Health Canada to significantly expand its cultivation capabilities at Mydecine's Canadian Current Good Manufacturing Practice (cGMP) facility at Applied Pharmaceutical Innovation.
Through our partnership with Mydecine, we've built a world class drug discovery and development platform that has positioned the Company for long-term success in its efforts to discover and better understand novel psychedelic molecules. Once completed, the expanded facility will have the capability to cultivate various mushrooms in quantities needed for the expanding clinical trial production needs of Mydecine as well as serve as the one of world's broadest libraries of legally imported psilocybin producing mushrooms under a controlled substance.

Andrew MacIsaac, CEO of Applied Pharmaceutical Innovation
Under the new guidance from Health Canada, Mydecine will begin construction of expanded cultivation facilities in an effort to scale its supply of pharmaceutical grade psilocybin for both internal clinical research and its industry partners. The increased cultivation will also allow the company to be more efficiently and quickly study the medical utility of naturally occurring psilocybin and psilocybin-like compounds.
4. MindMed and Liechti Lab in Basel Switzerland Publish First Pharmacogenetic Data on LSD to Help Guide Personalized Dosing
MindMed (NASDAQ: MNMD) (NEO: MMED) announced today the publication of the first pharmacogenetic data on LSD to help personalize dosing. The study results from a pooled secondary analysis of four Phase 1 studies that each used a randomized, double-blind, placebo-controlled, crossover design and were conducted at the University Hospital Basel Liechti Lab, in Basel, Switzerland. The results of this study indicate that pharmacogenetic testing prior to LSD-assisted treatment may inform LSD dose selection at the individual patient level.
In vitro studies indicate that metabolic cytochrome P450 isoforms, particularly CYP2D6, CYP1A2, and CYP2C9, are involved in LSD metabolism, but clinical studies of the effects of variations of these isoforms had not been conducted.
The study "Genetic influence of CYP2D6 on pharmacokinetics and acute subjective effects of LSD in a pooled analysis" was published in the Nature Scientific Reports and the full-text can be accessed from the publishers at: https://www.nature.com/articles/s41598-021-90343-y .
__________
Utah Leads The Nation In Percentage Of Adults Experiencing Any Mental Health Illness (AMI) In 2020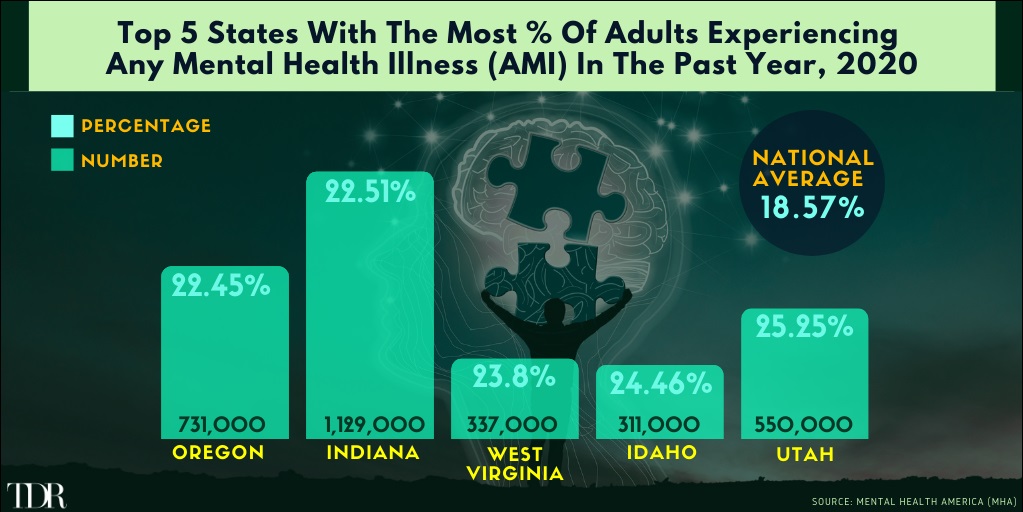 __________
3. Psychedelic Stocks Drift Lower As Status Quo Price Action Remains Dominant
The biggest psychedelic stocks were mostly lower this week, with the Horizon Psychedelic Stock Index ETF (PSYK) falling ↓3.05% on a continued low-volume drift lower. Friday's daily exchange-traded volume was the second lowest on record, as The Defiance Next Gen Altered Experience ETF (PSY) began trading Friday, giving PSYK some added competition. And for the second consecutive week, PSYK notably underperformed both the Nasdaq Junior Biotechnology Index (↑1.63%) and Nasdaq Biotechnology Ishares ETF (↑0.37%).
While we'd love say the technical picture has turned around, we have to give it to our readership straight. With the market grinding lower and many more lower-high dominant charts than higher-low, sector price action remains lackluster at this time. Obviously, this will change in due course as a critical mass of good news and/or major catalyst re-ignites the market.
But for now, long term investors can use retreating prices and a defensive mindset on new entries to build an attract cost basis for the future. More than just about any other sector, junior biotech investing is a marathon not a sprint. Retaining that mindset is key to surviving the protracted drawdowns that inevitably test investor fortitudes and resolves. We are in the type of period right now.
| | | | | | |
| --- | --- | --- | --- | --- | --- |
| Company | Ticker | Price ($) | Weekly Change (%) | WoW Volume Trend | Market Cap (s/o) |
| Compass Pathways | CMPS | 34.70 | -3.39 | ↓ | US$1.42B |
| Mind Medicine | MNMD | 3.40 | -0.87 | ↓ | US$1.17B |
| Seelos Therapeutics | SEEL | 3.08 | -5.52 | ↓ | US$313.6M |
| Cybin Inc. | CYBN | 1.73 | -4.41 | ↓ | C$256.1M |
| Field Trip Health | FTRP | 5.53 | -4.32 | ↑ | C$233.2M |
| Numinus Wellness | NUMI | 0.93 | flat | ↓ | C$186.8M |
| Revive Therapeutics | RVV | 0.465 | -8.82 | ↓ | C$143.4M |
| Mydecine Innovations | MYCO | 0.335 | flat | ↓ | C$79.6M |
In the news…
Cybin Inc. has filed an international patent application that brings the potential to obtain patent coverage in 153 countries. The application, governed by the Patent Cooperation Treaty (PCT), grants Cybin the right to file future national applications into treaty member jurisdictions, including important potential markets for the company. The PCT claims a library of psychedelic derivative drug development candidates.
Enveric Biosciences has entered into a definitive agreement to acquire MagicMed Industries a privately-held biotechnology company focused on creating a library of novel derivative psychedelic molecules, in an all-stock transaction. Current Enveric shareholders will own approximately 63.4% of the combined company's common stock, with current MagicMed shareholders holding 36.6% as calculated on a fully diluted basis.
Field Trip Health has received conditional approval to list its common shares and warrants on the Toronto Stock Exchange. The listing is subject to the company fulfilling certain requirements of the TSX in accordance with the terms of its conditional approval letter dated May 26, 2021.
MindMed announces the execution of a Memorandum of Understanding with Nextage Therapeutics regarding the launch of an exclusive collaborative development program to optimize the delivery of certain psychedelic drug candidates. MindMed and Nextage will initially collaborate to optimize the delivery of drug products based on noribogaine, and ultimately other ibogaine derivatives. Each company will share development costs and intellectual property arising from the collaboration.
MYND Life Sciences Inc. (MYND) shares were approved for listing on the Canadian Securities Exchange. The company's shares began trading at market open on May 26, 2021, under the symbol 'MYND'. MYND is drive towards the initiation of up to six clinical trials on the efficacy of psilocybin and psilocybin analogs beginning in Q4 2021.
NeonMind Biosciences announces the formation of a Medical Clinic Advisory Board to guide the planning and operation of NeonMind branded clinics across Canada. Members of the advisory board will be comprised of experts on provincial and local health care access and advocacy, ketamine treatment, psychotherapy protocols, and more.
PharmaTher Holdings has filed an application with the U.S. Food and Drug Administration to receive Orphan Drug Designation for ketamine to treat amyotrophic lateral sclerosis—also known as Lou Gehrig's disease. The FDA has approved only three pharmaceuticals for the treatment of ALS, which are effective against disease mechanisms but fail to have measurable effects on attenuating disease progression or improve survival.
Seelos Therapeutics has received European Orphan Drug Designation for SLS-005 in amyotrophic lateral sclerosis (ALS) from the European Medicines Agency (EMA) Committee for Orphan Medicinal Products. Under orphan designation in the European Union, Seelos stands to benefit from several incentives such as protocol assistance, reduced regulatory fees and market exclusivity.
Tryp Therapeutics announces an agreement with Alcami Corporation, a global pharmaceutical contract development and manufacturing organization (CDMO), to support the proprietary formulation of products for Tryp's Psilocybin-for-Neuropsychiatric Disorders program. The collaboration will initially focus on developing oral formulations for Tryp's proprietary psilocybin Active Pharmaceutical Ingredient.
2. National Institutes of Health Director Touts Potential Benefits Of Psychedelics
A leading U.S. health official on Wednesday touted the therapeutic potential of psychedelics like psilocybin and MDMA while slamming ongoing federal restrictions inhibiting research into marijuana.
Francis Collins, director of the National Institutes of Health (NIH), was asked about psychedelics and cannabis by Sen. Brian Schatz (D-HI) during a Senate Appropriations subcommittee hearing.
The senator said there's been "potentially promising peer-reviewed clinical research" into the substances and referenced a letter NIH sent him in 2019 that recognized the medical value of certain psychedelics. He asked for a status update on how the agency is navigating the issue.
1. Texas Senate Moves Bill To Study Psychedelics For The Treatment Of PTSD
One of the most notoriously conservative states may soon be conducting research on the efficacy of psychedelic therapy on the treatment of Post-Traumatic Stress Disorder (PTSD).
This is a monumental bill, for a number of reasons, but more importantly because it shows that the state of Texas is committed to our veterans, especially those veterans that suffer from treatment-resistant PTSD.

Alex Dominguez, Texas House Representative
After approval from the Committee of Veteran Affairs and Border Security, House Bill 1802 (HB 1802) by Texas House Representative Alex Dominguez (D-37) made its way through the Senate this weekend with only one amendment regarding the budget and is expected to head to the desk of Governor Abbott.
If passed, the bill would allow clinical studies to be conducted on the effectiveness of psychedelic therapy in treating veterans with PTSD.