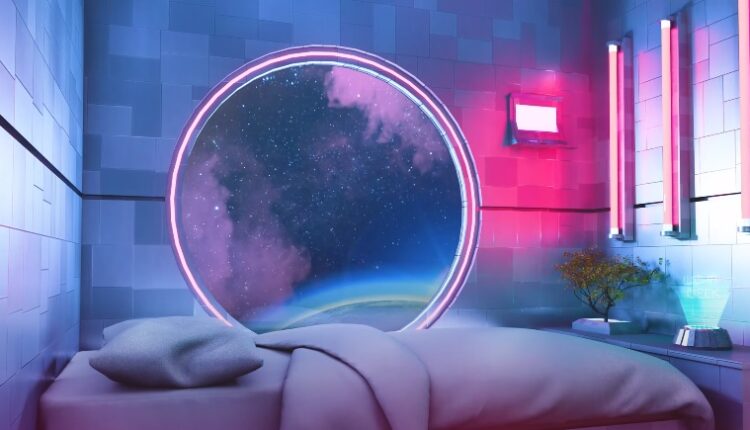 TDR's Top 5 Psychedelic Developments For The Week Of May 3
Welcome to TDR's review of the Top 5 Psychedelic developments of the past week. Aside from presenting a synopsis of events, we provide market commentary to summarize the week that was for publicly-listed companies.
5. PharmaDrug Initiates Preclinical Study of Cepharanthine to Both Broaden Its Cancer Scope and to Streamline Its Strategy for Esophageal Cancer
PharmaDrug Inc. (CNSX: BUZZ) (OTCMKTS: LMLLF) has entered into a service agreement with a respected contract research organization with deep expertise in preclinical oncology model development and drug testing, to evaluate the company's patented enteric-coated formulation of Cepharanthine (PD-001) in a broad panel of human cancers.
Our research and development strategy to identify highly probable uses of PD-001 in select cancer indications will allow us to de-risk and accelerate development of preclinical and clinical studies while building core competencies and scientific data for future partnering opportunities with pharmaceutical companies.

Daniel Cohen, CEO of PharmaDrug
Based on multiple, positive preclinical data sets and a recent decision from the FDA to grant Orphan Drug Designation (ODD) for Cepharanthine in the treatment of esophageal cancer, the company remains committed to fully exploring this clinical opportunity. However, in parallel, the company will undertake efforts to confirm and expand on Cepharanthine's noted benefit in previously examined cancers, while also assessing potential benefit across a panel of untested cancer types.
4. MindMed Announces Project Angie, Targeting the Treatment of Pain with Psychedelics
Mind Medicine Inc. (NEO: MMED) (OTCMKTS: MMEDF) announces the launch of its Project Angie to advance the development of psychedelics, including LSD, to treat pain conditions. MindMed is currently exploring two primary clinical indications for the treatment of pain.
For the commencement of Project Angie, MindMed will initiate a study of LSD in a severe pain indication. MindMed is currently preparing a pre-IND briefing package for this Phase 2a Proof of Concept study which it plans to submit to the FDA in the second half of 2021. In addition, the company is also evaluating a second indication in a common, often debilitating, chronic pain syndrome.
__________
Key Phase 3 Trial Results Treating PTSD with MDMA + Assisted Therapy Look Tremendously Promising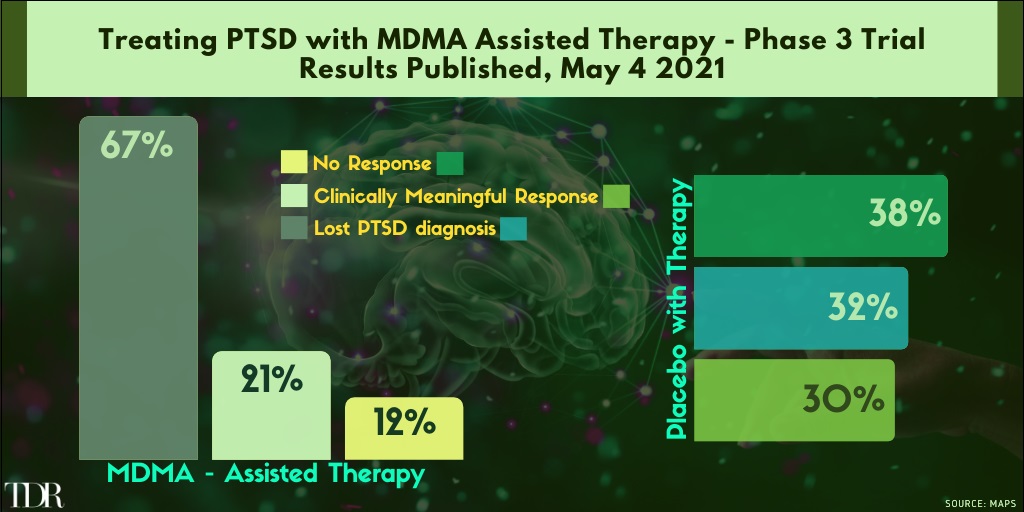 __________
3. Psychedelic Stocks Decline As Biotech Stocks Fizzle Out Despite Record S&P 500 Close
The biggest psychedelic stocks were lower this week on declining volume for most. The benchmark Horizon Psychedelic Stock Index ETF (PSYK) fell (↓7.93%) as the sector failed to generate any sort of bid. The percentage decrease in PSYK closely mirrored the price action in the Nasdaq Junior Biotechnology Index (↓7.28%), while both ETFs lagged the more senior Nasdaq Biotechnology Ishares ETF (↓3.18%). Drug development stocks were simply laggards this week, full stop.
Part of reason for the outsized decline were creeping fears of overheating inflation, which could force the Federal Reserve to raise interest rates earlier than anticipated; although the 10-year Treasury yield actually declined to 1.577%. Growth stocks and companies reliant on financing often come under pressure in this types of environment, as higher costs of capital suppress risk appetites. We saw the same dynamic play out in February, when risk assets along the curve got crushed as Treasury yields soared.
Only an abysmal Friday U.S. jobs report—which one analyst described as "This might be the most disappointing jobs report of all time"—helped growth stocks pare losses. The reason: The Fed might be forced to extend easy money policy, despite soaring inflation. The mixed messaging makes for a tricky macro investing environment.
On an industry-specific level, last week we opined that "patience is key, and while the MindMed news was important and material, it's not the type of catalyst that can sustain a prolonged sector run by itself." We saw that exact thing play out, as fast money took profits in MindMed and several sympathy plays while the getting was good. This was completely natural and expected. TDR believes that a science-based catalyst, and/or the expectation thereof, will provide the basis for a lasting broad sector move. Until then, it's a stock picker's market highly dependent on individual news flow and accomplishments. Patient entries are rewarded. As always, we'll be watching the tape and gauging sentiment in the weeks ahead. Exciting times are ahead!
| | | | | | |
| --- | --- | --- | --- | --- | --- |
| Company | Ticker | Price ($) | Weekly Change (%) | WoW Volume Trend | Market Cap (s/o) |
| Compass Pathways | CMPS | 34.07 | -6.37 | ↓ | US$1.36B |
| Mind Medicine | MNMD | 3.28 | -16.11 | ↓ | US$1.12B |
| Seelos Therapeutics | SEEL | 5.36 | -11.98 | ↓ | US$421.6M |
| Cybin Inc. | CYBN | 2.00 | -9.90 | ↓ | C$296.1M |
| Field Trip Health | FTRP | 5.69 | -1.72 | ↔ | C$239.9M |
| Numinus Wellness | NUMI | 0.90 | -14.28 | ↓ | C$180.8M |
| Revive Therapeutics | RVV | 0.475 | -1.04 | ↓ | C$146.5M |
| Mydecine Innovations | MYCO | 0.37 | -8.64 | ↔ | C$87.6M |
In the news…
Field Trip Health common shares are now eligible for electronic clearing and settlement through The Depository Trust Company in the United States. DTC eligibility simplifies the process of transferring shares between brokerages and speeds up the execution of trades. All listing tickers on the respective exchanges remain intact.
As well, Field Trip announced the opening of its fifth U.S. location in Houston, TX—the second Field Trip Health center to open this year.
Mydecine Innovations announced a partnership with LeadGen Labs, a custom synthesis and contract research organization, to support Mydecine's novel psychedelic drug development efforts and increase the number of novel molecules the Company can synthesize concurrently. Following the company's unveiling of four initial drug candidates in April, Mydecine and LeadGen Labs will begin work to synthesize novel psychedelic molecules.
Novamind announced that it will open four new Cedar Psychiatry clinics, doubling its network to eight total locations. The expanded capacity from the New Clinics is forecasted to increase Novamind's patient volume from 20,000 client visits recorded in 2020 to approximately 65,000 client visits anticipated in 2021, a ↑325% increase.
Red Light Holland has received patent pending status for the customization and personalization of microdosing kits and for the company's natural occurring consumer goods product consisting of raw, natural and unprocessed magic truffles. Red Light Holland's newest innovation also incorporates its iMicro Digital Care App and its Wisdom Truffle, designed to allow consumers to obtain the greatest possible benefit from their microdosing journeys.
Tryp Therapeutics announced a master service agreement with Fluence to provide design and training for the psychotherapeutic portion of Tryp's clinical trial activities. Fluence is led by researchers and psychotherapists with direct experience in psychedelic clinical trials and is an experienced provider of psychotherapeutic training for health professionals.
2. Texas House Approves Psychedelics Research Bill
The Texas House of Representatives approved to a bill on May 6 that would require the state to conduct a study into the therapeutic potential of psychedelics, such as psilocybin and MDMA. This comes as numerous marijuana reform measures move through the legislature.
The legislation, sponsored by Rep. Alex Dominguez (D) had wide bipartisan support, passing by a vote of 134-12. It had advanced on second reading through a voice vote conducted on May 5. The bill now heads to the Senate.
We lose about 6,000 veterans every year—and since 2001, we have lost 114,000 of our veterans to PTSD and suicide.

Alex Dominguez, Texas House of Representative (D)
The House Public Health Committee passed the bill with amendments last week. Members revised the measure to limit the scope of the state-funded study to focus on military veterans with post-traumatic stress disorder (PTSD), rather than a broader list of conditions attached to the initial bill.
1. MDMA Passes a Big Test for PTSD Treatment
In an pivtoal step toward medical approval, MDMA, the recreational party drug popularly known as Ecstasy or Molly, was shown to bring relief to those suffering from severe post-traumatic stress disorder when paired with talk therapy.
Of the 90 people who took part in the new study—expected to be published later this month in Nature Medicine—those who received MDMA during therapy experienced a significantly greater reduction in the severity of their symptoms compared with those who received therapy and an inactive placebo. Two months after treatment, 67% of participants in the MDMA group (emphasis ours) no longer qualified for a diagnosis of PTSD, compared with only 32% in the placebo group.
This is about as excited as I can get about a clinical trial. There is nothing like this in clinical trial results for a neuropsychiatric disease.

Gul Dolen, a neuroscientist at Johns Hopkins University School of Medicine
MDMA produced no serious adverse side effects. Some participants temporarily experienced mild symptoms like nausea and loss of appetite.