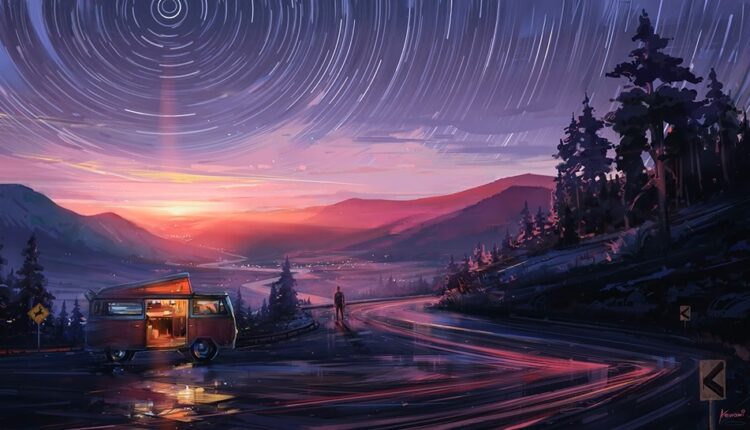 TDR's Top 5 Psychedelic Developments For The Week Of October 4
Welcome to TDR's review of the Top 5 Psychedelic developments for the week of October 4. Aside from presenting a synopsis of events, we provide market commentary to summarize the week that was for publicly-listed companies.
5. Oppenheimer Initiates Cybin Inc. With An Outperform Rating And $7 Price Target
Investment banking and financial services provider Oppenheimer & Co. has initiated price coverage of Toronto-based psychedelic drug developer Cybin Inc. Their detailed equity research report published on Monday puts the 12-18 month price target for Cybin's NYSE-listed shares at $7, with an outperform rating.
Cybin was granted approval to uplist from the NEO Aequitas Exchange to the NYSE American stock exchange earlier this year. The company is currently among the largest players in the emerging psychedelic drug development space.
Oppenheimer's report cited a number of contributing factors in their price target, specifically Cybin's "proven management team" as well as "scalability potential and calculated approach."
4. PharmaTher Initiates Phase 2 Clinical Trial of Ketamine for the Treatment of Parkinson's Disease
PharmaTher Holdings Ltd.(CNSX: PHRM) (OTCMKTS: PHRRF) has initiated its Phase 2 KET-LID clinical trial of Ketamine for the treatment of Levodopa-Induced Dyskinesia in subjects with Parkinson's Disease. Patient screening and enrollment is expected to begin in October 2021 with data anticipated in late-Q4 2021.
The Phase 2 KET-LID clinical trial is a randomized, double-blind, active placebo-controlled study evaluating the safety, efficacy and pharmacokinetics of ketamine in the treatment of levodopa-induced dyskinesia in patients with Parkinson's disease.
If the Phase 2 clinical study is positive, the Company will request a meeting with the FDA to discuss its plan and obtain an agreement to move to a Phase 3 clinical study under the 505(b)2 regulatory pathway in the first half of 2022.
__________
Psychedelic R&D And Clinical Trial Map, According To The Visual Capitalist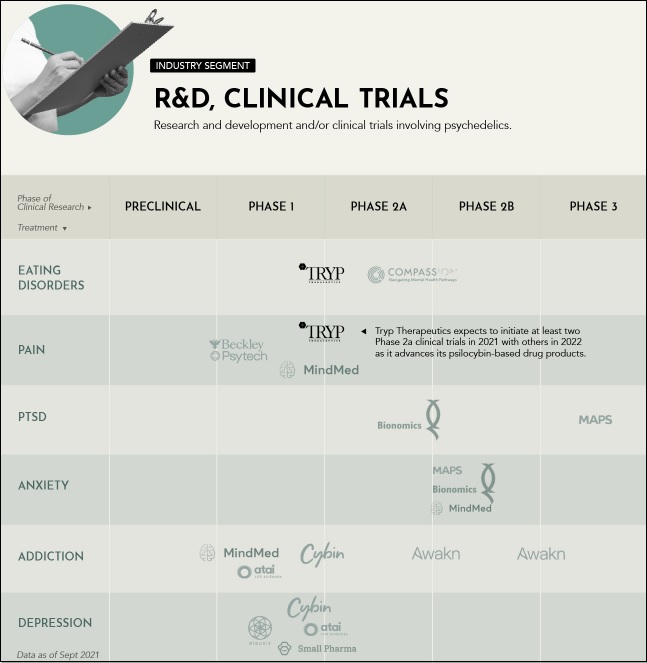 __________
3. Psychedelic Stocks Fall Inline With Weakness In BioPharma Stocks
The biggest psychedelic stocks were mostly lower this past week, with the Horizon Psychedelic Stock Index ETF (PSYK) sinking ↓2.34% as volumes remained weak. The performance in PSYK registered was inline with the weakness in both the Nasdaq Junior Biotechnology Index (↓3.51%) and Nasdaq Biotechnology Ishares ETF (↓2.44%), amid a rebound in broad market indexes.
For the second consecutive week, buyers were most active in the micro end of the market. The biggest winner were Novamind and Revive Therapeutics, respectively, with the former jumping 28.57% in what can best be described as a bear market rally. A strong news cycle—including three press releases this week alone—certainly helped. Revive Therapeutics also benefitted from news that Merck & Co. oral COVID drug Molnupiravir might not exactly be the wonder drug that investors had hoped. Revive is currently in a Phase 3 clinical trial researching Bucillamine for the treatment of patients with mild/moderate COVID. Trial data on 600 patients is expected to be turned over to its Data Safety Monitoring Board imminently for analysis.
The complete list of micros, from highest to low gains, are as follows: NM +28.57%, RVV +22.5%, COOL +20%, MYCO+8.96%, BETR +3.57%, PSYC +3.45% SILO+1.8%.
We also observed COMPASS Pathway finish off strong, so there's hope Tier-1 leadership could help the broader sector stop the bleeding. Although that's probably the best investors can hope for in the next few weeks barring a surprise—bottom base forming in the near term. After testing fresh YTD lows, CMPS put together back-to-back solid sessions to finish HOW. The release of endpoint results is fast approaching—likely no more than 7-10 weeks away now. On a Richter scale range from 0 to 9, we would classify the importance of these results on the market (both scope and intensity) of at least 7.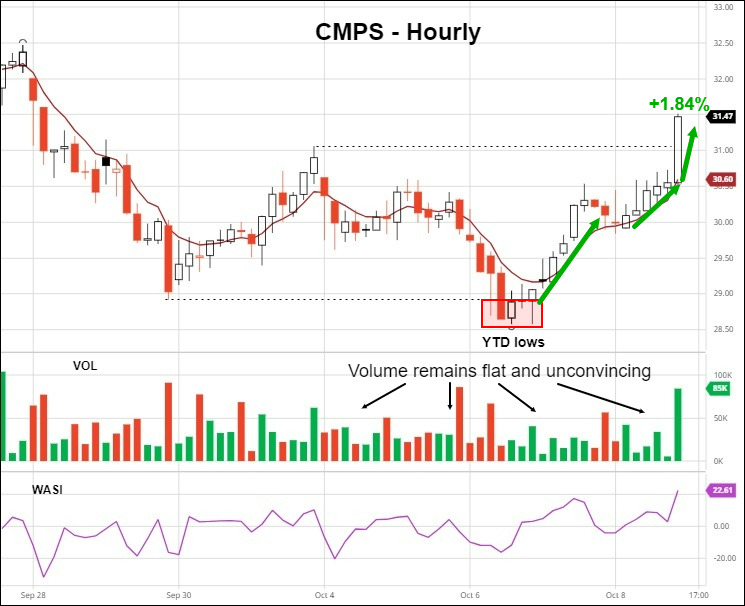 Happy investing.
| | | | | | |
| --- | --- | --- | --- | --- | --- |
| Company | Ticker | Price ($) | Weekly Change (%) | WoW Volume Trend | Market Cap (s/o) |
| ATAI LIfe Sciences | ATAI | 12.55 | -9.45 | ↔ | US$1.94B |
| COMPASS Pathways | CMPS | 31.47 | 1.84 | ↔ | US$1.31B |
| Mind Medicine | MNMD | 2.24 | -5.08 | ↑ | US$1.01B |
| GH Research | GHRS | 18.21 | -14.18 | ↑ | US$947.2M |
| Cybin Inc. | CYBN | 2.10 | -4.10 | ↓ | US$336.7M |
| Field Trip Health | FTRP | 4.54 | -2.36 | ↔ | US$261.9M |
| Numinus Wellness | NUMI | 0.70 | -10.25 | ↑ | C$142.3M |
| Revive Therapeutics | RVVTF | 0.39 | 21.87 | ↓ | US$123.6M |
| Small Pharma | DMT | 0.32 | -15.78 | ↓ | C$101.6M |
| Mydecine Innovations | MYCOF | 0.298 | 8.75 | ↓ | US$72.2M |
In the news…
A coalition of Pennsylvania lawmakers introduced a bill this week that's meant to promote research into the therapeutic potential of psilocybin mushrooms for mental health conditions such as post-traumatic stress disorder (PTSD)—the latest example of how the psychedelics reform movement is gaining momentum.
A second California city—and the third in the U.S.—to decriminalize a broad range of psychedelic plants and fungi, the City Council has rolled back the law's provision on peyote, effectively recriminalizing the cactus.
Awakn Life Sciences announced the closing of its acquisition of Axonklinikken AS, a leading ketamine-assisted psychotherapy clinic in Norway, as previously announced on September 16, 2021. Upon the completion of the transaction, Axon will be renamed 'Awakn Clinics Oslo AS,' and Dr. Lowan Stewart will be appointed as Regional Director for the Nordics and Managing Director Awakn Clinics Oslo AS.
Cybin Inc. announced that Adelia Therapeutics has achieved those milestones identified as Year 2 Q1 (i)-(iii), as contemplated by the terms of a contribution agreement dated December 4, 2020 among Cybin, Cybin Corp., Cybin US Holdings Inc., a wholly-controlled subsidiary of Cybin, and all of the previous shareholders of Adelia.
And Cybin announced the addition of Dr. Amir Inamdar as its Chief Medical Officer for its European Operations.
Delic Holding Corp has applied for a Health Canada 56 Research Exemption that would allow the scientists to perform research and tests on a host of compounds outside of psychedelic mushrooms, including MDMA and LSD. The lab currently holds a 56 Research Exemption for chemistry analytics on psilocybin mushrooms.
Diamond Therapeutics announced the appointment of Dr. Torsten Passie to its scientific advisory board. Dr. Passie is a professor of psychiatry and psychotherapy at Hannover Medical School in Hannover, Germany and an internationally recognized authority on the pharmacology and therapeutic use of psychedelics.
HAVN Life Sciences has filed its final short form base shelf prospectus with the securities commissions in each of the provinces and territories of Canada and received a final receipt in respect thereof. Up to $25,000,000 in securities is authorized to potential be offered during the 25-month period that the Final Shelf Prospectus remains effective.
Mind Medicine has partnered with Sphere Health – a physician-founded employee benefits provider targeting treatments for people with severe mental illness – to collect and analyze multimodal data in order to improve the understanding of a variety of biomarkers associated with mental illnesses including anxiety and affective disorders.
Mydecine Innovations lead drug candidate, MYCO-001, for a multi-site smoking cessation, has received funding via U01 grant through Dr. Matthew Johnson from National Institute on Drug Abuse (NIDA), making it the first time in over 50 years that the U.S. government has funded a study of a psychedelic compound for therapeutics.
MYND Life Sciences announces the formation of its diagnostic biomarker division with the incorporation of a wholly-owned subsidiary, MYND Diagnostics Ltd. Its investigational pipeline of diagnostics, novel small molecules, and biologics, is focused on improving disease outcomes, monitoring and improving the treatment experience for patients suffering from Major Depressive Disorder.
Novamind launched Psychedelic Palliative Care by Novamind at its recently opened clinic and research site in Murray, Utah. The program combines psychedelic medicine with psychotherapy, workshops, multi-day immersive retreats and group support for palliative care patients and families who are coping with chronic and serious illness.
Numinus Wellness announces the expansion of its psychedelics research facility with an additional lab and application for federal licensing, as it continues to broaden its services to support industry research and production while adding new revenue streams. The expanded lab is housed in an existing Numinus-leased building adjacent to the current lab.
Optimi Health advises of a recent patent filing pertaining to a breakthrough process that facilitates the extraction of the natural products Psilocybin and Psilocin from mushrooms at higher yields than previously possible.
Red Light Holland has unveiled new iMicrodose products magic and will be made available for sale through the company's wholly owned subsidiary SR Wholesale in the Netherlands and Business to Consumer through the company's web site www.iMicrodose.nl by November, 2021.
Revitalist Lifestyle & Welness has commenced trading in the United States on OTC Markets Group's OTC Pink marketplace under the ticker symbol "RVLWF". OTC Markets is recognized as a leading public financial market for international companies to trade in the U.S.
Tryp Therapeutics announced a collaboration with Paul Hutson, PharmD and Christopher Nicholas, PhD to support clinical pharmacology studies for the Company's proprietary drug product, TRP-8803.
U.S. Department of Veterans Affairs (VA) is "very closely" following research into the potential therapeutic benefits of psychedelics like MDMA for military veterans, an official said at a recent congressional hearing.
2. Move To Decriminalize Psychedelics Sees Win Following Unanimous Seattle Council Vote
While the rest of the world was busy figuring out what to do with their lives in the absence of Facebook and Instagram, the Seattle City Council advanced legislation October 4 that would decriminalize psychedelics in the city.
The announcement caught the attention of psychedelic stock investors, as the landmark decision sees Seattle become the first major US city to remove the stigmatism associated with psychoactive chemicals, and even cites their therapeutic properties in their argument for their broad acceptance.
The approved resolution will decriminalize non-commercial activities involving a wide variety of psychedelic substances and chemicals. This measure also permits the cultivation and sharing of ayahuasca, ibogaine, non-peyote-derived mescaline, and mushrooms containing psilocybin.
1. WHO Report Highlights Global Shortfall In Investment In Mental Health
The World Health Organization's new Mental Health Atlas paints a disappointing picture of a worldwide failure to provide people with the mental health services they need, at a time when the COVID-19 pandemic is highlighting a growing need for mental health support. The latest data from 171 countries provides a clear indication that the increased attention given to mental health in recent years has yet to result in a scale-up of quality mental services that is aligned with needs.
In 2020, just 51% of WHO's 194 Member States reported that their mental health policy or plan was in line with international and regional human rights instruments, way short of the 80% target. And only 52% of countries met the target relating to mental health promotion and prevention programmes, also well below the 80% target. The only 2020 target met was a reduction in the rate of suicide by 10%, but even then, only 35 countries said they had a stand-alone prevention strategy, policy or plan.
While the systematic decentralization of mental health care to community settings has long been recommended by WHO, only 25% of responding countries met all the criteria for integration of mental health into primary care. While progress has been made in training and supervision in most countries, the supply of medicines for mental health conditions and psychosocial care in primary health-care services remains limited.