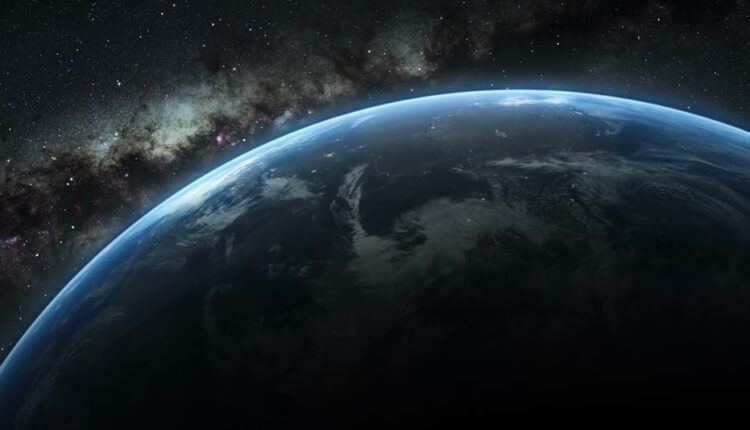 TDR's Top 5 Psychedelic Developments For The Week Of September 20
Welcome to TDR's review of the Top 5 Psychedelic developments for the week of September 20. Aside from presenting a synopsis of events, we provide market commentary to summarize the week that was for publicly-listed companies.
5. Tryp Therapeutics Submits IND Application For Phase 2a Clinical Trial In Eating Disorders
Tryp Therapeutics (CNSX: TRYP) (OTCMKTS: TRYPF) has submitted an Investigational New Drug (IND) application to the U.S. Food and Drug Administration (FDA) to evaluate its clinical candidate, TRP-8802, in a Phase 2a study for the treatment of patients with eating disorders. The Phase 2a clinical trial is expected to enroll 10 patients with various overeating disorders including binge eating disorder, hypothalamic obesity, and Prader-Willi Syndrome. The administration of psilocybin is expected to increase neuroplasticity and help create healthy neural patterns related to hunger and eating.
The trial is being conducted with Jennifer Miller, M.D., from the University of Florida and will evaluate the Company's oral formulation of synthetic psilocybin, TRP-8802, in combination with psychotherapy. The IND application includes details regarding the safety of the drug product, study protocol, the informed consent information for patients, and more. The trial is expected to commence in Q4 2021, subject to a favorable application review by the FDA.
In response, the market gave its stamp of approval.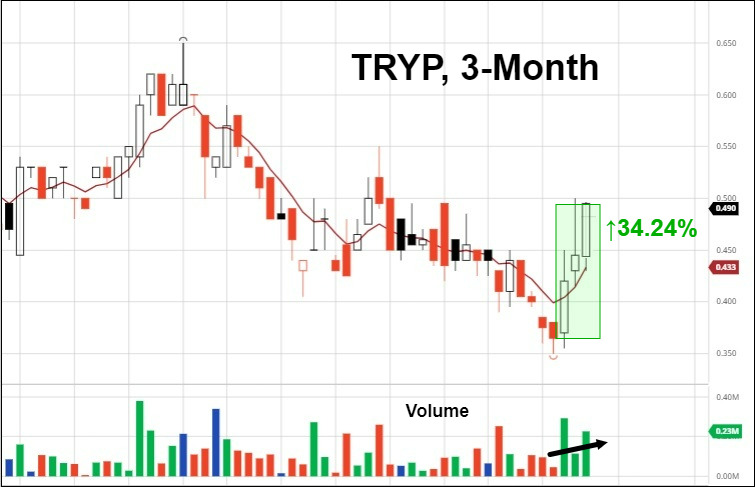 4. Small Pharma Successfully Completes Phase I Clinical Trial of DMT in Combination with Supportive Psychotherapy
Small Pharma Inc. (CVE: DMT)(OTCMKTS: DMTTF) announced both the successful completion of the Phase I part of the combined Phase 1/2a clinical trial and the initiation of the Phase 2a part in combination with psychotherapy of its lead candidate, SPL026, for the treatment of Major Depressive Disorder (MDD). The dataset generated from Phase 1 enables the selection of the optimal dose of SPL026 to take to the next stage, which was well-tolerated and safe in psychedelic naïve volunteers.
We have achieved a significant milestone in the development of SPL026. With a strong safety and tolerability profile, now demonstrated, we can move ahead with the first regulated clinical trial of DMT-assisted therapy in patients. These results lay the foundation for Small Pharma's DMT-assisted therapy as a potential new paradigm in the treatment of MDD.

Dr. Carol Routledge, Chief Medical and Scientific Officer of Small Pharma
In the world's first regulated clinical trial for N,N-dimethyltryptamine (DMT)-assisted therapy in MDD, Small Pharma's proprietary intravenous formulation of DMT was well-tolerated in individuals with no previous experience of psychedelics. The dose-escalating, placebo-controlled Phase I study, which was administered in combination with supportive psychotherapy to 32 healthy psychedelic naïve volunteers, demonstrated a favorable safety profile with no serious adverse events reported.
The company has now initiated the blinded, randomized, placebo-controlled, proof-of-concept Phase 2a study of SPL026 in combination with psychotherapy in 42 patients with MDD.
__________
The Prevalence Of PTSD In America Is Larger Than Many People Realize
__________
3. Psych Stocks Eek Out Marginal Gains, Outperform Junior And Senior Biotech
The biggest psychedelic stocks were mixed this past week, although the Horizon Psychedelic Stock Index ETF (PSYK) managed to eek out a ↑1.11% gain. Volume did increase for the third consecutive week and best levels in six weeks overall, showing some semblance of life. The performance in PSYK outperformed both the Nasdaq Junior Biotechnology Index (↓3.01%) and Nasdaq Biotechnology Ishares ETF (↓1.79%), amid broad indexes that were deeply red to begin the week, but improved throughout.
With concerns of a possible Evergrande debt crisis roiling markets on Monday, the start of the week didn't look too promising. Piggybacking off of broad-based asset class weakness, PSYK ETF registered an 8th straight red session. However, all was not lost. Between the 3 o'clock and the close on Monday, someone(s) decided to do some heavy position staking, thus turning the tide on momentum—near term anyway. This is not an uncommon occurrence near the end of sizable and protracted trends. While we certainly need more evidence to call "bottom", respite from the continuous drip selling was much welcomed.
The best news cycles were generally found in the mid-tier and junior psych stocks. And some of them were significant, including new IND applications for psilocybin + PAT novel indications and plenty of new AdvisorShares PSIL additions. We count at least 9 new additions to PSIL, which provides added visibility to these issues. If AdvisorShares is anywhere near as active purchasing stocks (or swaps) in PSIL as they are in its Pure US Cannabis ETF (MSOS), investors can expect steady purchasing of time. Assets under management has a lot of room to grow.
So we enter next week in neutral mode—unexcited with the technicals, but optimistic much of the recent selling has been wrung out of the market. Again, with COMPASS Pathways Phase 2b endpoints scheduled to be released in Q4, the sector will have its first data-driven catalyst since the New England Journal of Medicine randomized and double-blind study comparing psilocybin vs. escitalopram for moderate-to-severe major depressive disorder in April. Because after months of reading about industry potential, TAM, psilocybin's transformative therapeutic qualities et al, investors are hungry for data. And the sector requires it before the next wave of accredited, institutional and Fund money can truly unlock.
| | | | | | |
| --- | --- | --- | --- | --- | --- |
| Company | Ticker | Price ($) | Weekly Change (%) | WoW Volume Trend | Market Cap (s/o) |
| ATAI LIfe Sciences | ATAI | 16.00 | -2.55 | ↔ | US$2.47B |
| COMPASS Pathways | CMPS | 32.25 | -2.68 | ↓ | US$1.34B |
| Mind Medicine | MNMD | 2.51 | 2.44 | ↓ | US$1.13B |
| GH Research | GHRS | 20.56 | -3.01 | ↓ | US$1.03B |
| Cybin Inc. | CYBN | 2.32 | 7.40 | ↓ | US$372.9M |
| Field Trip Health | FTRP | 4.67 | 6.86 | ↑ | US$269.4M |
| Numinus Wellness | NUMI | 0.82 | 6.49 | ↑ | C$166.4M |
| Revive Therapeutics | RVVTF | 0.38 | 5.61 | ↑ | US$120.6M |
| Small Pharma | DMT | 0.38 | ↔ | ↑ | C$120.3M |
| Mydecine Innovations | MYCOF | 0.27 | -10.89 | ↓ | US$72.3M |
In the news…
atai Life Sciences subsidiary DemeRx IB, Inc. announced that the first subjects have been dosed in a Phase 1/2a clinical trial of ibogaine HCl (DMX-1002). The trial has commenced enrollment and dosing of recreational drug users and healthy volunteers in the Phase 1 segment of the study at the Manchester clinical unit of MAC Clinical Research (MAC) in the UK, one of Europe's largest clinical development organizations.
Bright Minds Biosciences provided an update of significant scientific developments. The company is focused on advancing its promising lineup of best-in-class serotonergic (5-HT) drug candidates that target the 5-HT 2C, 5-HT 2A/C , and 5-HT 2A receptors.
Delic Holdings has entered into a binding merger agreement with Ketamine Wellness Centers Arizona LLC. KWC is a limited liability corporation formed under the laws of Arizona, which operates 10 ketamine infusion treatment clinics, across Arizona, Colorado, Florida, Illinois, Minnesota, Nevada, Texas, and Washington.
Havn Life Sciences announced their partnership with Horizon Grocery + Wellness, Western Canada's leading distributor of organic and natural foods, natural personal care items, and nutritional health supplements (the "Distribution Deal"). Horizon will distribute the full portfolio of HAVN Life's line natural health products, which launched this June.
Mind Cure Health announced an exclusive data licensing agreement with ATMA Journey Centers, a pioneer in the psychedelic therapy industry and the first commercial company in Canada to legally treat a palliative patient with psychedelic-assisted therapy using psilocybin.
MindMed announced that Dr. Matthias Liechti presented data from several ongoing studies at the INSIGHT Conference in Berlin, Germany. The perceptual effects of a dose of 100 mcg LSD were found to be equivalent to a dose of 20 mg psilocybin in healthy volunteers, and psilocybin was found to be safe to administer together with an antidepressant.
Mindset Pharma announced that preclinical proof-of-concept data comparing its clinical candidate, MSP-4018, against 5-MeO-DMT further demonstrated strong efficacy and an improved safety profile as a next generation psychedelic medicine.
Mydecine Innovations has filed its final patent application with the United States Patent and Trademark Office (USPTO) and the World Intellectual Property Organization (WIPO) for one of its lead drug candidates, MYCO-003, which is being developed to offer enhanced treatment of anxiety and post-traumatic stress disorder (PTSD).
Mydecine also announced the previously announced spin-out transaction, to be implemented through a statutory plan of arrangement between Mydecine and ALT House Cannabis Inc.
NeonMind Biosciences has appointed Dr. Gustavo Vazquez, MD, PhD, a Professor of Psychiatry at Queen's University in Kingston, Ontario, and a noted expert in mood disorders and ketamine utilization, to its Specialty Clinics Advisory Board.
Numinus Wellness has closed its acquisition of the Neurology Centre of Toronto (NCT), a leading Canadian provider of clinical neurologic care. NCT will operate as the "Neurology Centre of Toronto by Numinus" and continue under Dr. Lewis' leadership. Dr. Lewis will assume the role of VP, Psychedelic Neurology Services at Numinus.
PharmaDrug Inc. announced that its Super Smart division is launching its own premium blend of functional mushrooms. MycoWe℞ Infinite will initially debut for sale in the United States before being made available through Super Smart's ecommerce platform in Europe.
PharmaTher Holdings has entered into a securities purchase agreement with institutional investors for a private placement of its common shares and common shares warrants for gross proceeds of CAD$10 million. The company will issue 15,625,000 common shares with full warrants—exercisable at $0.80 for up to five years—at a purchase price of CAD$0.64 per unit.
PsyBio Therapeutics has submitted its first pre-Investigational New Drug application meeting request to the United States Food and Drug Administration as part of the regulatory submission process.
Psyched Wellness announced it has initiated first steps towards a clinical sleep study for a structure/function claim for the company's proprietary extract from Amanita Muscaria mushrooms, AME-1.
Revitalist Lifestyle and Wellness announced that its clinic operations generated approximately $632,000 in revenue for the four months ended August 31, 2021, compared to $320,000 for the same period in 2020. The growth represents a 98% increase over prior year and is attributable to organic growth at its flagship clinic in Knoxville, TN, plus additional revenue from three new locations.
2. Italian Referendum To Decriminalize Marijuana, Psilocybin And Other Drug Plants Gets Half A Million Signatures
Activists in Italy say they've gathered enough signatures to qualify a ballot measure that would decriminalize personal cultivation and use of not only marijuana but also psilocybin mushrooms and certain other psychoactive plants for personal use.
This is an extraordinary day, not only for the promoters but also for the citizens. The incredible participation of young people in the extraordinary mobilization on the Cannabis Referendum shows that when they are given a voice, they are ready to take action.

Italian Radicals member, Sen. Emma Bonino
The campaign behind the proposal announced over the weekend that it has collected the necessary 500,000 signatures to begin qualifying the measure in just seven days, thanks in part to a new law that allows petitions to be signed digitally rather than only in person. If the referendum clears its remaining procedural hurdles, the public is expected to vote on the nationwide reform in spring 2022.
1. Feds Fund Study Into Whether Psilocybin Can Help People Quit Smoking Cigarettes
A top federal drug agency is funding a study into how psilocybin could help people quit smoking cigarettes—one of the latest examples of the government's growing interest in psychedelic therapy.
The National Institute on Drug Abuse (NIDA) recently approved the grant, which will enable researchers at Johns Hopkins University (JHU), New York University and the University of Alabama at Birmingham to explore how so-called magic mushrooms can help people curb their addiction to cigarettes.
Dr. Matthew Johnson, a professor at JHU who will be a lead investigator in the study, announced the grant funding on Monday. He said he believes that this is the "first grant from the US government in over a half century to directly study therapeutics of a classic psychedelic."
__________
TDR: This news comes a couple of weeks after Mydecine Innovations announced a five-year agreement with JHU's Dr. Matthew Johnson on a study evaluating the administration of MYCO-001 with a structured smoking cessation treatment program in nicotine dependent individuals. Clearly, Dr. Johnson is at the forefront of both public-private and corporate research studying psilocybin for this indication.