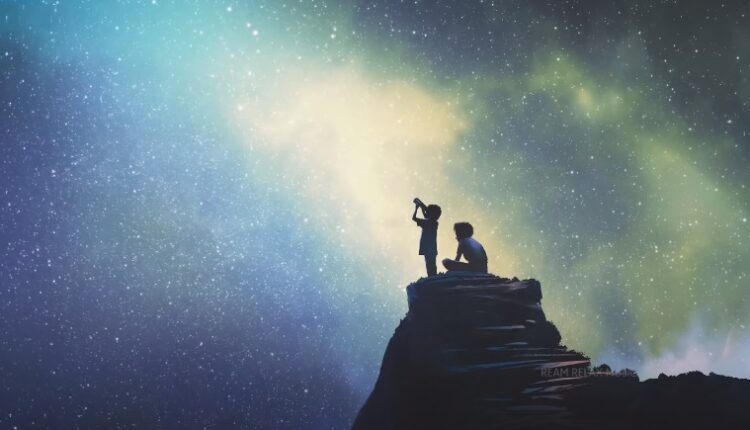 TDR's Top 5 Psychedelic Developments For The Week Of April 12
Welcome to TDR's review of the Top 5 Psychedelic stories of the past week. Aside from presenting a synopsis of events, we provide market commentary to summarize the week that was for publicly-listed companies.
5. Rick Perry Returns To Texas Capitol To Pitch Study Of Psychedelic Drugs For PTSD In Veterans
Rick Perry, in a rare return to policy debates in Austin, is teaming up with a Democratic state lawmaker to push for psychedelic drug therapy for veterans struggling with post-traumatic stress disorder.
The former Republican governor is supporting a bill by state Rep. Alex Dominguez, D-Brownsville, that calls for a clinical study of psilocybin — the active ingredient in "magic mushrooms" — to treat PTSD in veterans.
Although Perry said he has "historically been a very anti-drug person" and still opposes legalization for recreational uses, he supports medical applications of psychedelics. He's been a longtime advocate for how psychedelic drugs can provide relief to former service members who have exhausted other options — whom are resorting to travelling to other countries such as Mexico to receive treatment.
4. GH Research Announces Closing of $125 Million Oversubscribed Series B Financing
GH Research Ireland Ltd announced the closing of a $125 million Series B financing co-led by RA Capital and RTW Investments, LP, U.S.-based biopharmaceutical investment firms, alongside existing investor BVF Partners. Numerous other private equity and pharmaceutical-focused funds also participated in the financing round.
The Company's lead product, GH001 (5-MeO-DMT) is an innovative product candidate for administration via a proprietary inhalation approach. A healthy volunteer trial has been completed, where administration of GH001 via inhalation was observed to be well-tolerated. A Phase 1/2 trial with GH001 in patients with Treatment-Resistant Depression is ongoing.
GH Research Ireland plans to advance GH001 into clinical development in additional psychiatric and neurological disorders beyond Treatment-Resistant Depression. The company also plans to advance its secondary injectable 5-MeO-DMT product candidate, GH002, into clinical development and explore additional drug delivery approaches.
__________
Symptoms of Depression & Anxiety Is The Biggest Negative Reported Health Impact During The Covid-19 Pandemic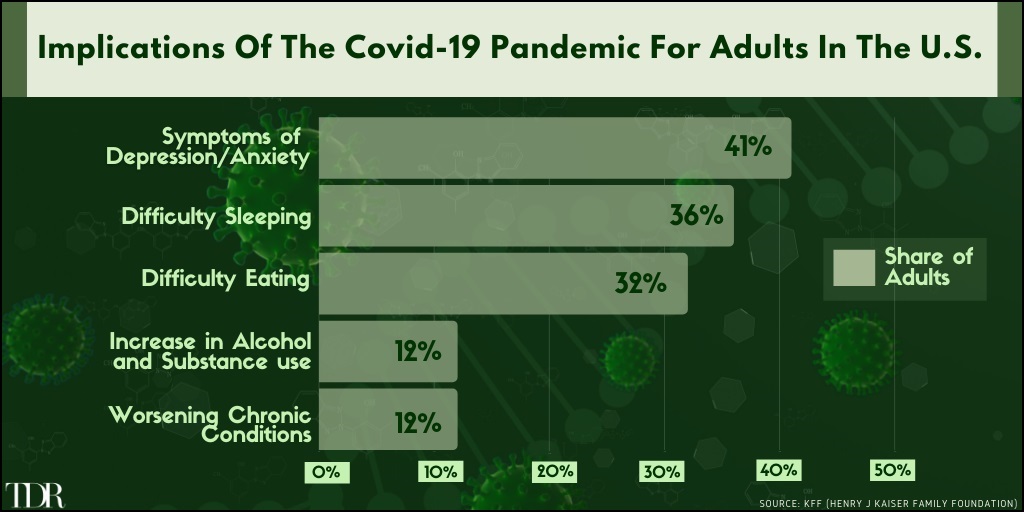 __________
3. Market Disregards Optimistic New England Journal Of Medicine Study Comparing Psilocybin To Escitalopram
The biggest psychedelic stocks were down this week on mixed volume, with the benchmark Horizon Life Sciences Stock Index ETF (PSYK) finishing staunchly lower (↓5.79%) and forging a new weekly closing low—albeit barely—at $8.29 per share. This percentage decline severely trailed both senior and junior biotech index performance, in which Nasdaq Biotechnology Ishares ETF (↑3.04%) and Nasdaq Junior Biotechnology Index (↑1.13%) both posted gains. Unfortunately, optimistic results published in a NEJoM Study comparing psilocybin to escitalopram (see #1) were brushed aside by investors. Until we start seeing lower-high patterns being broken sector wide and good news mattering again, bears are in control. The market is rewarding patience.
With that said, it was a milestone week given psilocybin's strong performance in the NEJoM study. It was demonstrably superior to escitalopram in many domains—even if not statistically so given the small trial size. The term that several authorities used post-results was "underpowered", which means a study that does not have a sufficiently large sample size to answer the research question of interest—or in this case, prove efficacy superiority. But in the end, most primary and secondary objectives were achieved. Just as importantly, there were no adverse effects, which bodes well for Compass Pathways Phase 2b safety endpoints since it was its psilocybin used in the trial.
| | | | | | |
| --- | --- | --- | --- | --- | --- |
| Company | Ticker | Price ($) | Weekly Change (%) | WoW Volume Trend | Market Cap (s/o) |
| Compass Pathways | CMPS | 34.35 | -4.53 | ↓ | US$1.26B |
| Mind Medicine | MMED | 3.34 | -8.98 | ↔ | C$1.32B |
| Seelos Therapeutics | SEEL | 5.26 | -3.48 | ↓ | US$411.7M |
| Cybin Inc. | CYBN | 1.73 | -0.57 | ↓ | C$255.7M |
| Field Trip Health | FTRP | 6.02 | -0.16 | ↓ | C$253.8M |
| Numinus Wellness | NUMI | 0.90 | -13.46 | ↑ | C$180.6M |
| Revive Therapeutics | RVV | 0.43 | -15.68 | ↑ | C$132.6M |
| Red Light Holland | TRIP | 0.285 | -5.00 | ↑ | US73.4M |
In the news…
Cybin Inc. announced plans to advance the pre-clinical work for its orally dissolving tablet formulation of CYB003 and its inhaled formulation of CYB004, two of the company's deuterated tryptamine development candidates. These studies are part of the required U.S. Food and Drug Administration enabling trials for investigational new drug applications (IND). Upon successful completion, the results of the IND-enabling studies will be included in the submissions to the FDA, as well as to other regulatory bodies such as Health Canada and European Medical Association.
Mind Cure Health entered into a partnership with Speak Ai Inc., a Canadian-based technology company that helps individuals and organizations analyze media, language, and metadata to automatically generate valuable insights through machine learning. By combining these mediums with metadata into a single platform, Speak Ai has developed a comprehensive solution for generating personalized insights to improve research and personal wellbeing. The plan is to enhance and improve patient-psychotherapist results as it evolves and integrates into additional psychotherapy clinics.
PharmaTher Holdings updated investors on its psychedelic product programs for the clinical and commercial development of ketamine and the research and development of proprietary microneedle patch delivery systems for psychedelics. Lots of pertinent information regarding the developmental roadmap towards advancing the clinical development of ketamine for Parkinson's disease, depression and Amyotrophic lateral sclerosis under the FDA 505(b)(2) regulatory pathway. Click here for complete press release details.
PsyBio Therapeutics announced the submission of an application to have its subordinate voting shares listed for trading on the OTCQX Best Market. However, the listing remains subject to OTCQX approval and the satisfaction of applicable listing requirements. No timeline upon anticipated final listing approval was given. PsyBio shares will continue to trade on the TSX Venture Exchange, which is roughly the OTCQX equivalent exchange down south.
2. California Bill To Legalize Possession Of Psychedelics Clears Second Senate Committee
A second California Senate committee has approved a bill to legalize possession of a wide range of psychedelics and create a working group to study broader reform.
The legislation, sponsored by Sen. Scott Wiener (D), advanced through the Health Committee on a 6-2 vote on Wednesday. This comes one week after the Public Safety Committee approved the proposal.
If enacted into law, the bill would remove criminal penalties for possessing or sharing numerous psychedelics—including psilocybin mushrooms, DMT, ibogaine, LSD and MDMA—for adults 21 and older. The measure would also provide for the expungements of prior convictions for offenses that it makes lawful.
1. New England Journal of Medicine Published Results of Trial Comparing Psilocybin versus Escitalopram for Depression—Full Coverage
Wednesday's New England Journal of Medicine randomized and double-blind study comparing psilocybin vs. escitalopram for moderate-to-severe major depressive disorder was widely anticipated by psychedelic-focused academics and the investment community alike. While research has indicated that psilocybin may have profound antidepressant properties, direct comparisons against established treatments were lacking. Although this Phase 2 study was modest in size—constituting 59 participants segregated into two control groups (30 in the psilocybin group)—the public was finally presented data comparing the efficacy of psilocybin to a conventional pharmaceutical drug on an apples-to-apples basis.
Results
• The mean scores on the QIDS-SR-16 at baseline were 14.5 in the psilocybin group and 16.4 in the escitalopram group
TDR: The lower the score, the less depressed participants reported themselves to be.
• The mean (±SE) changes in the scores from baseline to week six were −8.0±1.0 points in the psilocybin group and −6.0±1.0 in the escitalopram group, for a between-group difference of 2.0 points (95% confidence interval [CI], −5.0 to 0.9) (P=0.17)
• A QIDS-SR-16 response occurred in 70% of the patients in the psilocybin group and in 48% of those in the escitalopram group, for a between-group difference of 22 percentage points; QIDS-SR-16 remission occurred in 57% and 28%, respectively, for a between-group difference of 28 percentage points.
TDR: In layman's terms, a greater number of participants in the psilocybin group responded to treatment and experienced symptom remission versus the escitalopram group.
• Other secondary outcomes generally favored psilocybin vs. escitalopram, but the analyses were not corrected for multiple comparisons. The incidence of adverse events was similar in the trial groups.

The study was not intended to draw definitive conclusions on efficacy. The trial's value was more about providing evidence on whether psilocybin is efficacious on a base level and to provide additional safety data on adverse effects on the participant group.
TDR: Experts Weigh-in On Trial Comparing Psilocybin Vs. Escitalopram for Depression
MSM: Psychedelic drug worked for depression as well as common antidepressant, small trial finds
RCH Post-Study Interview