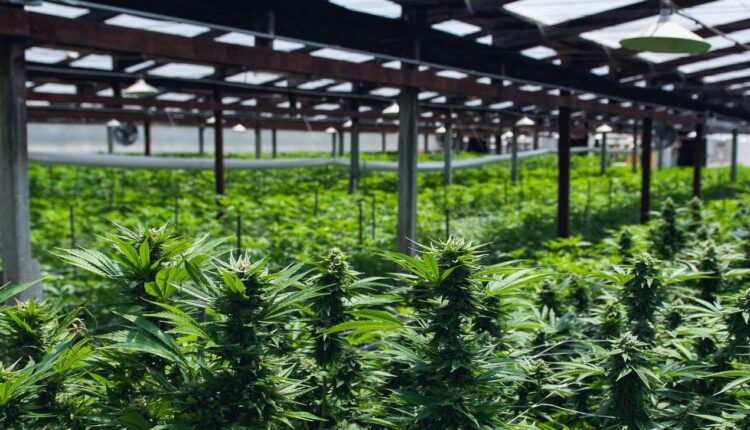 Top 5 Industry Highlights and Lowlights For U.S. Cannabis MSOs In 2022
It's been an exceptionally volatile and disappointing year for U.S. cannabis multi-state operators from a capital markets perspective. While aggregate sales grew nationwide, new states came online and others were voted in by the electorate, the market, as typified by the AdvisorShares Pure US Cannabis ETF (MSOS), crashed. It was not the favorable investors had hoped for following early year expectations that 2022 would be the year federal reform would arrive,
Thus, TDR takes a look at 5 highlights & lowlights for the industry's multi-state operators (MSOS) as they get ready to usher-in a new year.
Highlights
5. Federal Court Ruling Opens The Door For Interstate Commerce
In August, a federal appellate court ruled that Maine's law prohibiting non-residents from owning medical marijuana businesses in the state violates the U.S. Constitution. Industry stakeholders have been closely monitoring the case, as many have argued that the Constitution's dormant Commerce Clause at the center of the ruling does, in fact, apply to the marijuana industry, regardless of ongoing federal cannabis prohibition.
4. New Jersey Recreational Sales Launch
Recreational cannabis sales in New Jersey officially began on April 21, 2022 with great fanfare. Facilities that obtained the license necessary to sell cannabis opened their doors to adult cannabis users. All in all, a dozen medical marijuana dispensaries throughout the state secured the licenses necessary to legally sell cannabis to persons 21 years of age and older. Previously to the opening, only about 175 dispensaries were open in state to serve a population of around 8.88 million people.
Unfortunately, the much-ballyhooed New Jersey launch didn't stem price weakness for some of the most leveraged companies on a percentage compared to overall footprint, such as TerrAscend (OTCMKTS: TRSSF) and Ascend Wellness Holdings (OTCMKTS: AAWH). Within a week's time, both companies were making fresh YTD lows.
3. Maryland and Missouri Add To List Of Legal States
Maryland's voters approved Maryland Question 4 referendum in November with 67.2% of votes in favor of legalization. This means that starting July 2023, adults over 21 can possess up to an ounce-and-a-half of cannabis and 10 grams of cannabis concentrates.
On November 8, Missourians legalized recreational marijuana by voting "yes" on Amendment 3. As a result, cannabis products like marijuana flower or edibles will be available for purchase in the coming months. According to the Missouri Department of Health & Senior Services (DHSS), the organization overseeing the state's marijuana businesses, the transition process won't be complete until early February 2023. On December 8, all adults ages 21 and older will be able to possess up to 3 ounces of cannabis flower, or its equivalent in other products, without a prescription.
2. Six New U.S. State Recreational Cannabis Markets Launched
Apart from New Jersey's adult-use cannabis launch, five other states allowed recreational cannabis sales, bringing the total number of legal states to twenty-one. The new list of legal states include:
Rhode Island launched on Dec. 1
Montana launched its recreational market on New Year's Day 2022
New Mexico followed on April 1
New Jersey was close behind on April 21
Vermont joined the adult-use sales crowd on Oct. 1
New York is bringing up the rear, with its anticipated launch on Dec. 29
1. President Joe Biden Launches Rescheduling Review
After a half-century in which cannabis has been beset the strictest prohibition allowed under the law, President Joe Biden announced that he would ask the attorney general and the Department of Health and Human Services to review marijuana's classification under federal law as a schedule one drug—the same classification as heroin and LSD. The move, which come about a month before the midterm elections, represented a striking shift for the federal government on a campaign promise that Mr. Biden made in 2020.
Along with the adjacent announcement of a pardon all prior federal offenses of simple cannabis possession, sent the market into overdrive. MSOS climbed 32.89% on the October 6 session, in what was to be a sell-the news event followed by a steady climb throughout the beginning portion of the lame duck session of Congress.
Lowlights
5. Wholesale Cannabis Prices Crash, Pressuring MSO Margins
As reported by Politico, wholesale prices of cannabis have been plunging across the nation. In Colorado, prices have dropped by 51 percent over the last two years, according to BDSA, a cannabis analytics firm. The price of a pound of cannabis has plunged by 36 percent in Massachusetts and 46 percent in Missouri in just the last year, according to LeafLink, which tracks wholesale transactions.
In turn, this has helped pressure multi-state operators margins which have been forced to cut prices on cannabis products at the dispensary level.
4. New York State Cannabis Board Unveil MSOS-Unfriendly Regulations
In November, The New York's Cannabis Control Board (CCB) awarded 28 conditional cultivator licenses and announced the winners of the first retail licenses, social equity applicants and non-profit entities involved in social justice efforts.
While social equity applicants welcomed the new permits, industry analysts—including Pablo Zuanic from Cantor Fitzgerald—believed that state cannabis regulations "may not represent a significant upside for MSOs once recreational cannabis sales begin."
Among the some key restrictions for multi-state operators included:
• A hard cultivation cap for established medical incumbents set at 100,000 square feet
• A limit on biomass production of 55,000 pounds per annum
• Medical incumbents are prevented from adult-use sales for three years after adult-use sales commence in New York
With approximately 20.2 million people living in New York—the fourth most populous state in Union—curtailed free market regulatory dynamics were not the result public MSOS were looking for.
3. Immense Industry Headwinds Throttle Growth, Weighing-On Cannabis Stocks
2022 can be characterized as a perfect storm of headwinds for the U.S. MSOs, which in turn stunted growth for the public companies that serve it. We have crashing wholesale cannabis prices due to a glut of flower, a slowing economy and pullback in consumer spending, and high inflation which caused producer costs to increase.
These headwinds were reflected in the earnings of the industry's largest MSOS, where analysts trimmed full year revenue estimates.
2. Legalization Bill Flops, As Expected
From the outset, the Cannabis Administration and Opportunity Act (CAOA) was a disaster in the making. Touted by its co-sponsors as a bill that would "end the federal marijuana prohibition and reinvest in communities most impacted by the failed War on Drugs," CAOA did not receive any support. Ultimately, the bill was too encompassing to receive enough support from Senate Republicans, and included onerous taxation plans that were shunned by the business community.
1. MSOS Crashes to New All-Time Lows After SAFE Banking Gets Shelved In Congress
U.S. cannabis stocks cratered to new lows as hoped-for lame duck regulatory reform hit a snafu in Congress. Specifically, the inclusion of a cannabis-focused amendment in the National Defense Authorization Act (NDAA) and omnibus spending bill failed, as an old nemesis, Senate Minority Leader Mitch McConnell, once again raising objections.
This was the second straight year that lame duck reform failed, sending the market into a tailspin. In failing to enact the SAFE Banking Act, the Senate missed an opportunity to pass legislation that would have significantly moved the normalization of the industry forward.